Snæfellsjökull National Park
Discover the iconic park with a glacier-capped volcano
June 4, 2023
Founded in 2001, Snæfellsjökull National Park forms part, but not all, of the Snæfellsnes peninsula. Of the three national parks in Iceland, it's unique in linking the seashore to the mountains, encompassing both. Located in West Iceland, this national park covers an area of about 170 km2 and, as its name implies, centers on the glacier and stratovolcano Snæfellsjökull. The park is top-rated among tourists due to its unique landscape and geological formations, which include volcanic craters, lava tubes, and other rock sculptures.
Geology and Landscape
Geological Marvels
At the heart of Snæfellsjökull National Park stands Snæfellsjökull, a 700,000-year-old stratovolcano crowned by an ice cap that glistens under the sunlight like a jewel. Snæfellsjökull is a majestic stratovolcano located on Iceland's westernmost tip of the Snæfellsnes Peninsula. It is crowned by a dazzling ice cap, attracting tourists seeking geological wonders and spiritual enlightenment. With its rich geological history dating back thousands of years, Snæfellsjökull has symbolized Iceland's natural beauty and mysticism. 
Lava flows from ancient eruptions lead down Snæfellsjökull's slopes; the southernmost part of the peninsula is an ancient seabed. At the shoreline, Svalþúfa is likely part of a crater that erupted under the sea while Lóndrangar's sea stacks are what was originally a volcanic plug.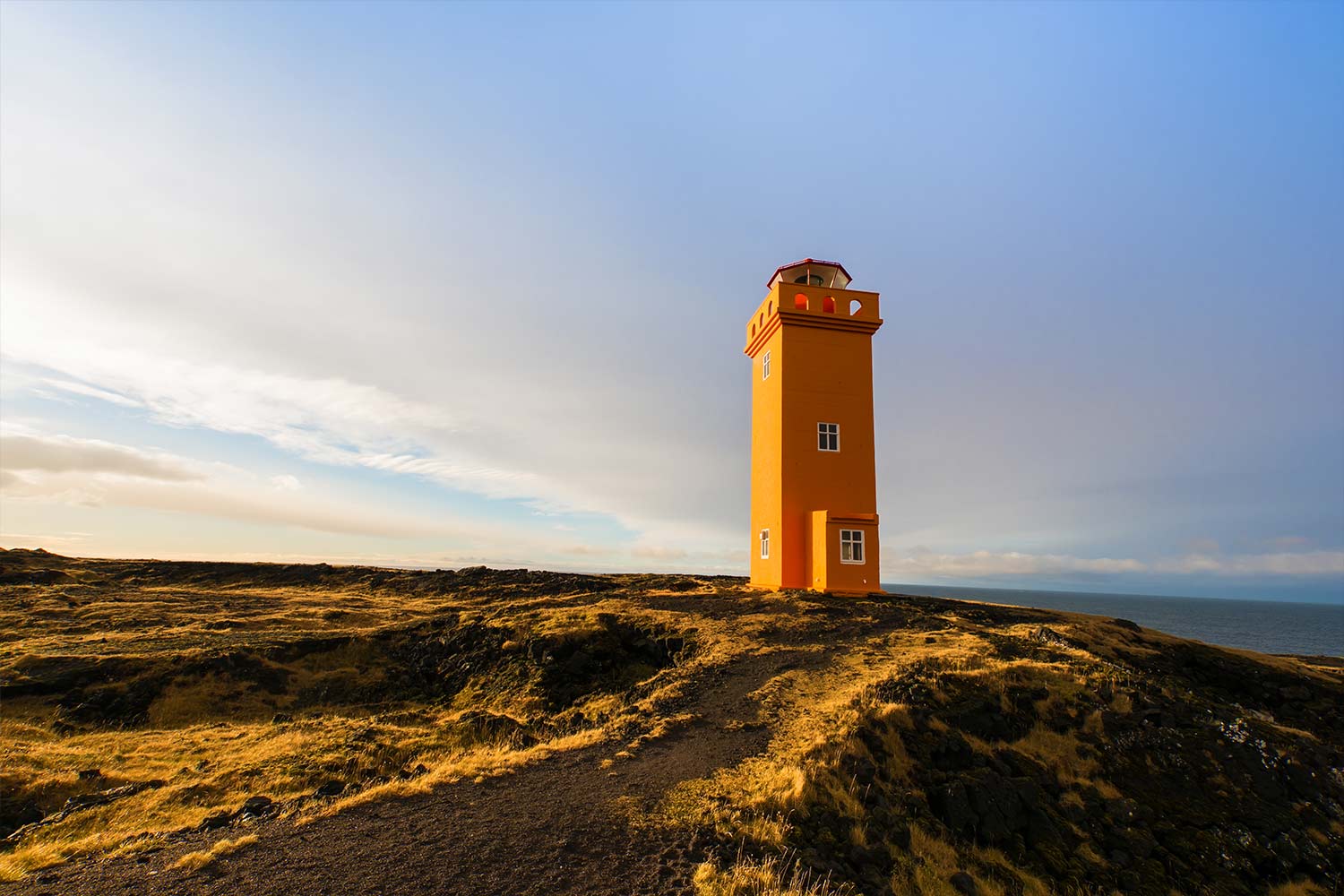 Enchanting Landscapes
The Snæfellsjökull National Park and Snæfellsnes peninsula in Iceland offer breathtaking views of its unique landscapes. The park boasts moss-covered lava fields, rugged cliffs, black sand beaches, and stunning coastal formations that will leave you in awe. You can explore the park's marked trails and take in the magnificent sights of volcanic craters, cascading waterfalls, and picturesque fjords adorning the coastline. Outdoor enthusiasts and nature photographers will find themselves in paradise, capturing the raw and untamed essence of Iceland's beauty.
The hills north of the Snæfellsjökull glacier near Bárðarkista formed during eruptions under the glacier. Not far away, Klukkufoss (referred to as both Clock Falls and Bell Falls) is a waterfall fed by meltwater from the glacier. The park is also associated with the nature reserve of Búðahraun, a moss-covered lava field home to around 130 species of plants, including 11 of 16 varieties of fern found in Iceland.
Spiritual and Cultural Significance
The Snæfellsjökull region holds tremendous cultural and historical significance for Icelanders. Many believe the glacier-capped volcano possesses mystical energy and is a source of inspiration and spiritual enlightenment. The area has deep-rooted folklore and tales of elves, trolls, and hidden folk that add a magnetic layer to the park's allure. Embrace the spiritual ambiance as you explore lava caves, visit ancient ruins, or simply sit in quiet contemplation, absorbing the powerful energy emanating from the land.
The famous novel by Jules Verne
Snæfellsjökull famously drew the attention of Jules Verne, who made it the setting for his science fiction classic "A Journey to the Center of the Earth." Our understanding of volcanoes and the processes that shape the landscapes they sit on has come a long way since Verne's time; in fact, the great author didn't even visit Iceland. If he had, he might not even have bothered to visit Snæfellsnes—on a clear day, the peak can be seen from Reykjavik.
Written in 1864, the novel has spurred numerous adaptations on the big and small screen since its publication. Verne's protagonist, an eccentric German professor, believes lava tubes lead right to the earth's center and descends into the Snæfellsjökull volcano to test his theory. Many adventures ensued before the story concluded in southern Italy's Stromboli volcano.
Wildlife and Vegetation
Snaefellsjokull National Park has diverse wildlife, including seals, seabirds, and whales. Despite the challenging climate, the park nurtures a surprising array of plant life, including Arctic poppies, mosses, lichens, and alpine vegetation. It's also a sanctuary for numerous bird species, such as puffins, guillemots, and Arctic terns. Lucky visitors may even catch a glimpse of seals, whales, or the elusive Arctic fox, which has made this harsh environment home.
Places to Visit Near Snaefellsjokull National Park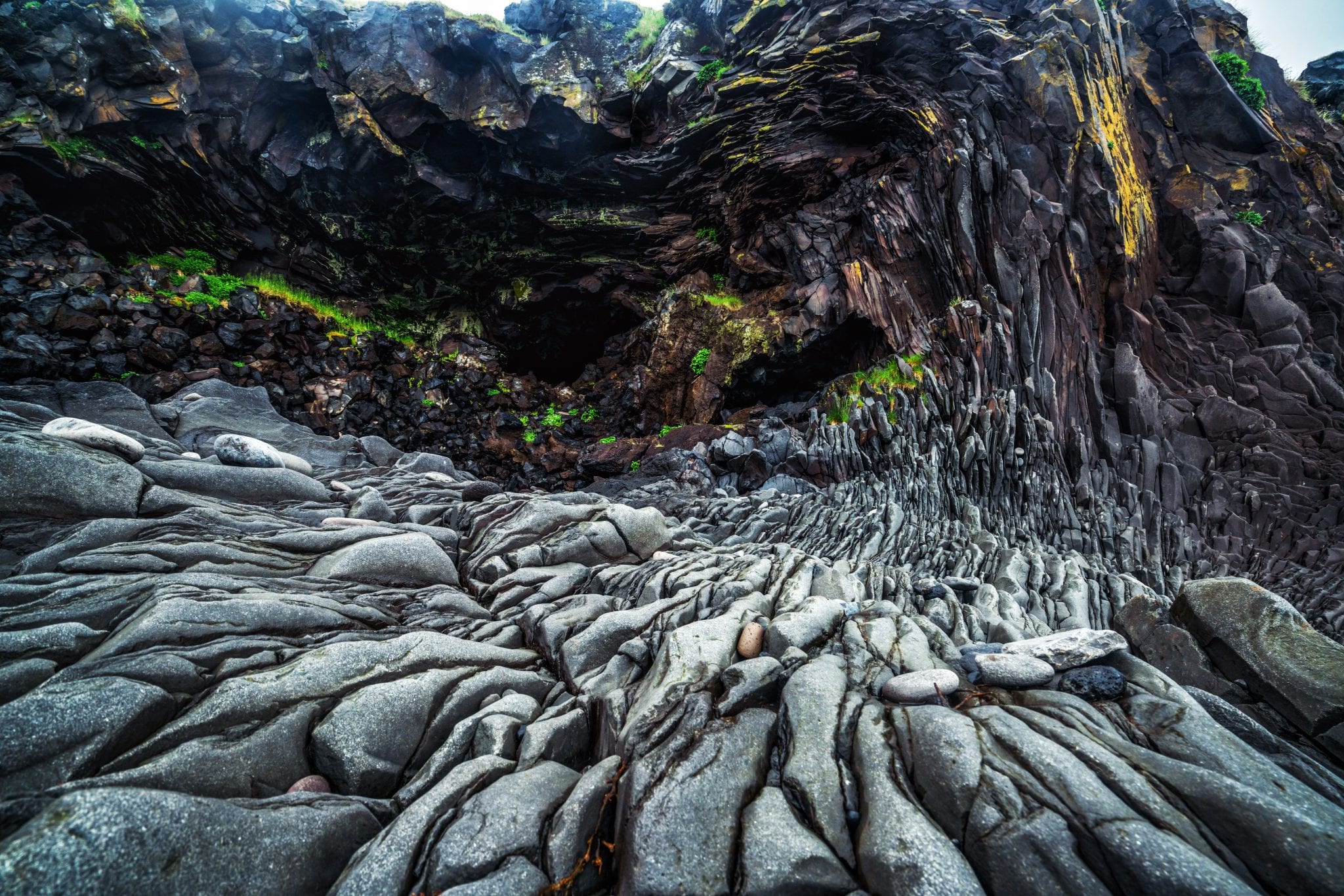 The Snæfellsnes Peninsula, also known as "Iceland in Miniature," is a destination worth visiting for those who want to experience Iceland's diverse landscapes in a condensed form. It has everything from stunning coastlines, towering cliffs, and volcanic peaks to charming fishing villages. Around the Snaefellsjokull National Park, you can explore top locations and discover breathtaking vistas, ancient legends, and unforgettable experiences at every turn.
Snæfellsjökull Glacier
Dominating the park's skyline is the magnificent Snæfellsjökull Glacier, a stratovolcano covered in ice. This iconic glacier inspired Jules Verne's "Journey to the Center of the Earth" and is believed to possess powerful energy and mystical properties. With its towering presence reaching 1,446 meters above sea level, Snæfellsjökull Glacier proudly showcases its volcanic origins, having formed approximately 700,000 years ago and serving as a geological marvel that has shaped the surrounding landscape.
Kirkjufell Mountain
Known as the "Church Mountain", Kirkjufell is Iceland's most photographed mountain. Its distinctive shape and picturesque surroundings make it a favorite spot for photographers and nature lovers.
Lóndrangar Basalt Cliffs
These unique rock formations, formed by volcanic activity, reach up to 75 meters (246 feet). The cliffs showcase intricate layers of basalt columns, with their dark and rugged beauty creating a striking contrast against the backdrop of the ocean. Rising dramatically from the sea, they provide nesting habitat for various seabirds, including puffins.
Djúpalónssandur Beach
This black sand beach offers a mystical atmosphere with its smooth pebbles and dramatic rock formations. Walk along the shore, explore the remnants of a shipwreck, and feel the North Atlantic Ocean's raw power. Look closely, and you'll see four lifting stones; fishermen would have used them to demonstrate their strength.
Arnarstapi and Hellnar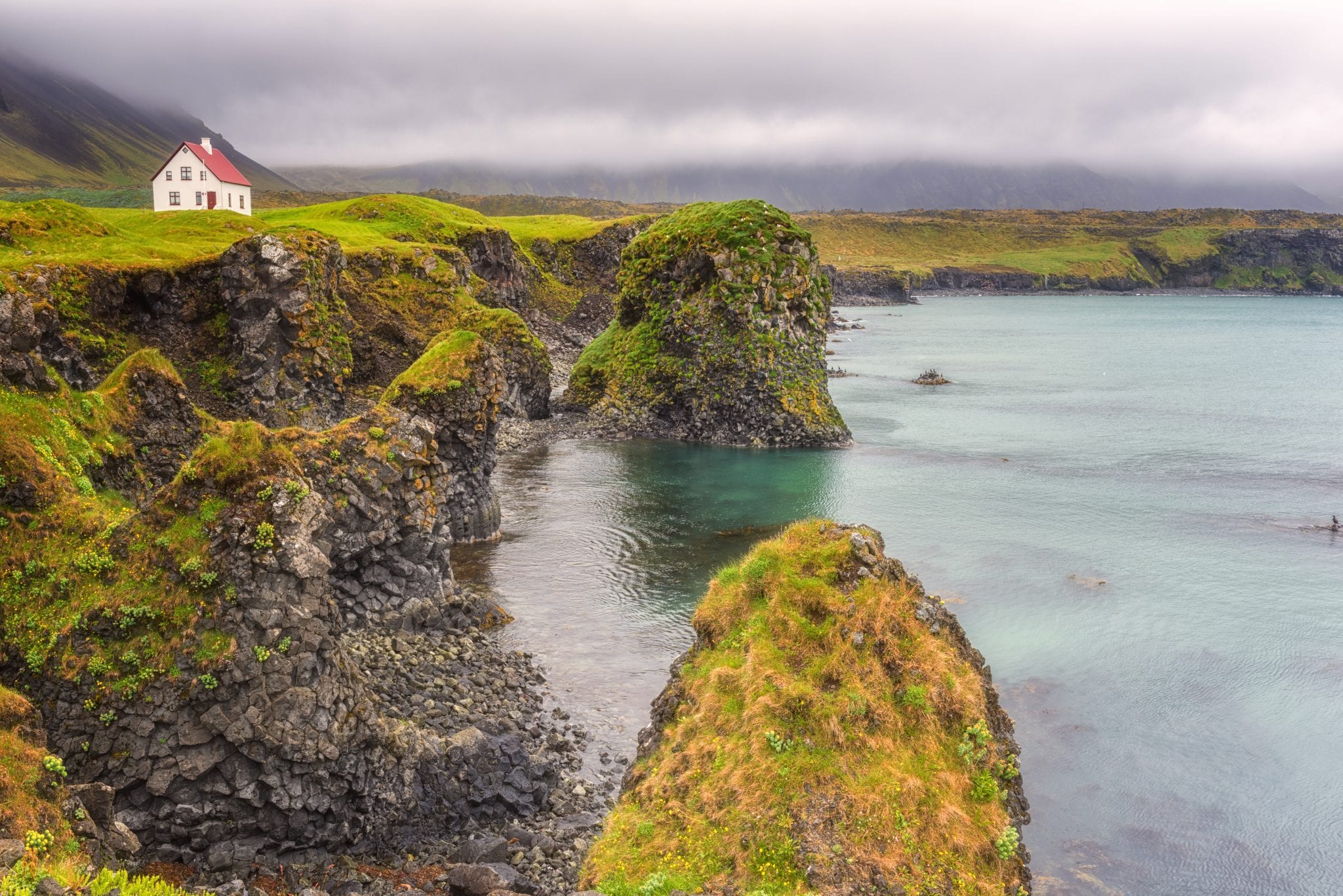 Búðir
Visit the charming hamlet of Búðir, nestled on the western coast of the Snæfellsnes Peninsula. Búðir is a quaint and picturesque hamlet surrounded by vast lava fields, where a striking black church Búðakirkja and a tranquil golden beach await you. It's a peaceful and photogenic spot to soak in the park's beauty, surrounded by vast lava fields and coastal scenery.
Vatnshellir Lava Cave
Those wishing to follow in the professor's footsteps should book a tour to explore Vatnshellir Cave. Eight thousand years old, this is one of Iceland's most incredible lava caves, created by a volcanic eruption in the Purkholar crater. Air-cooled lava on the surface while the molten rock kept flowing underneath. Eventually, it drifted away to leave a lava tube and cave, resplendent with incredible rock formations in a myriad of colors.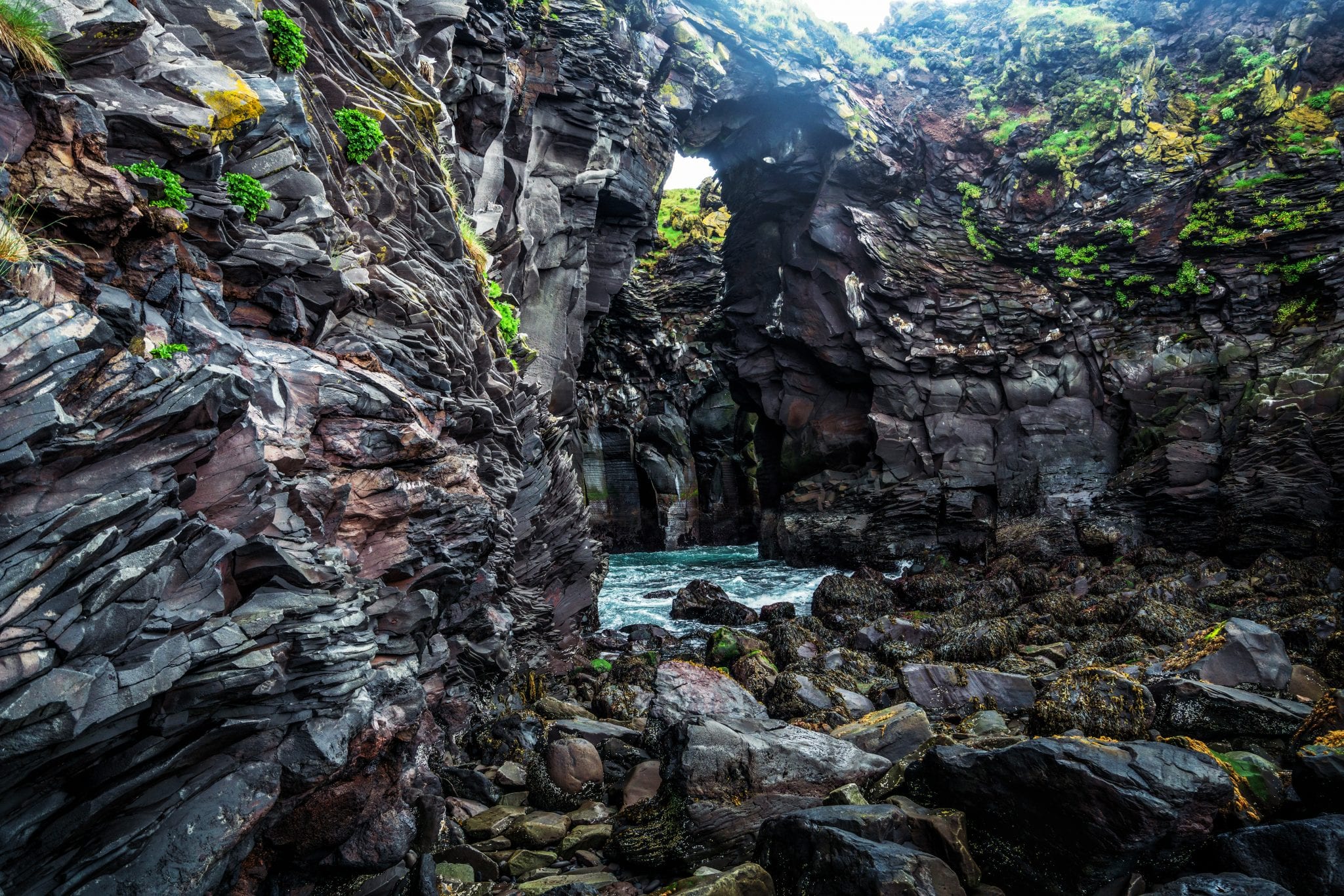 Activities in Snæfellsjökull National Park
It's not only literary enthusiasts and budding speleologists who visit Snæfellsjökull. Glacier hiking and super jeep tours depart regularly, to the delight of those searching for another Icelandic playground to satisfy their need for an adrenaline rush. The area boasts some of the country's most dramatic scenery, including the nearby Bárðarlaug pool, managed by the park authorities.
For outdoor enthusiasts, Snæfellsjökull National Park boasts a range of hiking trails suitable for various skill levels. These trails immerse hikers in breathtaking scenery, diverse flora and fauna, and the untamed beauty of Iceland's nature. In the past, there were many paths around the Snæfellsjökull glacier; some still exist and can be used today.
Additionally, the park features Vatnshellir Lava Cave, a captivating lava tube formed by ancient volcanic eruptions. Guided tours of the cave take visitors on an underground journey through unique geological formations while providing insights into the area's volcanic history. 
Are you a wildlife enthusiast? If yes, you are at the right place. Enjoy the park's abundant fauna, such as seabirds, seals, and whales. From puffin sightings during nesting season to the opportunity to spot orcas and humpback whales off the coast, Snæfellsjökull National Park offers a chance to witness Iceland's remarkable wildlife in their natural habitat.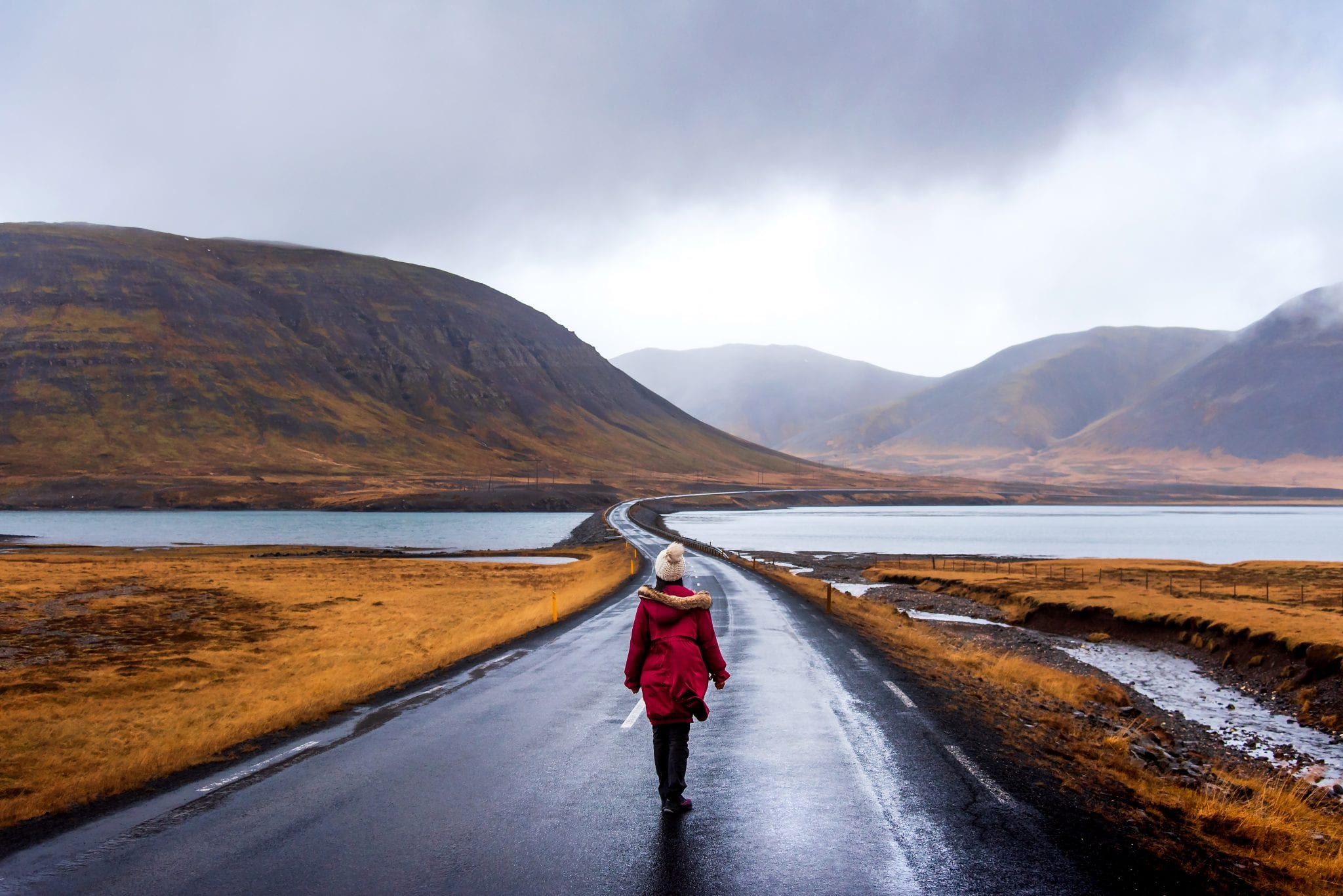 Snæfellsjökull National Park is a true testament to the beauty of Iceland. Its geological marvels, enchanting landscapes, rich biodiversity, and spiritual significance make it one of Iceland's most captivating places. It would be a shame to leave it off your itinerary!
For more information, visit the national park's visitor center at Malarrif, which offers an exhibition about nature and a fishing station. You can also get guidance for hiking options and other activities. There is no admission fee for visiting the national park or the visitor center, and it is open all year round.
Snæfellsjökull National Park FAQs
How long does it take to hike Snæfellsjökull?
Depending on the individual pace and experience level, it typically takes around 8-10 hours to reach the peak of Snæfellsjökull Glacier and return. It's a challenging hike, but the stunning panoramic views of the Snaefellsnes Peninsula make it well worth the effort. Keep in mind that hiking Snæfellsjökull involves traversing glaciers, navigating tricky terrain, and dealing with rapidly changing weather conditions. It is strongly recommended to hire a professional guide or join a guided tour to ensure safety and increase the chances of a successful trip.
How to explore Snæfellsjökull glacier?
Besides hiking, you can opt for a snow truck tour to the top of Snæfellsjökull to admire the impressive glacier landscapes before descending. For a more leisurely approach, consider a self-drive road trip to explore the view of Snæfellsjökull from various angles and be captivated by its enchanting beauty. Along the way, don't forget to make a few stops at the other highlights of West Iceland.
How to drive to the Snæfellsjökull National Park?
The driving distance from Reykjavik to Snæfellsjökull National Park is approximately 180 kilometers (112 miles), depending on the route. On average, the drive takes around 2.5 to 3.5 hours. The most common path is to take Route 1 (the Ring Road) north of Reykjavik until you reach Borgarnes. From Borgarnes, you can take Route 54 towards the Snæfellsnes Peninsula and continue until you reach the park.
Is Snæfellsjökull an active volcano?
Yes, Snæfellsjökull is considered an active volcano with potential for future volcanic activity. The last eruption of Snæfellsjökull was approximately 1,800 years ago. However, there are still signs of geothermal activity, such as hot springs and fumaroles, indicating that the volcano is still active beneath its icy surface. Experts are monitoring its behavior to understand its hazards.