Glymur Waterfall
October 21, 2019
You've got to feel just a little bit sorry for Glymur waterfall. For years it was held in high regard as Iceland's tallest waterfall – in a country with so many of them, it's good to be special – and then along comes a usurper. When Morsárjökull, one of Vatnajökull's outlet glaciers, started melting in 2007, Morsárfoss was revealed. When it was measured in 2011, one of its drops turned out to be in the region of 240 meters, far higher than Glymur's 198 meters. But how often have you heard it said: "Size doesn't matter"? In the case of Glymur, that's absolutely true. It might be shorter than its rival, but it's still a breathtaking sight.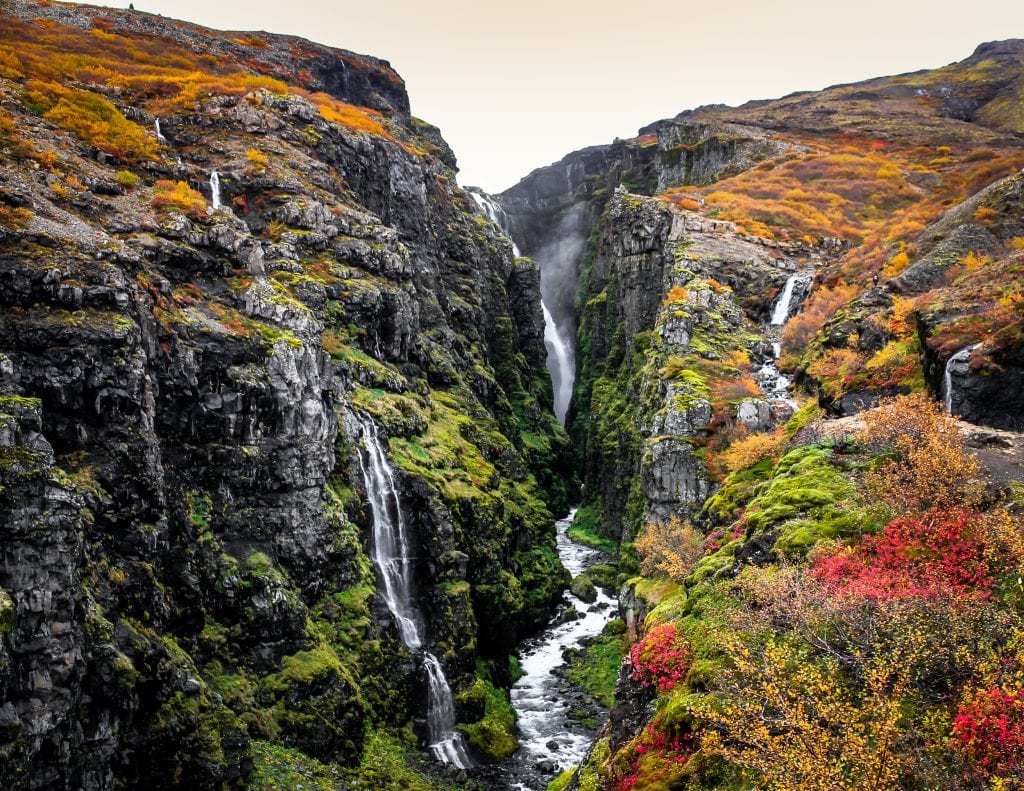 Now there is at least one silver lining to this cloudy tale. Glymur is located at the end of Hvalfjörður, a fjord in west Iceland. In a country where visitor numbers have increased dramatically, there's been a similar augmentation of pressure on some of the nation's prettiest locales. But Glymur doesn't suffer from such issues. Opened in 1998, the Hvalfjörður Tunnel reroutes the traffic from the fjord. Journey times between Reykjavik and the north are cut by almost an hour if you bypass the fjord. So that means that even before Morsárfoss stole Glymur's thunder, visitor numbers to the waterfall had already fallen.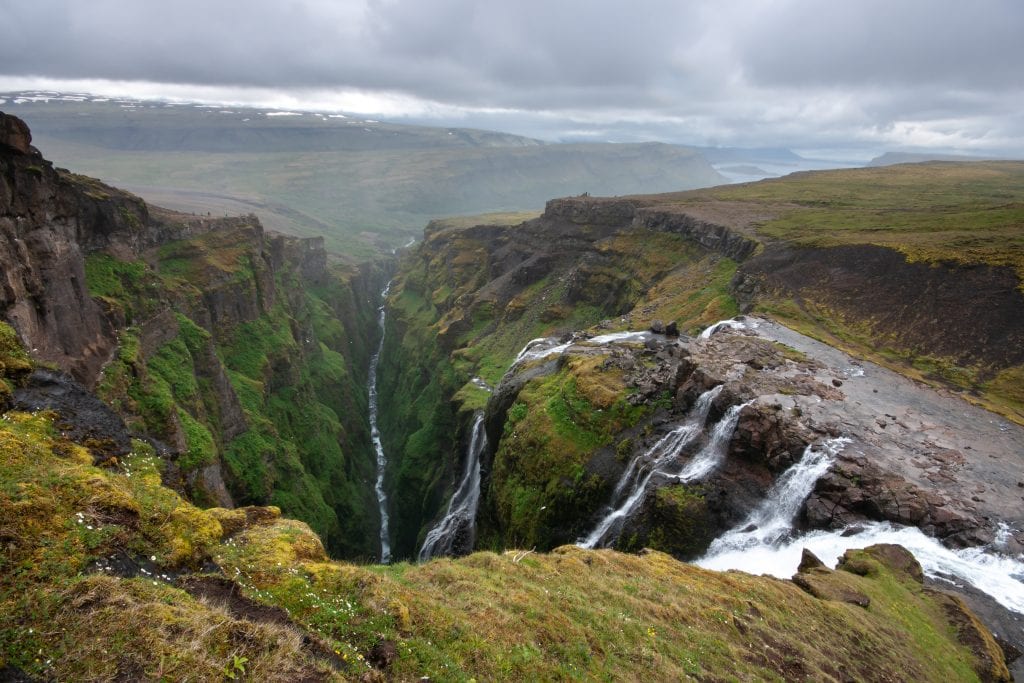 So what of this not quite high enough, sometimes overlooked waterfall? It is fed by the River Botnsá, as it carves a path from Lake Hvalvatn lake and over the edge of Hvalfell mountain into a steep ravine. Wannabe visitors need to arrive early to grab a space in the car park – though visitor numbers are down, they're still significant, particularly in summer. From the car park, the path's initially quite easy, a relatively flat stroll.
But then things get a little more tricky: the hiking trail up to the waterfall is accessed via a small cave. Now that you've reached the river, you have to cross it. In summer, there's a log in place, which you'll need to be able to balance on if you don't wish to get wet feet. There's a cable to hold on to if balance isn't one of your strong suits. At some point, late in the season (it varies from year to year), the log's removed and then you'll have to wade until spring.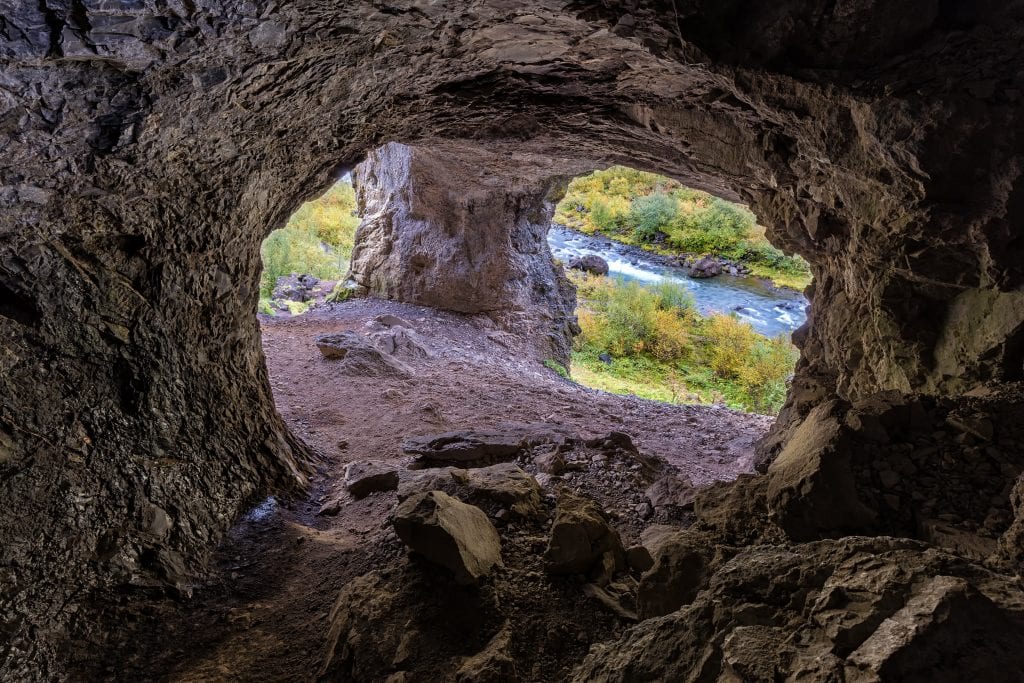 From there, it's a steep trail – another factor to put off less than intrepid travelers – which leads up to the rim of the gorge. Don't take it lightly: the name of the trail is Leggjabrjótur, which translates as "Broken Leg". It's not only steep but also hugs the edge of the cliff in places, not so great if you have a fear of heights. Although actually, if you have a fear of heights, you probably wouldn't have chosen to hike to Iceland's second-highest waterfall, would you?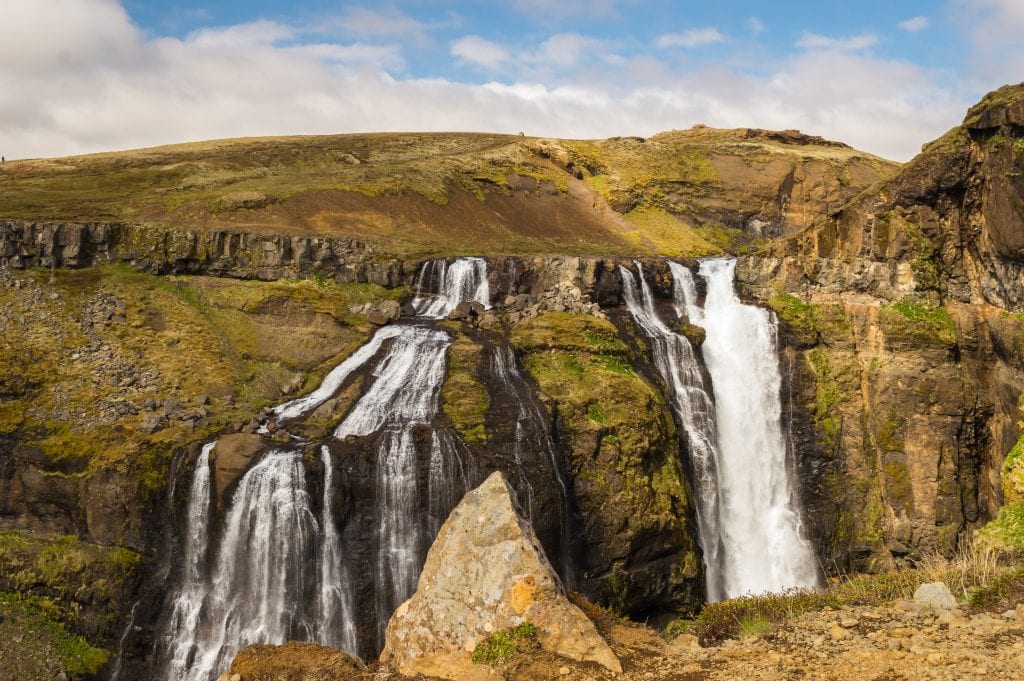 But for those as sure-footed as a mountain goat, the rewards are great. The views from up there are stupendous. When you reach the highest point on the trail, the panoramic views are nothing short of magnificent, not just of the waterfall, but also its surroundings. Now you could, at this point, just turn around and come straight back the way you came. But if you haven't quite had enough of river crossings, you can plow across another. The water's not deep, but it will be cold, even in summer, so you have the choice of braving the crossing barefoot or finishing your walk in soggy hiking boots. Your call.
On the opposite side of the river, the trail forks. One way is more challenging than the other, of course. But if you've learned anything about Iceland, you'll know already – no pain, no gain! But whichever way you hike, you'll be pleased you made the effort to see Glymur.