West Iceland Travel Inspirations
June 2, 2018
This blog post was contributed by Sif Gustavsson, CEO of Iceland Cool and past Director of Visit Iceland USA.
If you're looking to break free from the tourist crowds and experience unspoiled Icelandic nature, look no further than West Iceland. Easily reachable from Reykjavik through a four-mile (6 km) tunnel beneath Hvalfjordur Fjord, West Iceland is a favorite area for vacationing Icelanders but is just beginning to be discovered by travelers.
For those who've not yet heard of this magical region, West Iceland boasts Europe's second largest glacier, the world's largest lava cave, Iceland's tallest waterfall, Europe's most powerful hot spring, an 800,000-year-old volcano, and the former home of Viking explorer Leif Eiriksson.
When taking a West Iceland day trip from the capital be sure to give yourself plenty of time. While the ride from Reykjavik should only take you 1.5 hours, the ever-changing landscape will have you pulling over every few minutes for spontaneous sightseeing including these classic sites:
Must See West Iceland
SNAEFELLSJOKULL NATIONAL PARK
You could spend a week exploring the wide variety of magnificent wilderness inside Snaefellsjokull National Park. Located on Snaefellsnes Peninsula, you can expect to see pebbled beaches, basalt rock stacks, bizarre lava formations and maybe a glimpse of an Orca whale swimming offshore.  Undoubtedly, the crowning jewel of this national park is Snaefellsjokull glacier-volcano which is considered one of the earth's seven energy centers.
KIRKJUFELL
Made even more famous as Arrow Mountain in the popular fantasy series Game of Thrones, Mt Kirkjufell is one of the most photographed mountains in Iceland. The majestic peak hovers ominously over the quiet and colorful harbor of Grundarfjörður Fjord.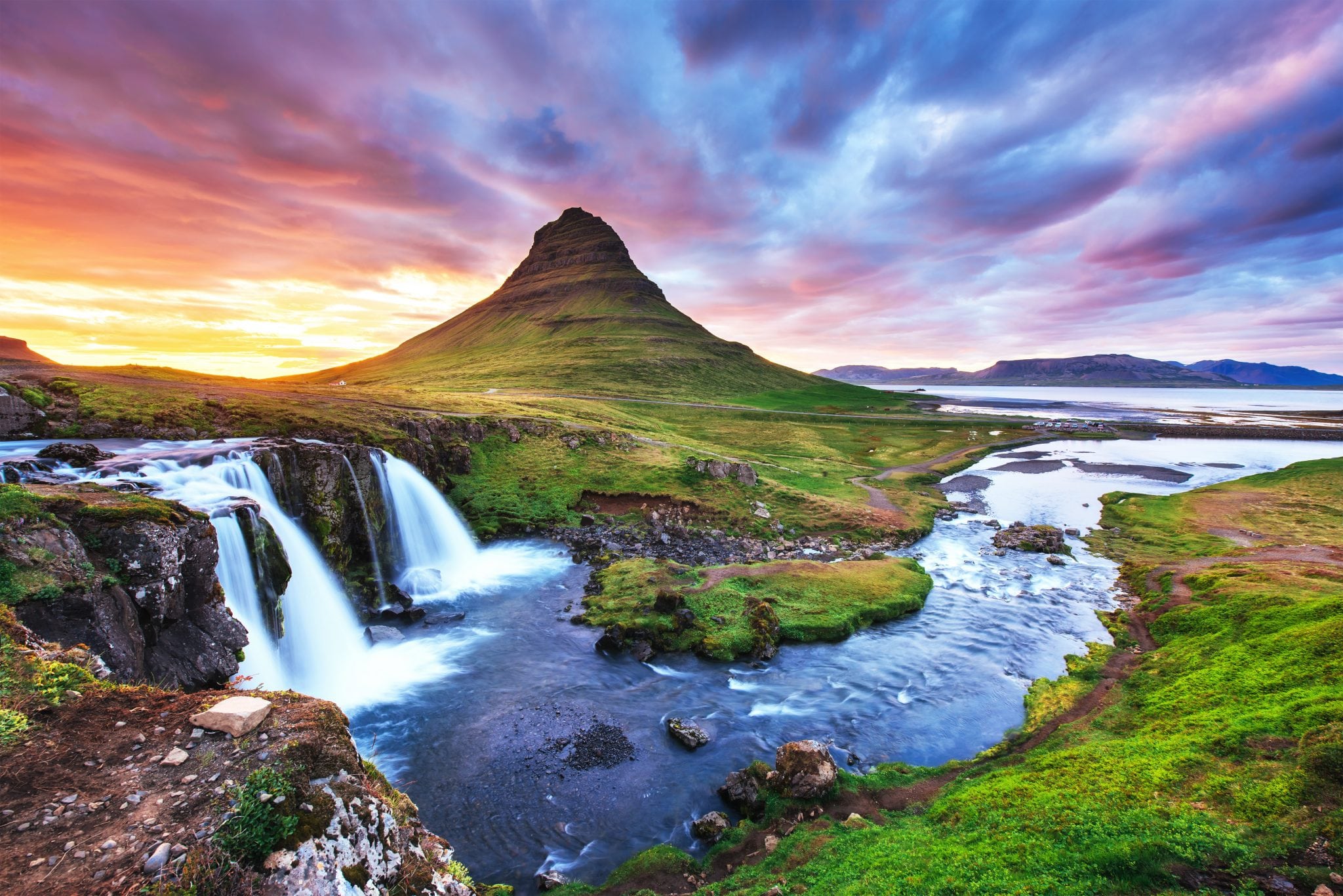 HRAUNFOSSAR + BARNAFOSS FALLS
This unique waterfall duo is considered by many to be the most beautiful in Iceland. While the water feeding Hraunfossar seems to appear mysteriously out of nowhere, Barnafoss has a mystery and legend of its own to reveal.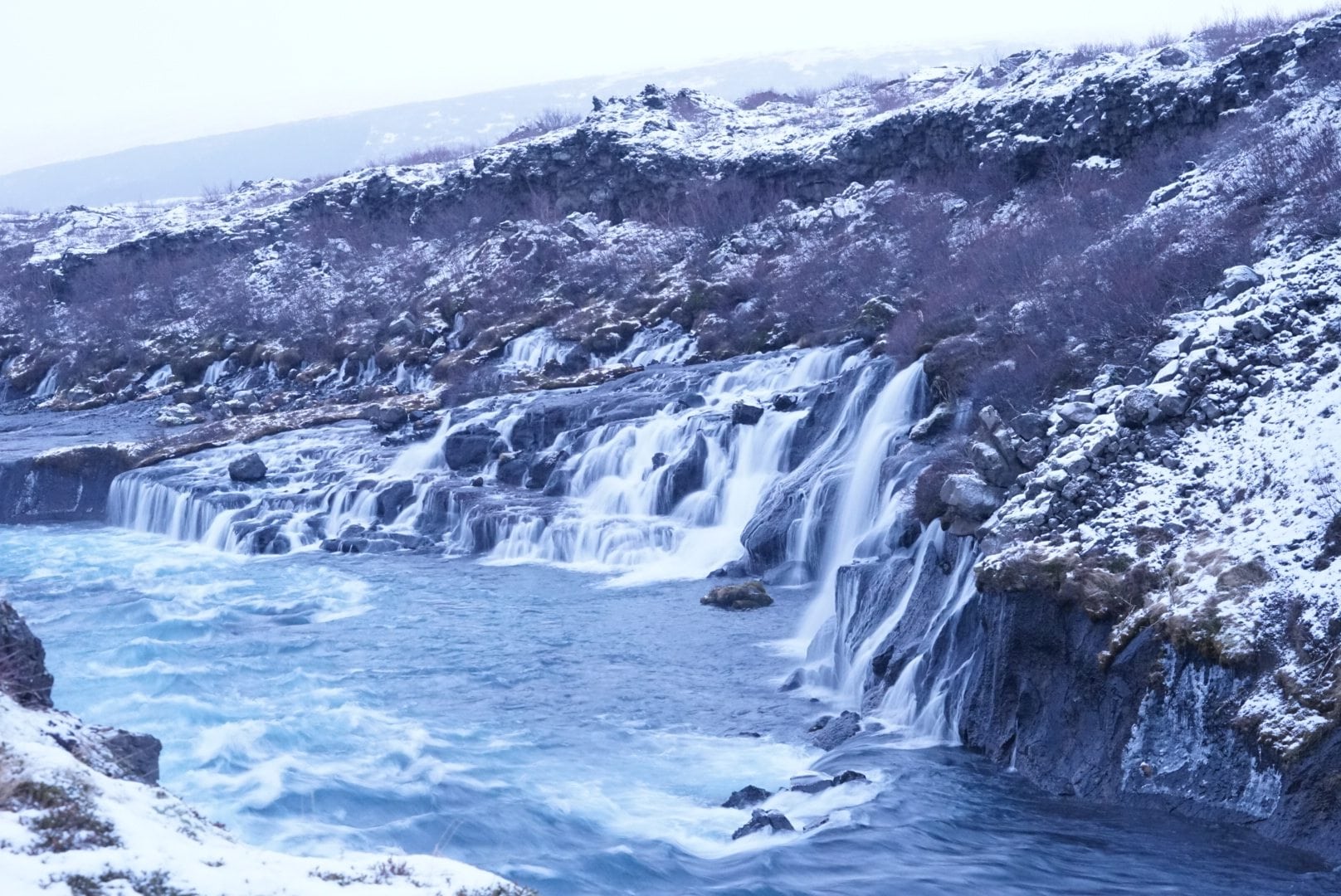 SAGALAND
West Iceland is often referred to as Sagaland because it is where many of the ancient sagas took place. You can get in touch with your inner Viking while learning about Iceland's early settlers at several places like the Snorrastofa Saga Center in Reykholt, the Settlement Center in Borgarnes and at the turf-roof replica home of Leif Eriksson at Eiriksstadir living museum.
Must Do West Iceland
LAVA CAVING
You can learn so much about Iceland's volcanic origins by exploring the dark underworld the lies just beneath the earth's surface. At Vidgelmir, the world's largest lava cave, visitors traverse a wooden walkway inside a massive lava tube to encounter otherworldly fire and ice formations.

ICE CAVING
Glaciers put the ice in Iceland and many travel to this country just to lay their hands on an ancient ice cap. Into the Glacier at Langjokull takes it one step further and allows visitors to see the inside of a glacier via the world's largest man-made ice tunnel. Inside the ice tunnel guests explore crystal caves and learn how global climate and the environment affect Iceland's mighty glaciers.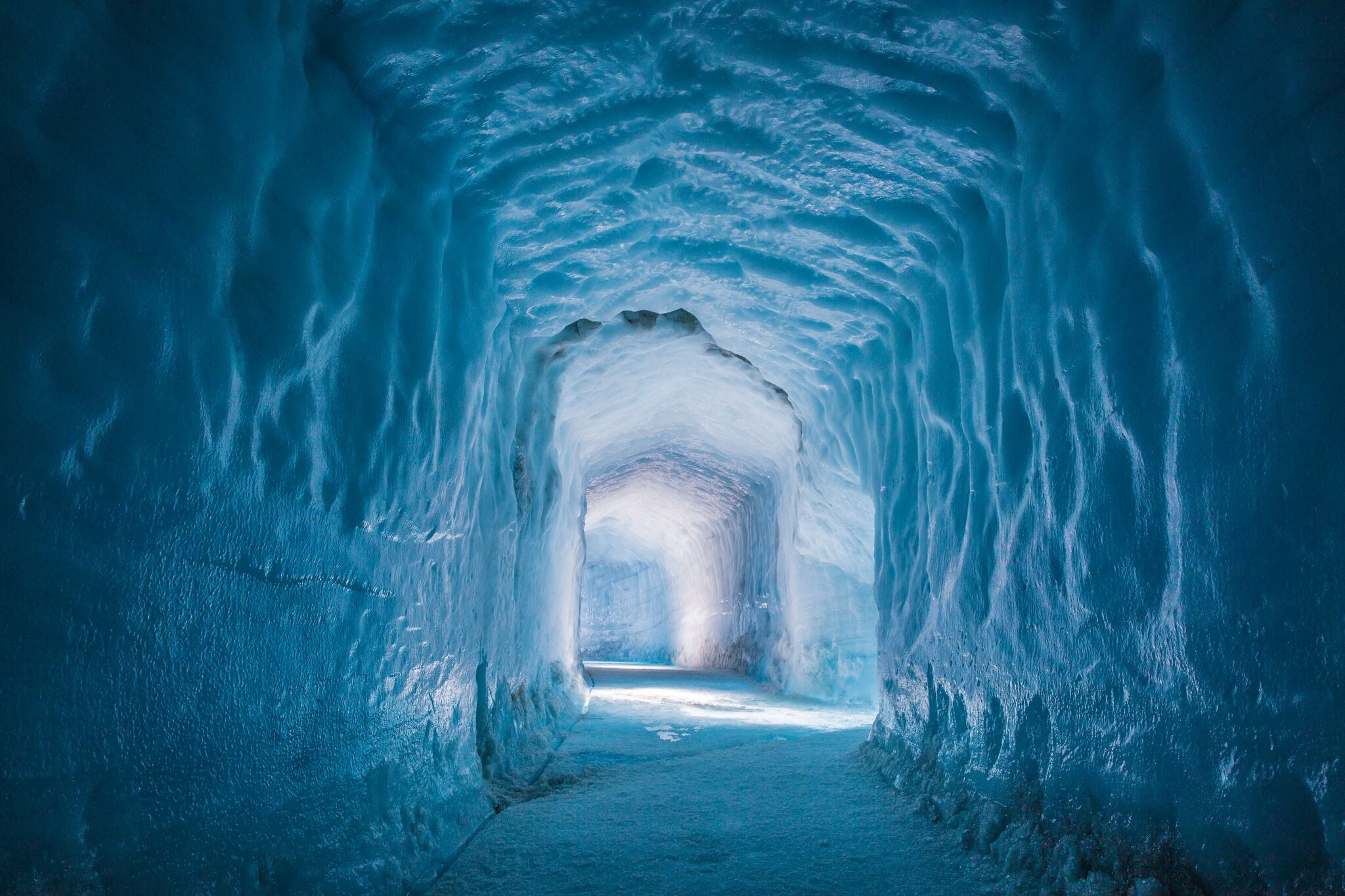 KRAUMA NATURE BATHS
Newly opened on the site of Europe's most powerful hot spring, Krauma delivers big style on the authentic outdoor Icelandic spa experience. The steamy water fed by Deildatunguhver hot spring is mixed with glacial meltwater to achieve the optimum bathing temperature. Guests can choose from five different "hot pots", two steam baths and an indoor relaxation room with fireplace. The restaurant is highly recommended with Icelandic dishes featuring local fare only.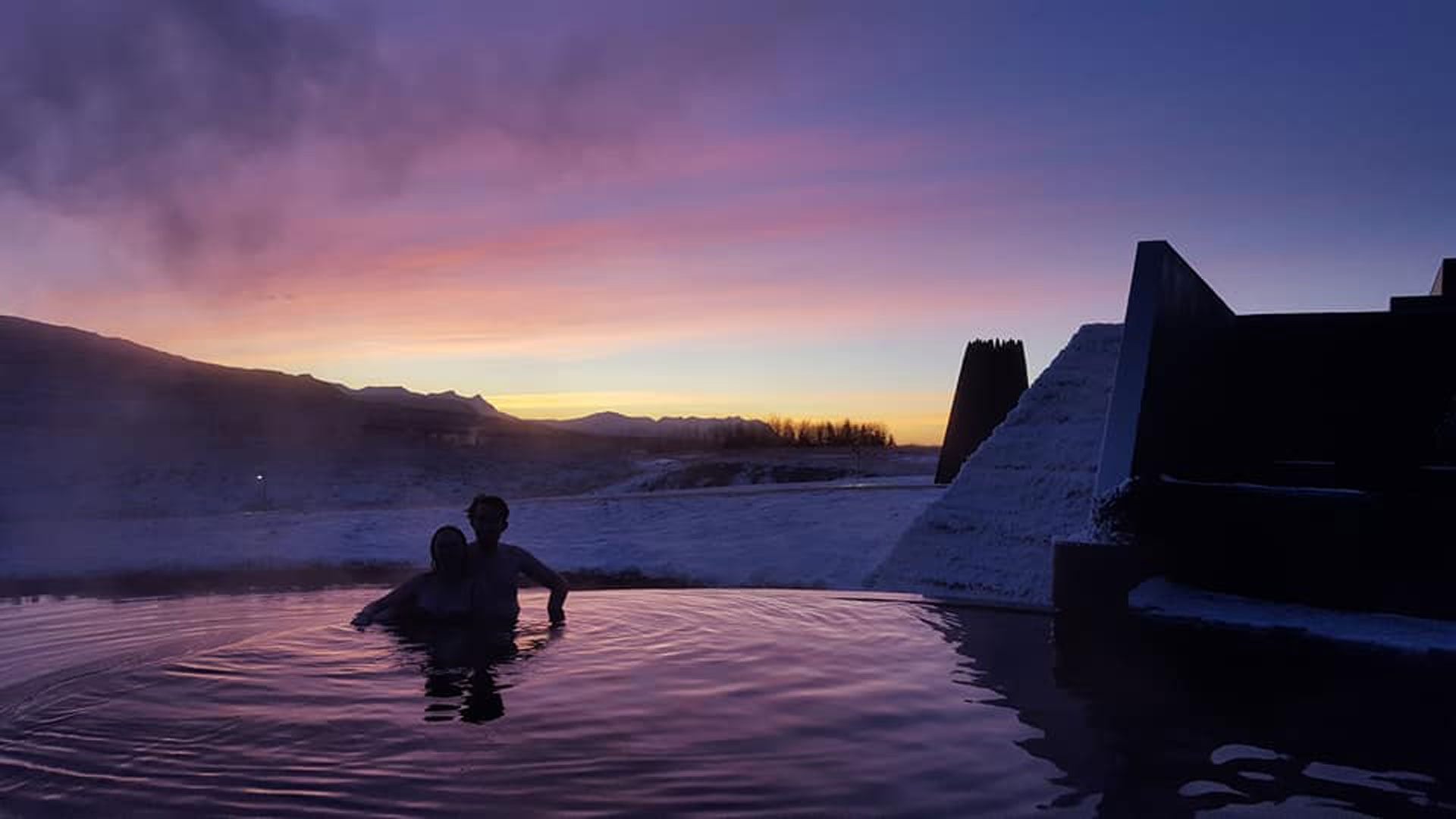 HUSAFELL HIKING
The newly opened trails of Husafell Nature Reserve are a treat for hiking lovers and outdoor enthusiasts. Using the Husafell Hiking Map this area is a wonderful place to "get lost" in the Icelandic nature without actually getting lost. You can expect to encounter large canyons, waterfalls, lava "hraun" formations, crystal rivers, woodlands (yes trees) and magnificent views of two glaciers.
Must Taste West Iceland
ROTTEN SHARK
At Bjarnarhofn Farm in Stykkisholmur you can experience a rotten taste of ancient Viking culture! Harkarl aka putrefied shark meat is air-dried at this farm and the rustic museum showcasing Iceland's shark hunting and eating history.

WHALE BEER
Great tasting water makes for great tasting beer. The brewmaster at Stedji Micro-brewery in West Iceland has the benefit of brewing craft beer using pure water from his mountain spring nearby. The brewery is open for public visits and is most famously known for its smoked whale testicle beer which is surprisingly tasty. However, if whale testicles aren't your thing, Stedji also puts out traditional beer flavors and seasonal brews.
ICE CREAM IN ICELAND
If you're going to eat ice cream anywhere in the world it may as well be in Iceland. At Erpsstadir Dairy Farm in West Iceland you can learn about Icelandic agricultural life while tasting their wholesome and organic dairy products produced on site. Indisputably the favorite item to taste is their specialty ice cream that comes in unique "only in Iceland" flavors such as licorice-salt and garden-rhubarb.
GEO EARTH-BREAD
When you go to Sturlureykir Visiting Horse Farm in Reykholt there is an added treat you have to try. Aside from riding and petting beautiful Icelandic horses, the horse outfitter also bakes geo earth-bread using heat from their on-site underground hot spring. Sweet tasting, chewy and delicious, this "rugbraud" is best served slathered with creamy Icelandic butter so thick you leave teeth marks.
This list of suggested travel experiences in West Iceland is by no means exhaustive. West Iceland is relatively undiscovered and a place you could go on exploring forever with memories that will last a lifetime.