Ice Caves in Winter
November 26, 2019
With winter's frosty grip comes the most exquisite of all the world's landforms: the ice cave. Created afresh each year, snowfalls compact down into crystalline firn and still more to pure blue ice. These ethereal caverns can be almost translucent to the eye, such is the force exerted by the weight of the ice. Like the Northern Lights, though infinitesimally less fickle for the passing traveller, they come into their own in the depths of winter, when the country is shrouded in its beautiful white cloak.
Witness the glittering splendour of the Crystal Cave
The main draw is the Crystal Cave. Though it has a name, this cave is never found in precisely the same place. Its interior, too, morphs into different shapes with the coming of winter. Its ice sculptures change with the weather, created afresh by rivulets of meltwater that wriggle through cracks and crevasses in the glacier above. But its attraction isn't entirely transient: what you can bank on is the vivid blue of the cavern's walls and roof. The ice glitters as light filters in creating a magical memory for those who have the privilege to witness it firsthand.
You'll find Crystal Cave, wherever it manifests itself this year, somewhere under Breiðamerkurjökull, one of Vatnajökull's outlet glaciers. It's conveniently located near to Jökulsárlón and many tourists combine the two sights. Don't try to find the Crystal Cave by yourself – you'll need a guide to access it so save yourself the effort of trying to locate it. Bear in mind that the capacity of the cave can also vary. It's wise to book well ahead to avoid disappointment if your dates turn out to be full.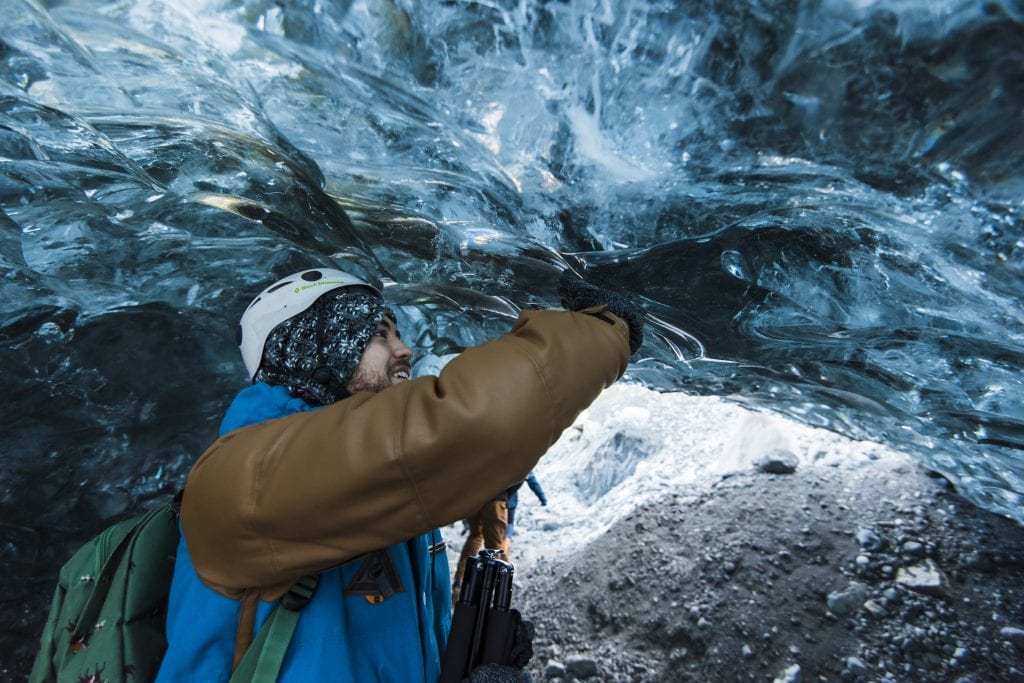 Ice caves can be found across the country
If you're under the impression that ice caves in Iceland begin and end with the Crystal Cave, you'd be wrong. Ice caves are scattered liberally beneath many of Iceland's 250 or so glaciers and no matter which part of the country you plan to visit, you'll be able to explore at least one. Svínafellsjökull ice cave is another south coast marvel, located on the edge of Skaftafell National Park right on the seashore. Further north under Vatnajökull you'll encounter the Kverkfjöll ice caves, which are created by geothermal activity – a river of warm water actually flows through one of the caves. They're remote, but worth the effort of the access hike when they're open to visitors.
East Iceland's finest example is Eyjabakkajökull ice cave, remote but striking. If you're up north, the Lofthellir lava cave near Lake Mývatn is adorned with ice sculptures in the winter. As it's not a glacier ice cave, it's a little different to the rest. In West Iceland, try Álftafjörður ice cave or better still, head for Langjökull where you have a choice of entering a natural or a manmade ice cave. Visit them both and compare nature's beauty to the impressive work of Iceland's most ambitious architects and engineers.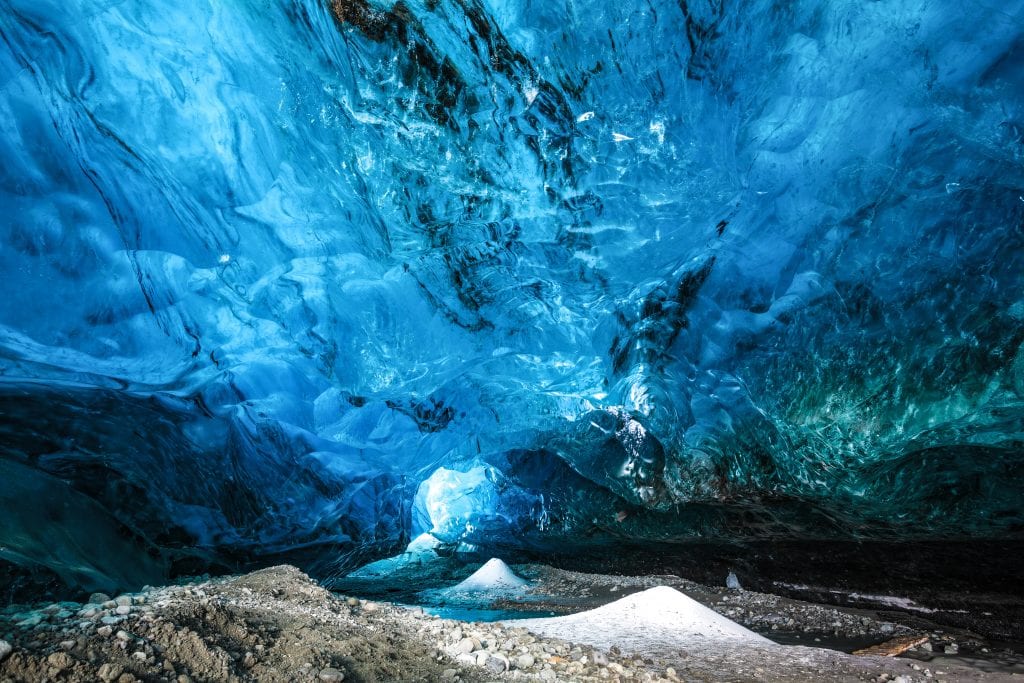 Tips for visiting an ice cave
Aside from always entering an ice cave with an experienced guide – for your own safety, as these are unpredictable environments – there are other things to bear in mind if you are planning to book a tour. Warm clothing and thick soled boots are a must. You'll find your feet stay warmer if you wear two thin pairs of socks rather than one because heat gets trapped between the layers. Apply the same principles to your other clothing – you won't want to be distracted by the cold temperatures. Helmets and crampons will be provided – if you want to keep your head warm, make sure your hat's not too bulky so it can be worn underneath. If you're serious about photography, you'll need a wide angle lens, a tripod and a soft dry cloth (or several) to ensure any drips are wiped from the camera between shots.