Best Ice Caves in Iceland to Explore
April 25, 2023
Iceland should be called the kingdom of fire and ice, with its wild landscape abundantly decorated with volcanoes and glaciers. With spectacular crystal caves hidden beneath its unique landscape, Iceland is an adventurer's dream. Glacial ice caves in Iceland are often the primary reason for a visit. If you're the adventurous type, you might want to know more about these mysterious glacier formations before you book an ice cave tour.
Best time to visit ice caves in Iceland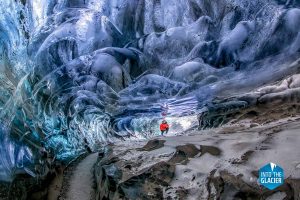 Once you're in an ice cave, you are surrounded by saturated coal-black, teal, and aquamarine colors, razor-sharp icicles, and indescribable stillness creating an almost unearthly experience. New forms and passageways are carved each winter, making them even more unique.
Man-Made vs. Natural Ice Caves in Iceland
When looking at what ice caves are in Iceland, you'll come across the words "man-made" and "natural." While the natural ice caves are formed thanks to mother nature, by meltwater making its way through glaciers and creating passageways, man-made glacier ice caves are not a product of nature but people. To ensure that curious visitors can tour glacier caves, a lot of effort is put into maintaining these ice roads leading through the caves, which means that one has to fight the changing weather and ensure that these ways aren't covered by snow. 
This poses a question: which one should you visit? Is one better than the other? Both types of ice caves are worth visiting as both are magnificent and change due to changing times and weather. The only thing that might impact your choice is when you plan to see them, as man-made ice caves are open all year, while natural ice caves wait for visitors during winter.
Best ice caves in Iceland to visit
Since Iceland has 269 glaciers scattered across the country, choosing the best ice caves to explore can be a daunting task. While local expertise is always valuable, you can start planning your glacier adventure by doing some online research. For your convenience, here's a list of the top ice caves in Iceland, including both man-made and naturally-occurring formations.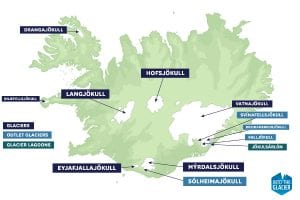 1. VATNAJOKULL ICE CAVES
Europe's largest ice-cap glacier, Vatnajökull has a surface of 8,100 km2 (3,127 mi2) and is 380 meters (1,246 ft) thick on average. As part of a national park, the region is divided into uninhabited highland and lowland areas, covering 13% of Iceland. The glacier offers a number of ice inlets depending on how many of them remained until the next season.
The long meandering crystal-blue corridors beneath the Vatnajökull glacier have earned the names of Anaconda Ice Cave and Crystal Ice Cave. With a glass-like ceiling, gleaming walls, and shimmers of bright sunbeams, you're guaranteed an awe-inspiring spectacle.
2. CRYSTAL ICE CAVE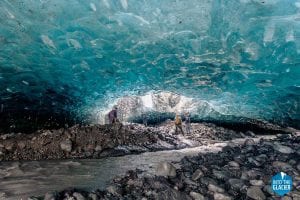 As part of the Breiðamerkurjökull glacier, the Crystal Cave is one of the most visited ice caves in Iceland. The name 'Crystal Cave' originated based on its translucent features and interior colors of glimmering white and blue hues. Once the light makes its way through the thick ice, you'll be presented with a breathtaking view. Due to its grandeur and cavern-like looks, the ice cave attracts crowds of up to 80 people at once.
3. KATLA ICE CAVE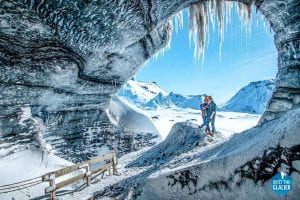 Within Mýrdalsjökull Glacier, resides the 800-year-old Katla Ice Cave. Located roughly a two-hour drive away from Reykjavík, the naturally-formed attraction invites visitors to explore its frozen chambers all year long. According to Icelandic folklore, the volcano was named after Katla, who worked as a cook at a local monastery. As the legend goes, she had a feisty temper and was into witchcraft!
Since the ice cave is underneath the mighty volcano, both share the same name. At its center, you'll find the renowned cave of "dragon glass," presenting a fusion of ice-blue and volcanic ash.
4. LANGJÖKULL ICE CAVE
As the second-largest glacier in Iceland, Langjökull covers an area of about 950 km² (366 mi2). The ice formation lies on hyaloclastite mountains. Due to its oblong shape, it's called Langjökull, which means "the Long Glacier."
In 2015, a man-made cave was opened to the public at Langjökull Glacier, offering an extraordinary opportunity to roam hundreds of meters into the artificially-created tunnel. The ice cave consists of five individual carved-out rooms with the deepest point roughly 50 meters (164 ft) below the surface. What your day on and in the Langjökull glacier would look like? First, you would make your way up to the ice cap to witness the Icelandic beauty from there and then descend to Langjökull ice cave. Here you'll see the elegance that a simple thing like ice can create. While you're admiring this, don't forget that what you're looking at was formed thousands of years ago, and the formations you see now might be "replaced" with totally different ones the next time you visit.
5. SKAFTAFELL ICE CAVES
Skaftafell blue ice cave is situated on the tongue of the famous Vatnajökull glacier. This is also where you can find the highest point in Iceland – Hvannadalshnjúkur. What's interesting to know about this glacier ice cave is the fact that while the glacier itself is easily accessible, the way to the ice cave is considered hard to reach. But this only means that the view is worth the hassle once you're there. You'll be mesmerized by the playfulness of blue and white colors mixed with the none-like-other ice formations.
Best ice caves in Iceland – FAQ
Can you visit ice caves in Iceland on your own?
This phenomenon is ever-changing with new formations appearing annually, so it's advised that you take a professional guide to help you navigate these icy mazes.  
Can you see ice caves in Iceland in the summer? 
Many ice caves, especially naturally formed ones, are not accessible for safety reasons. During warmer months, glaciers melt, becoming unstable and putting visitors at risk. This also explains why tourists get to see a changed view of ice caves each year – glaciers "live" through different weather temperatures making them change their appearance. The good news is that a few ice caves can be toured all year long: the Katla ice cave and the man-made ice cave at Langjökull Glacier. 
What time of year is Iceland for ice caves?
Icelandic ice caves are the most "stable" during the cold weather season, from the middle of November up until the middle of March. Though you can get yourself an ice cave tour during warmer months, the number of ice caves you can visit during the summer season decreases, leaving you with two options: Katla ice cave and Langjökull ice cave. According to your trip itinerary, check out what you can expect from ice cave tours during spring, autumn, and winter.   
If you want to learn more about Iceland's ice caves, check out this ultimate ice cave guide. See you on one of many ice cave tours!