The Top Ice Caves in Iceland to Explore in 2021
April 19, 2021
Iceland should be called the kingdom of fire and ice, with its wild landscape abundantly decorated with volcanoes and glaciers. With spectacular crystal caves hidden beneath its unique landscape, Iceland is an adventurer's dream. Glacial ice caves in Iceland are often the primary reason for a visit. If you're the adventurous type, you might want to know more about these mysterious glacier formations before you book an ice-cave tour.
How are ice caves formed? These natural wonders lie below the glaciers, taking shape when sunlight and meltwater carve them out. Over time, tunnels and caves are formed within the heart of the glacier. This phenomenon is ever-changing with new formations appearing annually, so it's advised that you take a professional guide to help you navigate these icy mazes.
Once you're in an ice cave, you are surrounded by saturated coal-black, teal, and aquamarine colors, razor-sharp icicles, and indescribable stillness creating an almost unearthly experience. New forms and passageways are carved each winter, making them even more unique.
Since Iceland has 269 glaciers scattered across the country, choosing the best ice caves to explore can be a daunting task. While local expertise is always valuable, you can start planning your glacier adventure by doing some online research. For your convenience, here's a list of the top ice caves in Iceland, including both man-made and naturally-occurring formations.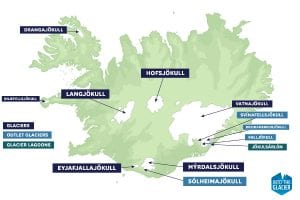 VATNAJOKULL ICE CAVES
Europe's largest ice-cap glacier, Vatnajökull has a surface of 8,100 km2 (3,127 mi2) and is 380 meters (1,246 ft) thick on average. As part of a national park, the region is divided into uninhabited highland and lowland areas, covering 13% of Iceland. The glacier offers a number of ice inlets depending on how many of them remained until next season.
The long meandering crystal-blue corridors beneath the Vatnajökull glacier have earned the names of Anaconda Ice Cave and Crystal Ice Cave. With a glass-like ceiling, gleaming walls, and shimmers of bright sunbeams, you're guaranteed an awe-inspiring spectacle.
CRYSTAL AND SAPPHIRE ICE CAVES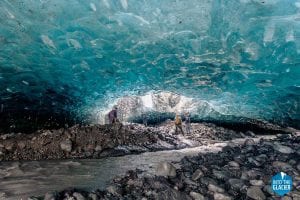 As part of the Breiðamerkurjökull glacier, the Crystal Cave was one of the most visited ice caves in Iceland. The name 'Crystal Cave' originated based on its translucent features and interior colors of glimmering white and blue hues. Due to its grandeur and cavern-like looks, the ice cave used to attract crowds of up to 80 people at once.
Unfortunately, for the past few years, the Crystal Ice Cave hasn't recurred in the condition suitable for tours. But on the opposite side of the glacier, you are likely to find a relatively new and praise-worthy formation called the Sapphire Ice Cave. With three separate spaces divided by a moulin, the ice cave is a delight to explore and admire its distinct glacial architecture.
KATLA ICE CAVE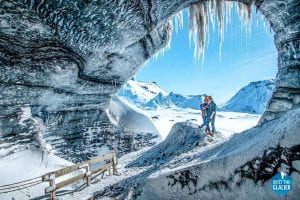 Within Mýrdalsjökull Glacier, resides the 800-year-old Katla Ice Cave. Located roughly a two-hour drive away from Reykjavík, the naturally-formed attraction invites visitors to explore its frozen chambers all year long. According to Icelandic folklore, the volcano was named after Katla, who worked as a cook at a local monastery. As the legend goes, she had a feisty temper and was into witchcraft!
Since the ice cave is underneath the mighty volcano, both share the same name. At its center, you'll find the renowned cave of "dragon glass," presenting a fusion of ice-blue and volcanic ash.
LANGJOKULL ICE CAVE
As the second-largest glacier in Iceland, Langjökull covers an area of about 950 km² (366 mi2). The ice formation lies on hyaloclastite mountains. Due to its oblong shape, it's called Langjökull, which means "the Long Glacier."
In 2015, a man-made cave was opened to the public at Langjökull Glacier, offering an extraordinary opportunity to roam hundreds of meters into the artificially-created tunnel. The ice cave consists of five individual carved-out rooms with the deepest point roughly 300 meters (984 ft) below the surface.