Reykholt: Home of Icelandic Saga's Author
May 2, 2023
Reykholt is Iceland's unique settlement that invites people to walk its ancient paths and uncover unheard stories and secrets while being surrounded by distinctive nature.
Where is Reykholt located?
This Iceland's tiny gem is located in west Iceland. It's also a part of Borgarfjörður Fjord. Those who wish to visit the village should know that it takes only 40 minutes to drive here from Borgarnes and an hour and a half drive to reach it from the capital. However, make sure not to confuse it with Reykholt, South Iceland.
Home of Snorri Sturluson
Among many great things that Reykholt is known for, the most spectacular is that this is where Snorri Sturluson, a famous Icelandic writer, historian, and politician, was from. Thanks to Sturluson, born at the end of the XII century and lived in the village since 1206, Reykholt became a true cultural and intellectual center. Today, we know much more about Nordic history because of Sturluson through his most famous literary works, including the Prose Edda and Heimskringla saga collection. He's also known as an important person in politics as Sturluson was a spokesperson of the Icelandic parliament.    
Things to do in Reykholt and around it 
What to do in Reykholt? What highlights and attractions are waiting for you here? Be ready to learn the village's fascinating history and see some impressive architectural constructions. 
Snorrastofa
If you're curious to learn more about the great Snorri Sturluson and his impact, then you should visit Snorrastofa. This research center studies the medieval period and has been particularly interested in the works of Sturluson since 1995. The village is known as an intellectual center, and this research center helps to maintain this status to this day. You'll find a library, research premises, museum shop, and tourist reception here.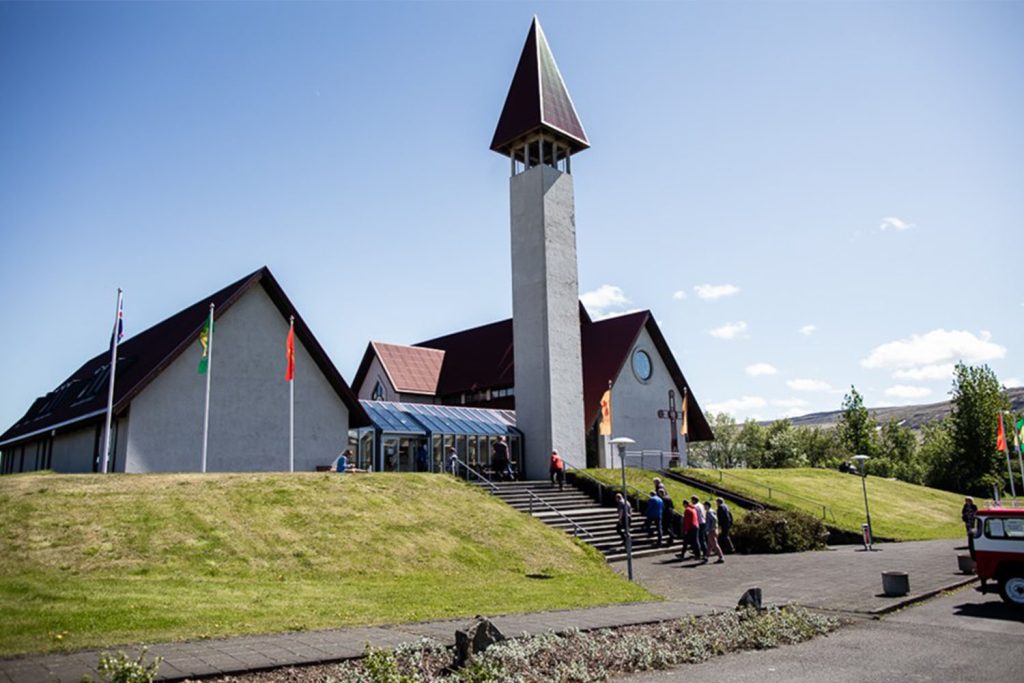 Snorralaug geothermal pool
Iceland is already famous for its geothermal springs and Reykholt hot springs carry great significance. Besides being one of the oldest pools in Iceland, this particular hot spring is so special because it's believed that Snorri Sturluson bathed here, so the attraction was named in his honor. The geothermal pool is circular in shape, and beside it, you can see a tunnel that is believed to lead the Sturluson home. Since Snorralaug is of extreme historical value, visitors cannot bathe here.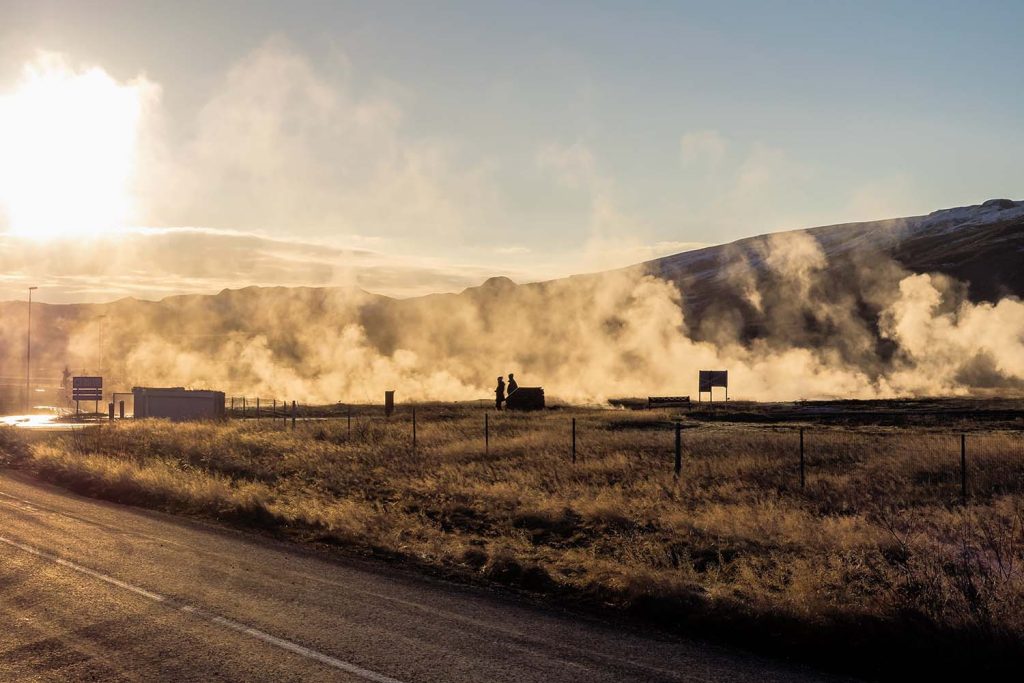 The Church of Reykholt
The old church was built from 1886 to 1887 and designed by architect Garðar Halldórsson. In 1996, it was consecrated, and the restoration took place from 2001 to 2006. Its design was inspired by Reykjavik's Cathedral. The church is known not only for its beauty but also for its great acoustics. This architectural masterpiece is now open to everyone, inviting people to admire its old church bells and beautiful exterior design.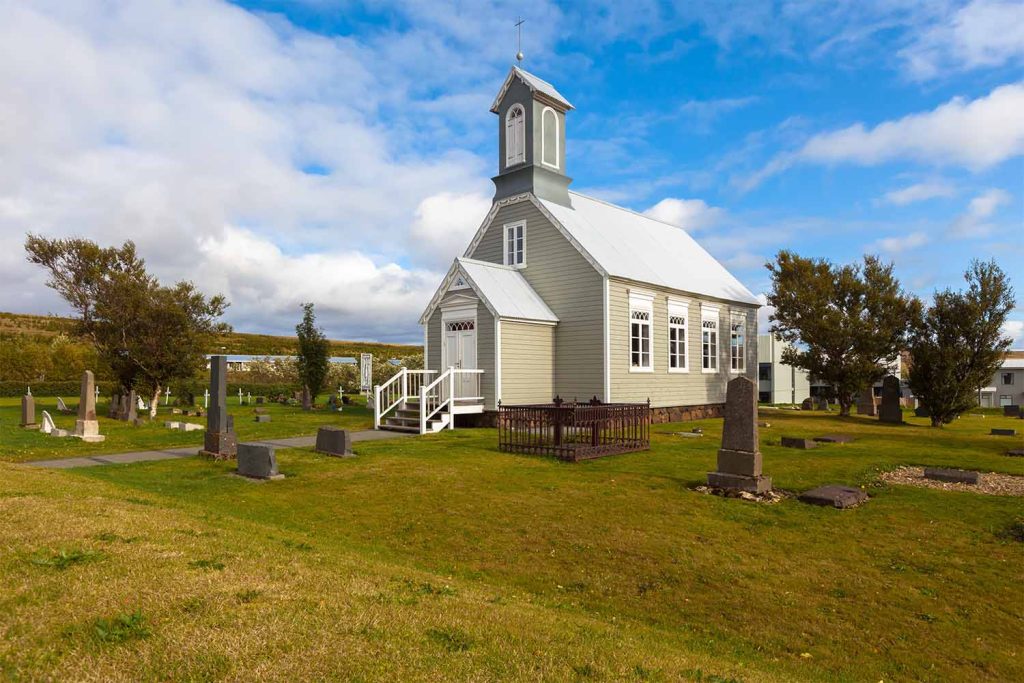 Hraunfossar and Barnafoss waterfalls
Once you're done exploring the village, take your time getting back to the capital and instead spend some time around the area. This is where you can spot the two astonishing waterfalls, Hraunfossar and Barnafoss. Unlike many waterfalls in Iceland, Hraunfossar consists of many small streams coming down from under the lava field, creating a water net. The water falls to river Hvítá which stands out for its aquamarine color. Not that far away from it is Barnafoss, a waterfall known for the legend about two kids who fell into the water. Despite this tragic story, the attraction itself looks magnificent and mysterious.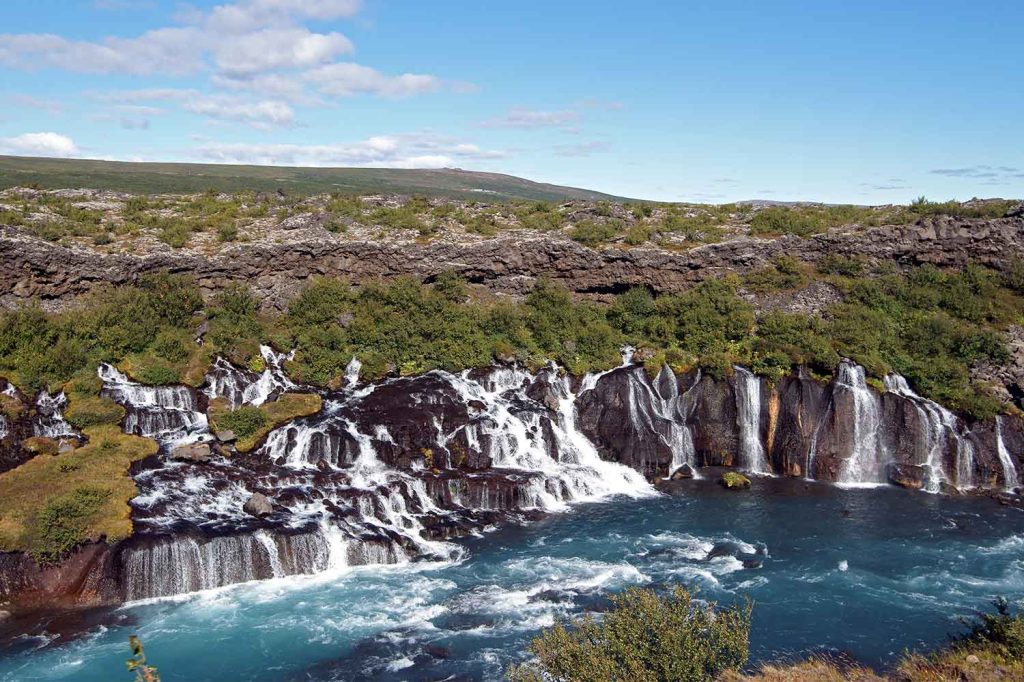 Deildartunguhver hot springs
While visiting the village, take advantage of an opportunity to see Europe's biggest and most powerful hot spring. With a flow rate of 180 liters of water per second and a temperature of 97°C, it provides hot water to the towns of Borgarnes and Akranes. Not far away from Deildartunguhver is Krauma, natural geothermal baths where you can relax and enjoy the hot springs spa.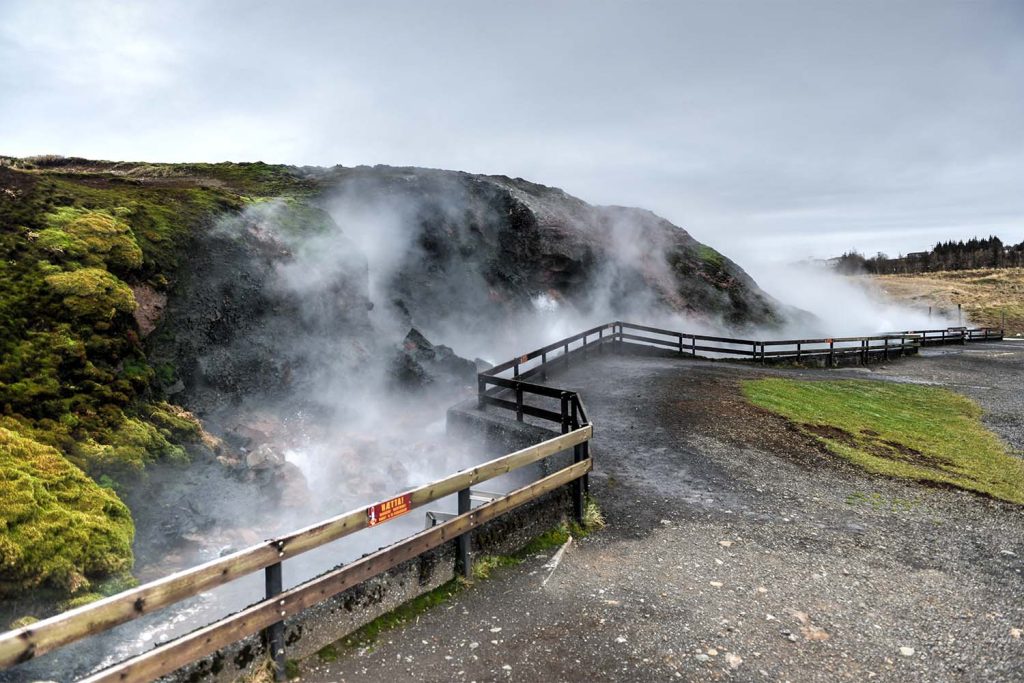 Restaurants in Reykholt
After you're done exploring Reykholt and learning about its fascinating history, it's time to take a break and try out some delicious, high-quality food here. Here's a list of places that invite you to a journey of different tastes:
Fosshotel Reykholt – Enjoy your meal in a historic place.
Friðheimar – Experience eating among tomato plants and trying dishes from freshly grown tomatoes.
Restaurant Mika – a family-run place that meets you with dishes made from scratch and their signature chocolates