Langjokull Glacier: The Ultimate Guide
February 3, 2023
Langjokull Glacier is Iceland's second-largest ice cap after Vatnajökull and the closest glacier to Reykjavik. But what else do you need to know about the tongue of ice known as the "Long Glacier"?
What's a Glacier?
Glaciers are bodies of dense ice that formed from snow over hundreds of years. They form where more snow piles up in winter than melts each summer. As the snow gets thicker, it compacts into dense glacial ice that slowly moves downhill under its weight.
Glaciers move from mountains to the sea. That's why they are called slowly moving rivers of ice. The movement is slow but very powerful and reshapes the landscape while moving.
About Langjokull Glacier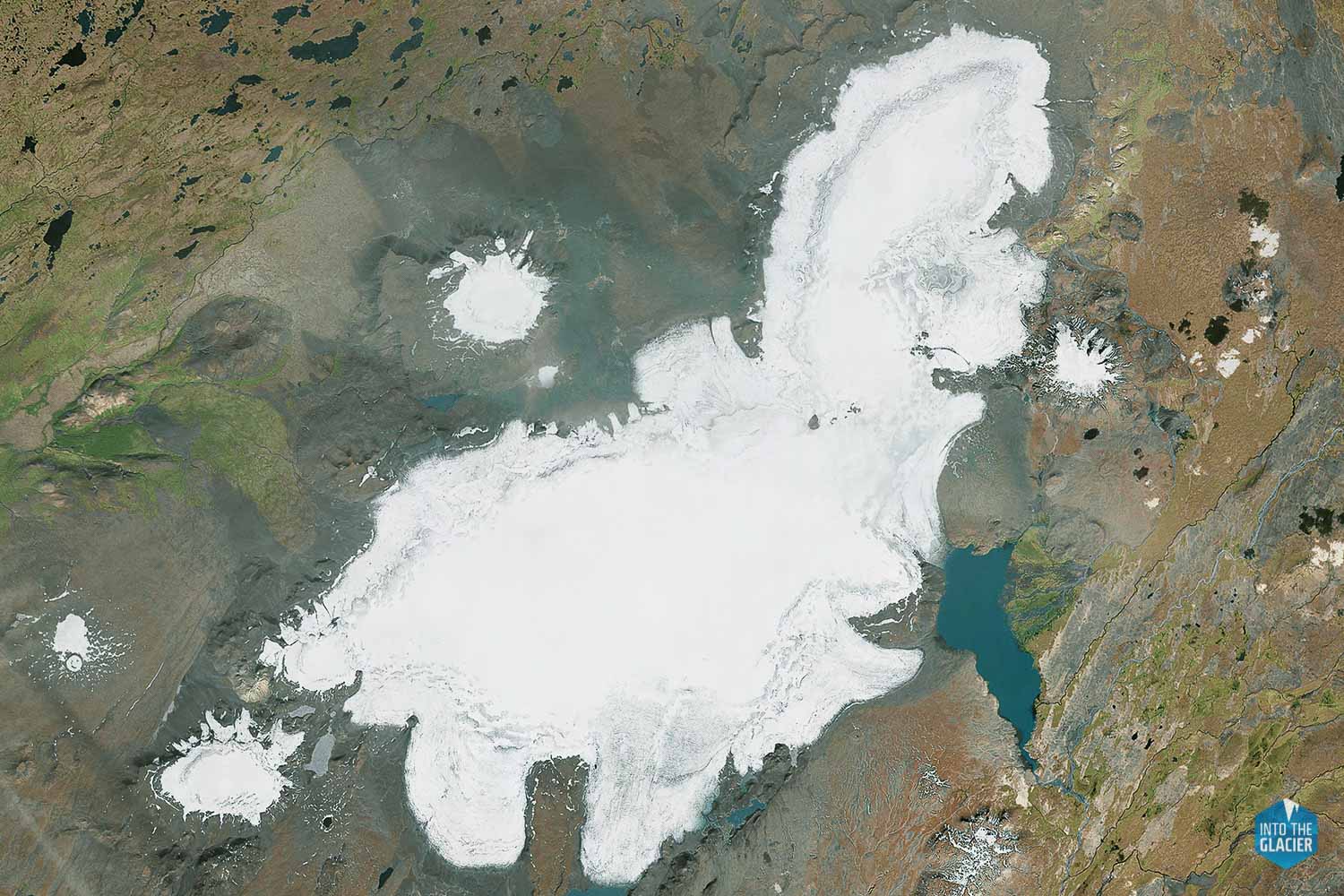 The shimmering glacier Langjokull is called the "Long Glacier" because it's not very wide, but surprisingly long. From north to south the ice cap measures around 55 km (31 mi) long, but from east to west, it reaches a width of only 20 km (12 mi).
If you're planning on visiting the glacier and wondering what to do while you're there, we have good news. You'll find tons of inspiring activities on Langjokull Glacier, Iceland's second-largest ice cap. Think ice caving, hiking, snowmobiling, and off-roading by super jeep!
The ice cap is a popular and convenient destination due to its proximity to Reykjavik.
How Old Is Langjokull Glacier?
Centuries of snowfall have compacted to form Langjokull, which slowly slips downhill under the influence of gravity. The ice cap formed around 3,500 years ago. At the time, ancient civilizations populated the earth, and woolly mammoths were still alive.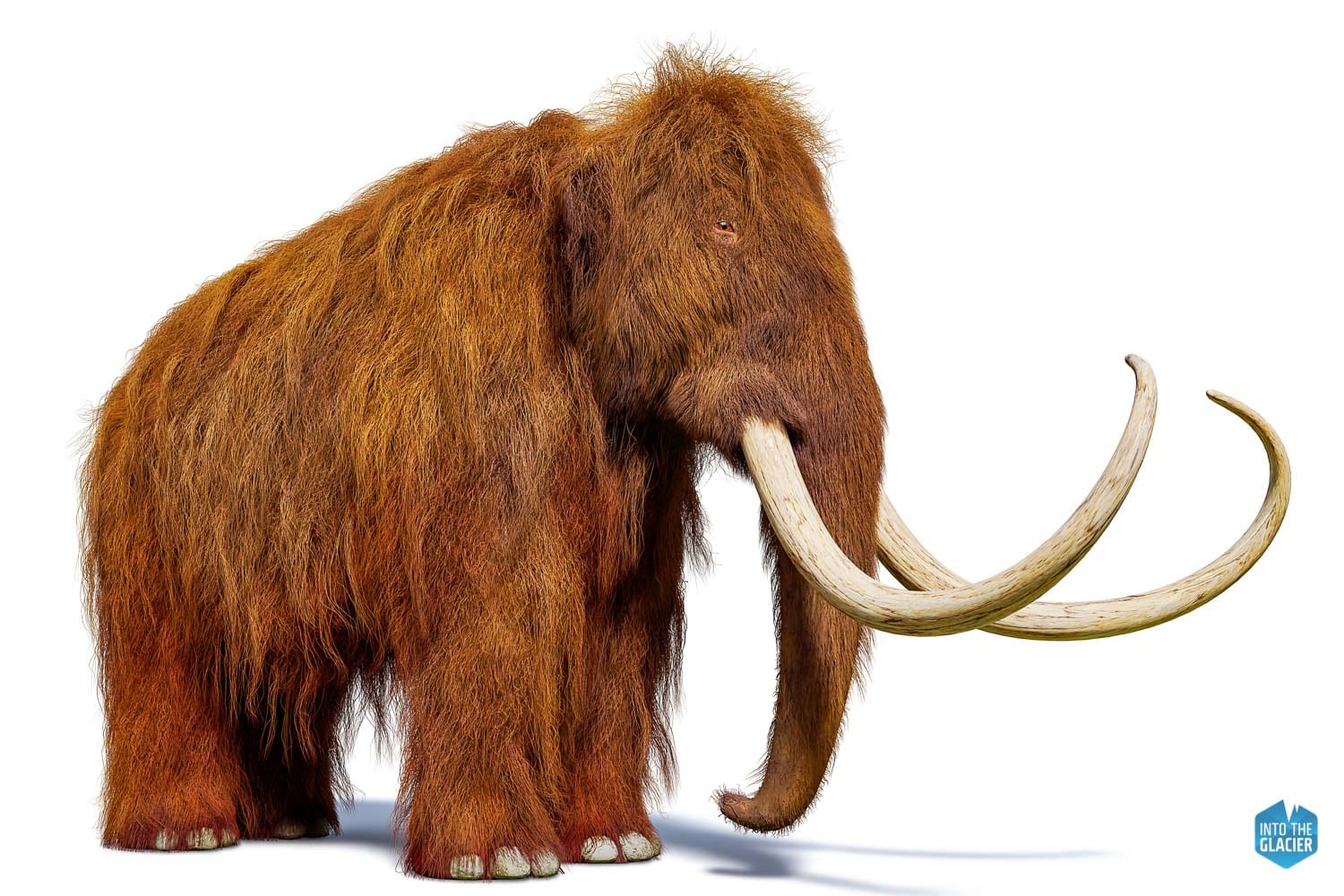 During that time, ice on towering mountain peaks accumulated with the cooling climate. Finally, it formed one big ice cap covering vast mountain ranges and surrounding valleys.
Almost kissing the Arctic Circle, Iceland is a perfect place for glaciers to form. About 11% of the country is covered in glaciers, Langjokull being one of them.
How Large Is Langjokull Glacier?
The enormous Langjokull Glacier covers an area of about 953 km² (368 mi²), making it the second-largest glacier in Iceland and the fourth-largest in Europe. For reference, that makes Langjokull bigger than New York City or even Singapore.
The ice cap is around 200 billion m3 in volume, enough to fill 80 million Olympic-size swimming pools. The average thickness of ice is about 580 m (1,900 ft) thick. The only glacier in Iceland larger than Langjokull is Vatnajökull, Iceland's (and Europe's) biggest ice cap.
Exploring the surface of such a massive glacier is breathtaking, not to mention climbing inside of it. You can do so on our carefully designed Langjokull tours, where you ride up to the glacier in a modified NATO missile launcher truck!
Langjokull Glacier Facts for Curious Minds
Langjokull is home to the world's biggest man-made ice tunnel, opened in 2015.
The highest point of Langjokull (Baldjökull) is about 1,450 m (4,760 ft).
If global warming continues unabated, Langjokull will disappear in about 100 years. The worst case scenario puts the average lifespan at just 50 years.
Langjokull had an ice brother, Okjokull, the first Icelandic glacier lost to climate change in 2014. The site where the glacier once lived was renamed Ok, and "jokull," meaning glacier in Icelandic, was dropped. There is a 2018 documentary film called "Not Ok" about the loss of Okjokull. 

The glacier feeds Þingvallavatn, Iceland's largest lake at 84 km² (32 mi²).
Langjokull Glacier Map
Located in the country's Western Highlands, Langjokull is the closest glacier to Reykjavik. The ice cap can be clearly seen from Haukadalur Valley on the Golden Circle.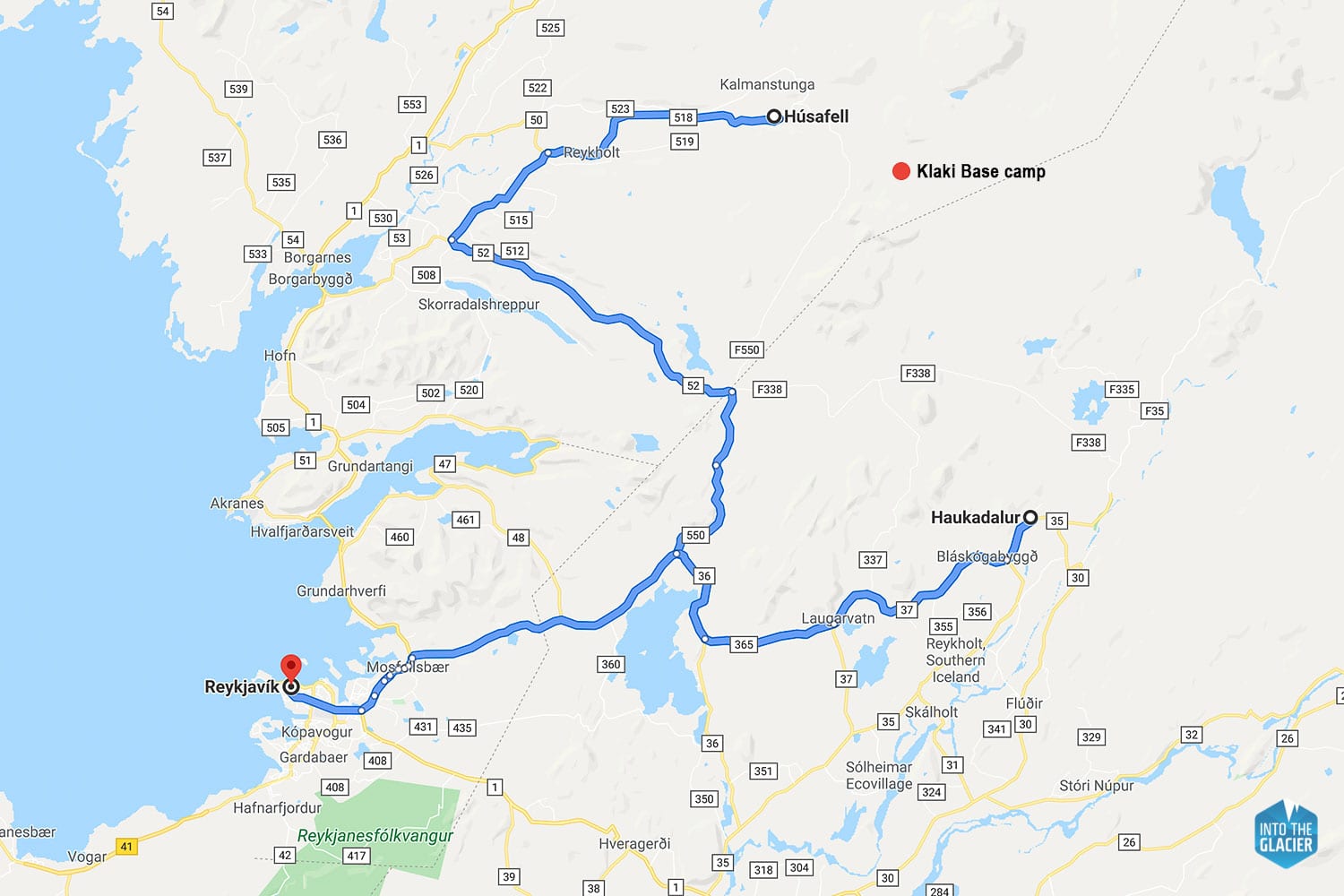 Húsafell, the town where Langjokull Glacier tours depart, is the main access point to the glacier. Húsafell is about 130 km (81 mi) from Reykjavik.
Langjokull Glacier Ice Caves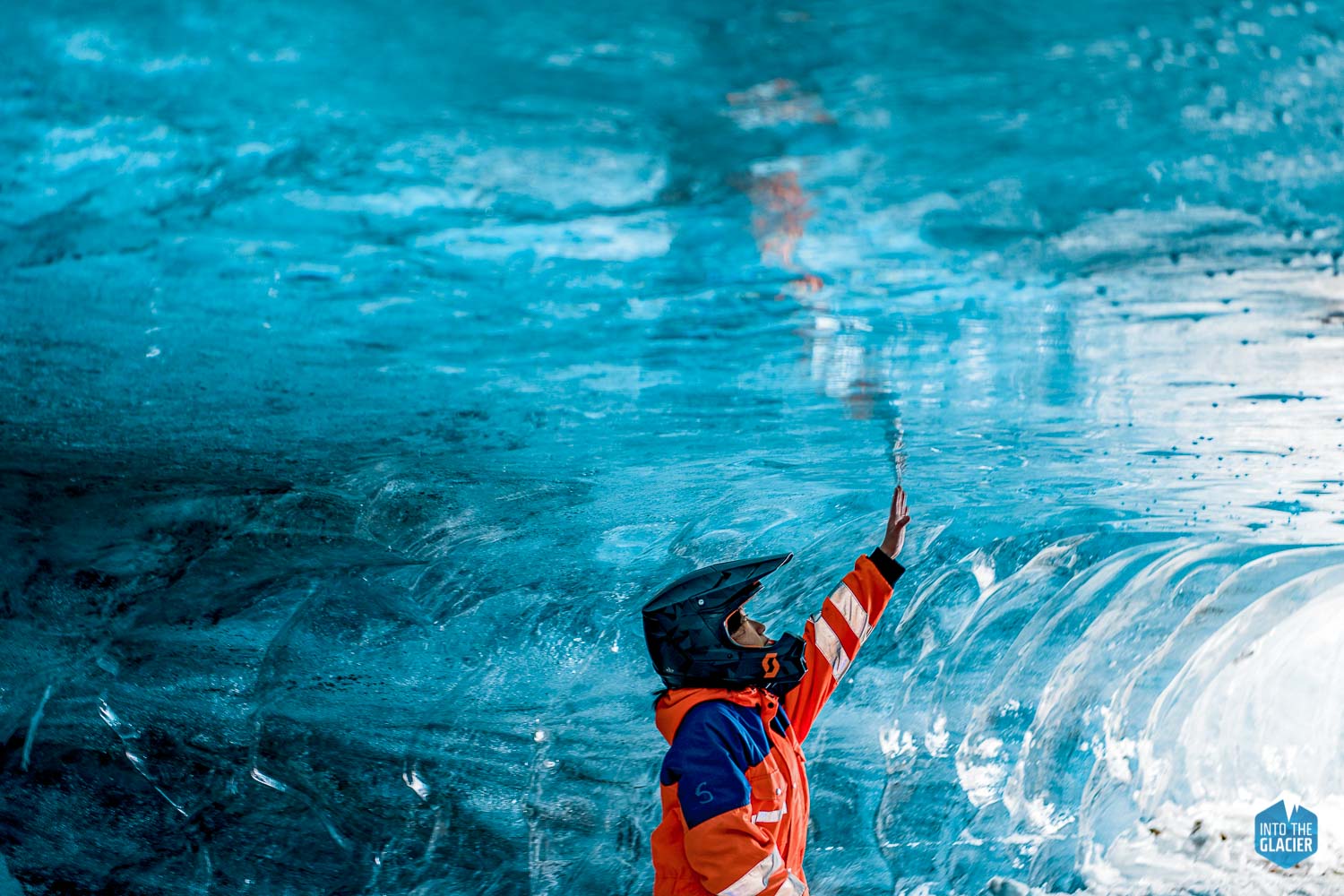 Langjokull Glacier caves invite you to explore frozen worlds burrowed under ice and snow. Their various shapes and colors are like nothing you've seen before!
As you explore the natural ice cave, soak up views of surreal ice formations. Those views are made even better by the sound of cracking ice.
Because glaciers are slowly moving rivers of ice, they change over time. This means the natural ice caves are also subject to change. The Langjokull caves constantly change their appearance or disappear altogether. Luckily, new ice dungeons form every year.
Need to Know: If you want to explore a natural ice cave, you'll need to join a tour with an expert guide. Never attempt to explore ice caves unguided.
The Unbelievable Langjokull Glacier Ice Tunnel (Must See)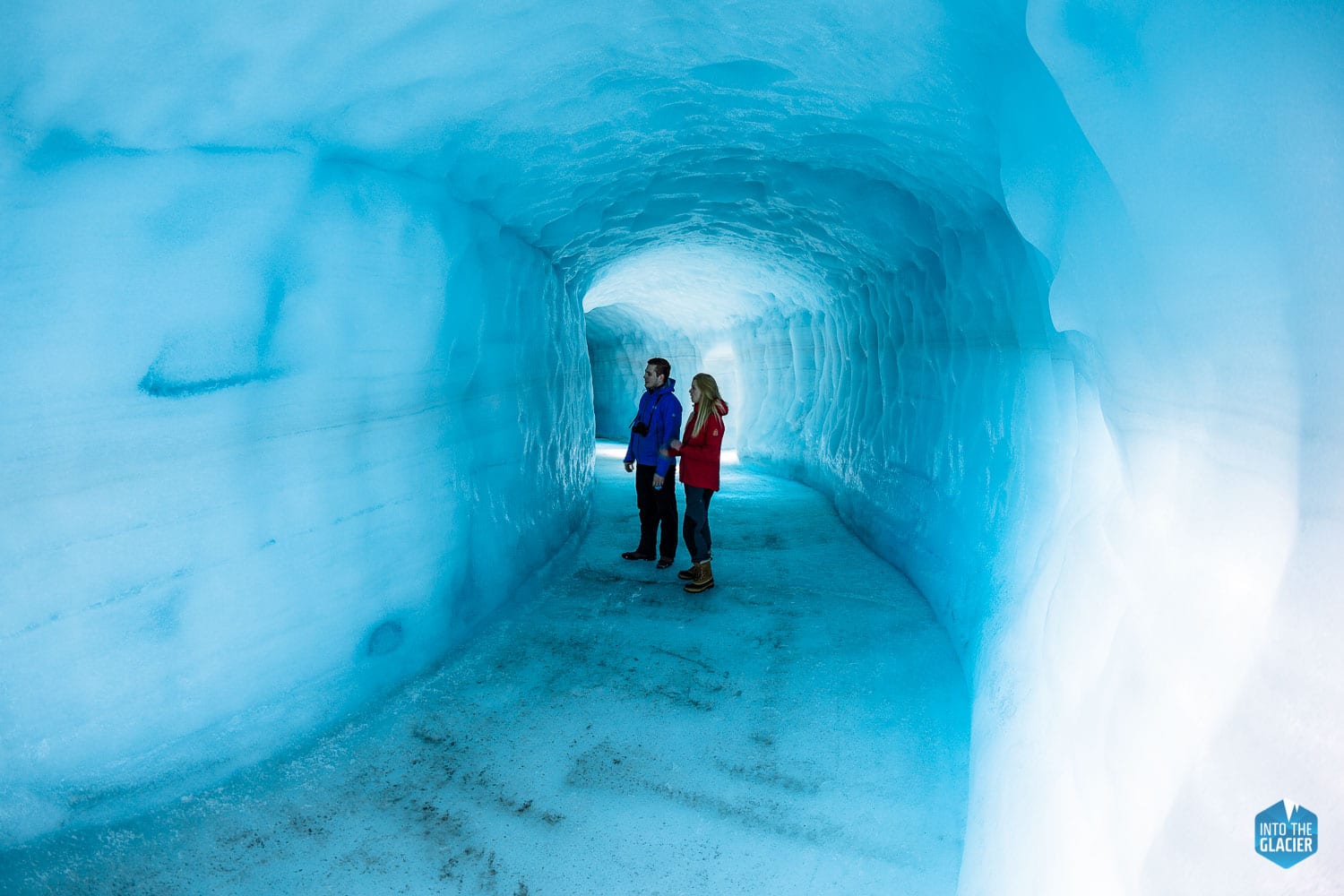 There are many beautiful natural ice caves in Langjokull worthy of every traveler's attention. But Langjokull's real pride and glory is the world's largest man-made ice tunnel, called "Into the Glacier."
Located 1,260 m (4,134 ft) above sea level, the tunnel leads to separate ice caves that stretch 500-m (1,640 ft) deep into the ice cap. The attraction allows visitors to really stand inside Europe's fourth-largest glacier.
What Does the Langjökull Ice Cave Experience Really Look Like?
You start by boarding a 20-ton monster truck to reach the entrance of the cave, located close to the top of the glacier. This unique vehicle is a former NATO missile launcher designed to traverse heavy snow and rocky ice with ease.
After your ride through glacial landscapes, it's time to go inside the glacier!
Picture yourself walking down a dim LED-lit tunnel deep into a glacier. The ice changes color from white to brilliant blue. Finally, you reach a frozen chapel for underground weddings. Along the way, learn how glaciers work and their relation to Iceland.
After an hour of exploring the tunnel, you exit the cave with memories to last a lifetime.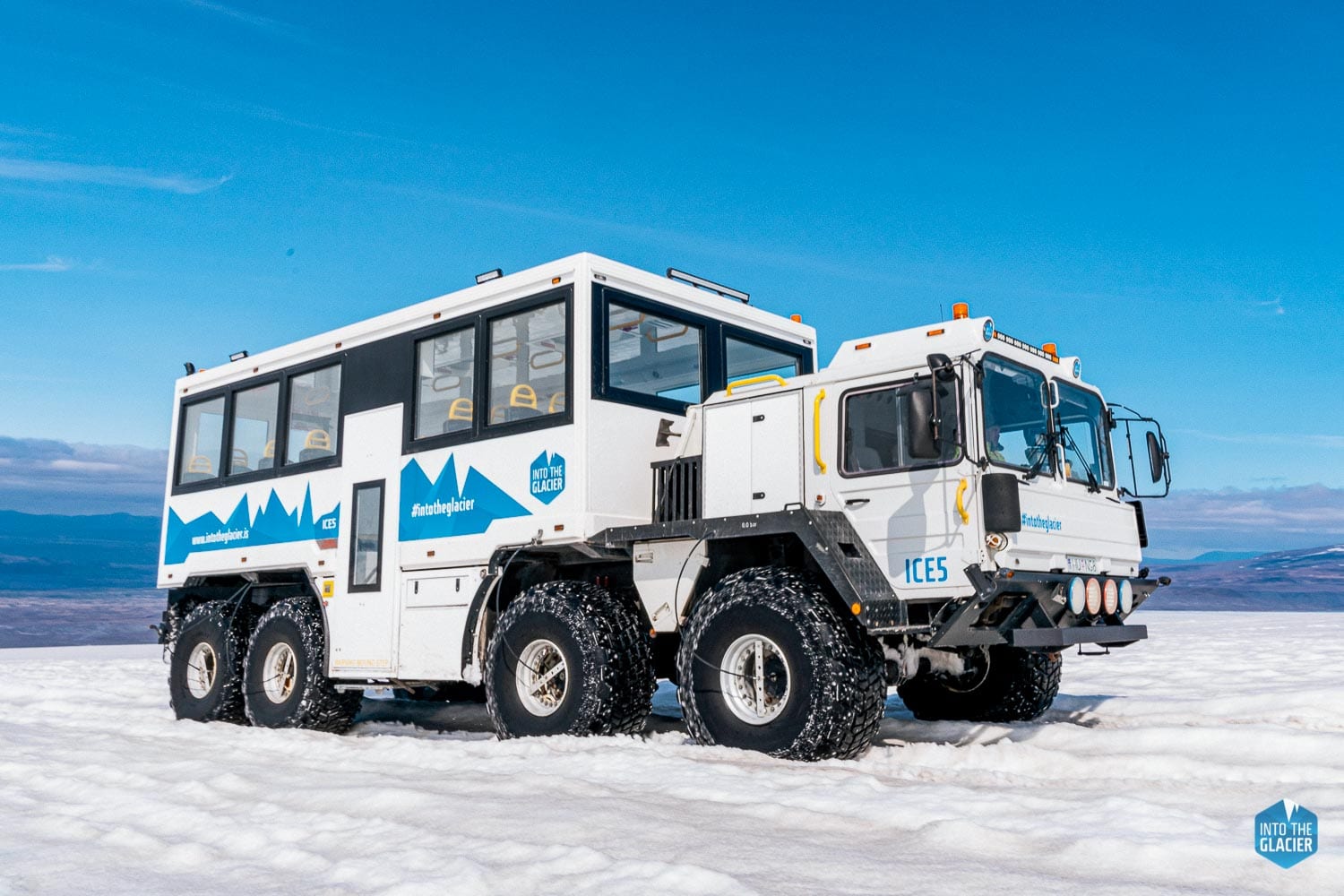 Unlike Iceland's natural ice caves, Into the Glacier operates your-round.
If you think that standing at the heart of the glacier sounds too good to pass up, check out our famous Into the Glacier tour!
Winter Sport Attractions on Langjokull Glacier
Langjokull ice cap hooks an adventurous crowd. It's one of the top spots in the country for snowmobile and super jeep tours. The glacier is also a firm favorite among skiers and hikers.
It might seem that adventuring on Langjokull is only possible in winter. But you can explore the slopes of Langjokull's icy playground in summer as well. For example, hair-rising snowmobile tours on the glacier operate year-round.
Intrigued by all that ice? Combine ice caving and snowmobiling on our exclusive one-day Ice Tunnel and Snowmobile tour. Because hey, how often can you do both on the same day?
The Golden Circle and Langjokull Glacier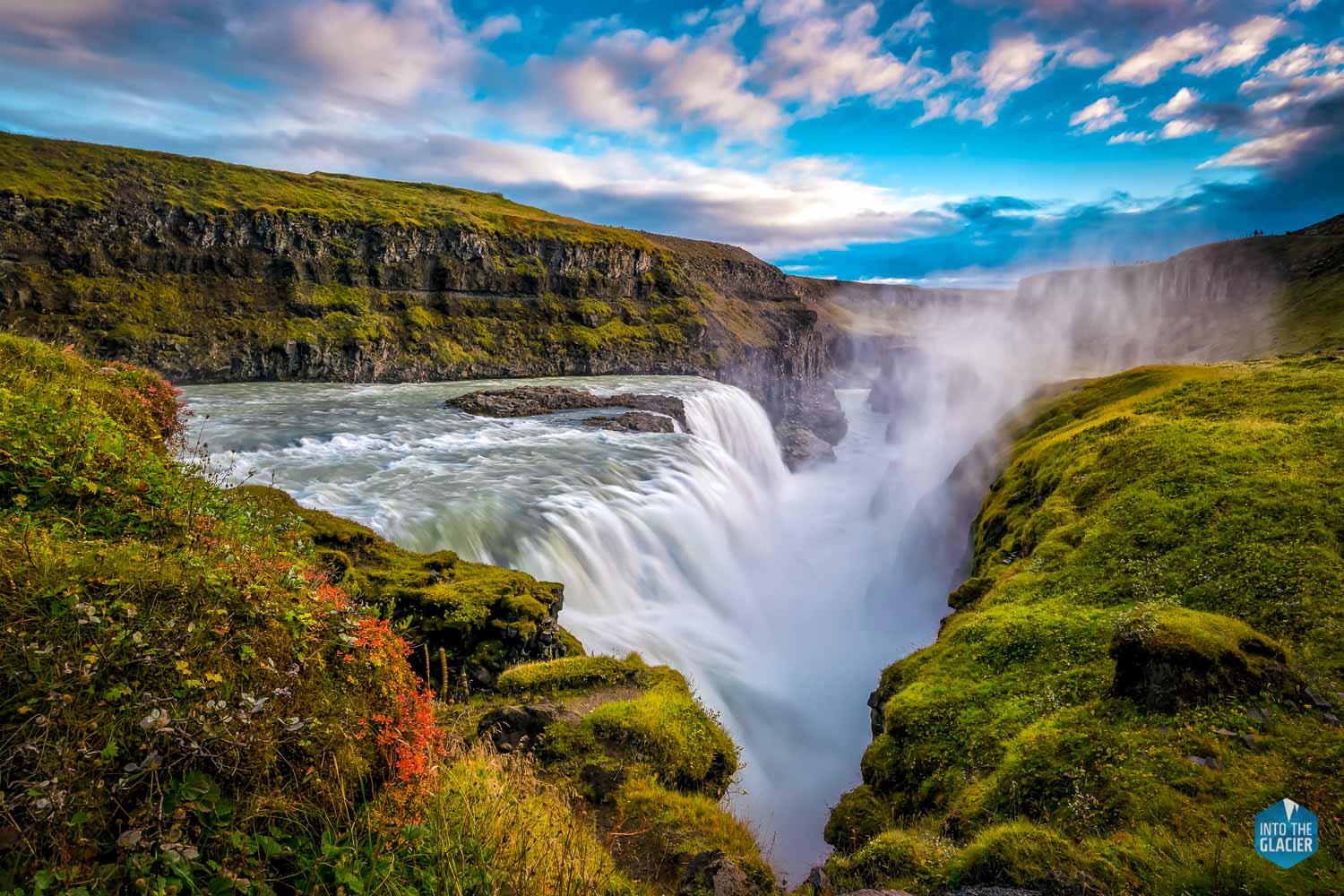 Glaciers are an important part of the world's ecosystem. They store more than 70% of all freshwater on Earth. Langjokull ice cap is no exception! If it weren't for this glacier, most of Iceland's natural wonders would not exist.
Langjokull is a water source for major attractions on the Golden Circle, Iceland's most famous sightseeing route. The powerful Gullfoss Waterfall gets its water from the Hvítá River, which flows right out from Langjokull.
In addition, the meltwaters from the glacier feed hot springs at the Great Geysir Geothermal Area. The runoff water travels through porous lava fields before emerging from steam vents.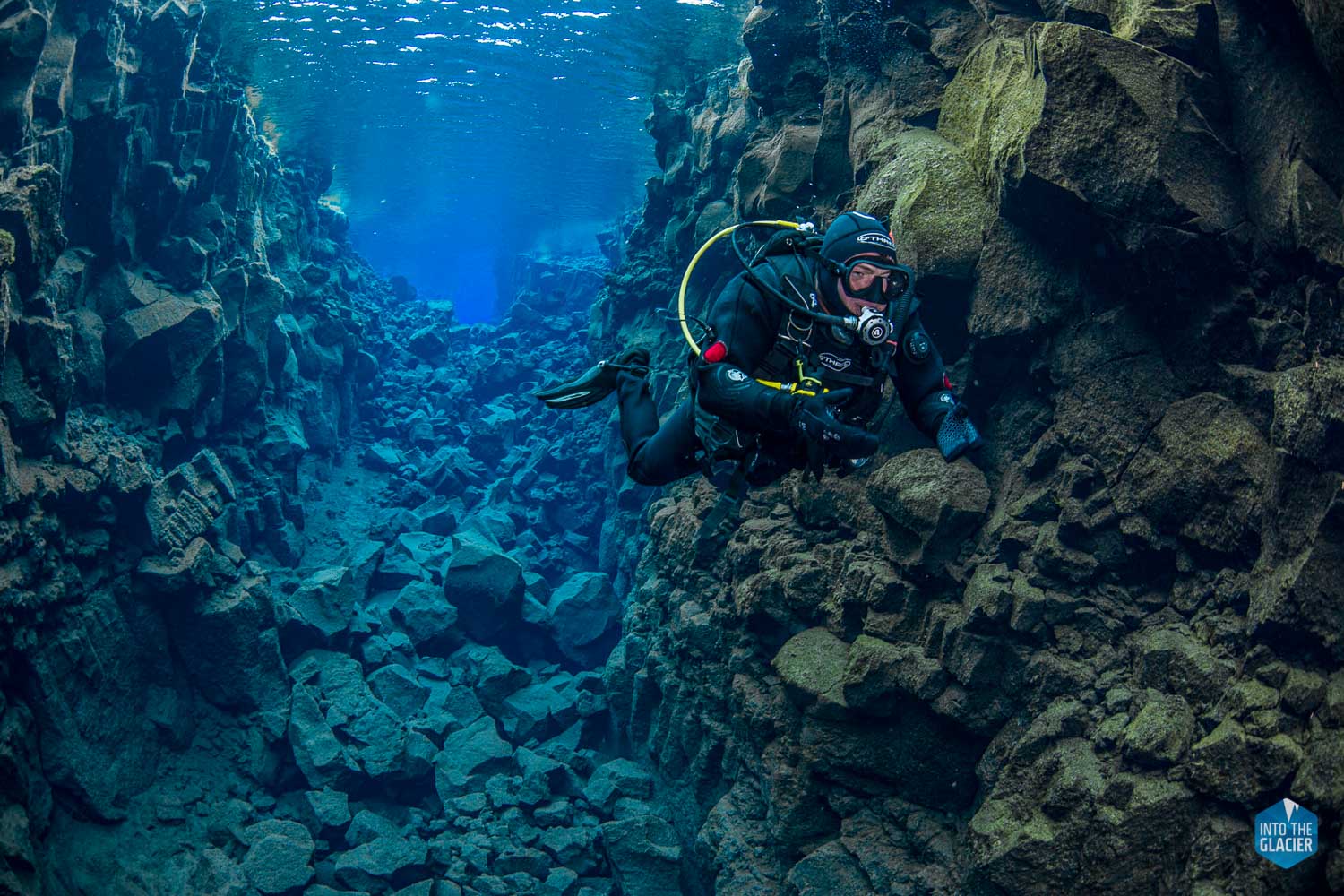 Ahh, Silfra Fissure. It's the world's top diving site and contains pure glacial water from Langjökull Glacier. Before reaching the fissure, the runoff water filters through porous underground lava rock for about 100 years. You'll find Silfra in Thingvellir National Park on the Golden Circle.
Langjokull Glacier and Volcanoes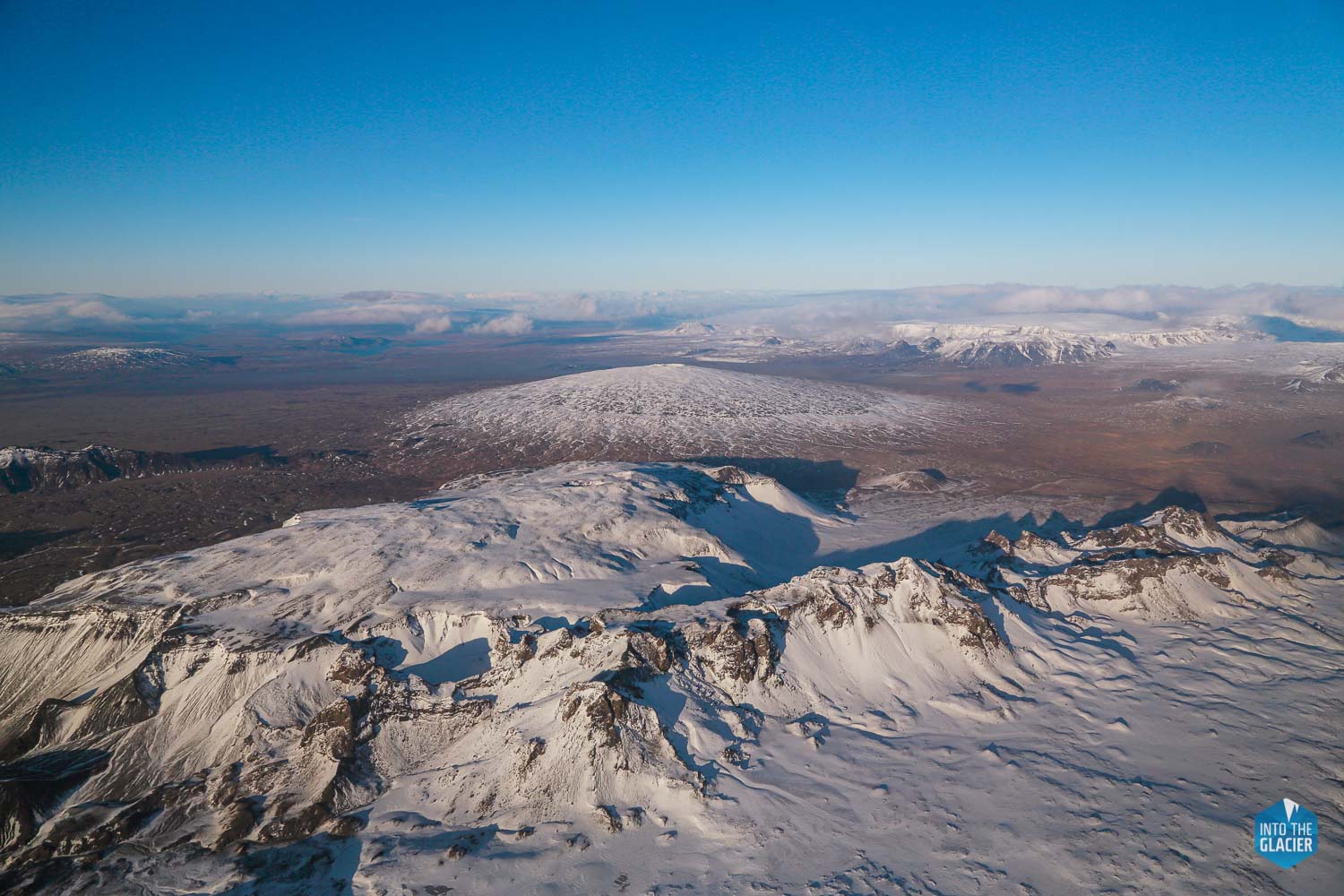 Iceland is known as "The Land of Fire and Ice" for a great reason. Most of the country's glaciers cover hidden volcanoes. Under Langjokull, there are at least two active volcanic systems.
Fortunately, the chances of volcanoes erupting are fairly small. Langjokull might be covering volcanic centers but no eruptions have occurred since the settlement of Iceland. This isn't one of Iceland's most active regions, with only 32 eruptions in the last 10,000 years.
Geology Buffs, Let's Talk More About Volcanoes
To the east of the glacier, you'll find Hveravellir, one of Langjokull's volcanic systems. Due to geologic forces, Hveravellir is blessed with many steaming hot springs. Nearby lies the 7,800-year-old Kjalhraun Lava Field, which emerged from craters of this volcanic area.
To the northwest of Langjokull lies another volcanic system that, some 1,000 years ago, produced Hallmundarhraun Lava Field. Today Hallmundarhraun is home to Iceland's (and the world's) largest lava caves.
South of Langjokull, tLambahraun Lava Field was formed about 4,000 years ago.
Eager to venture into Iceland's largest lava cave? Check out our Ice Cave and Lava Cave tour from Reykjavik.
Climate Change's Impact on Langjokull Glacier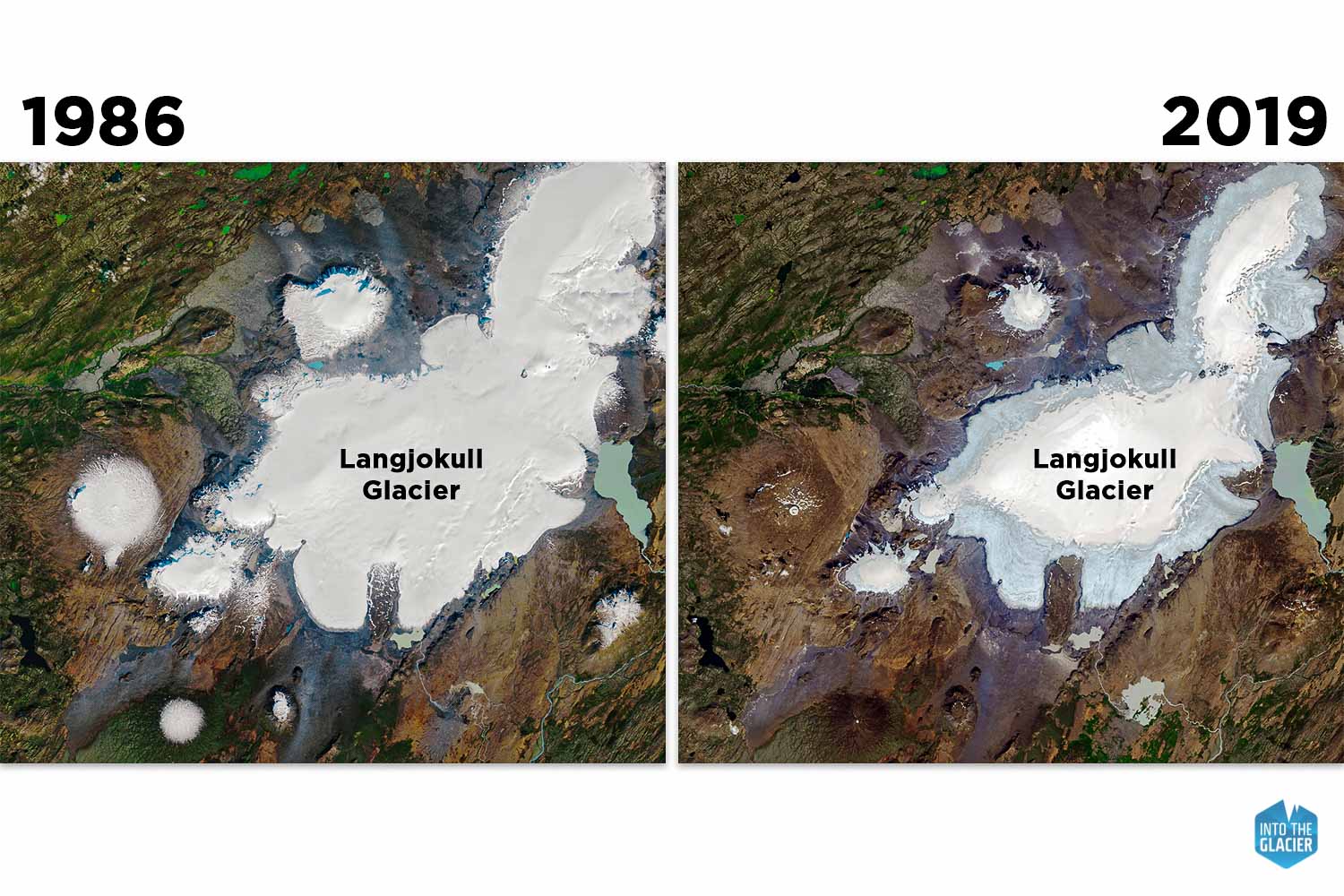 Climate change is affecting all of us, and our beloved Langjokull Glacier is no exception. If global warming continues, the glacier could disappear in the next hundred years.
Langjokull suffers warm winters with little snowfall followed by even warmer summers. If this continues much longer the glacier will keep its shape until 2050, but its glacial tongues will shrink and mountain peaks will become even more visible.
We're a long way off before the landscapes beneath the ice are revealed. Right now you can see the peaks of a few mountains rising above the surface of the ice. Fly over the top and you'll glimpse the calderas of a couple active volcanoes.
If you're interested in a bird's-eye view of Langjokull, see our Helicopter Glacier Tour from Reykjavik.
Practical Information on Langjokull Glacier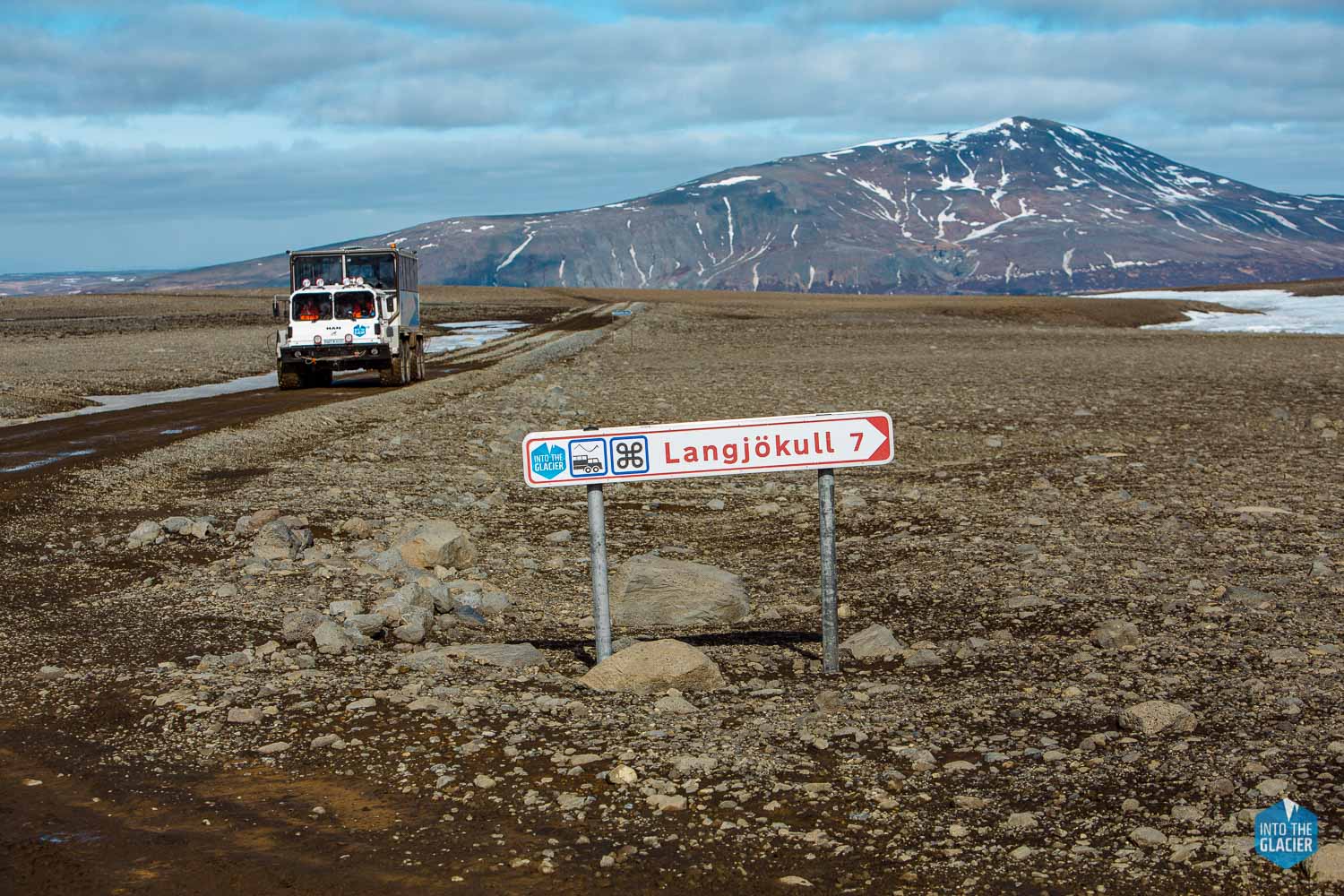 Planning a trip to the magnificent Langjokull Glacier but not sure when to go? Want to know the best way to get there? Here is everything you need to know before visiting the second-largest glacier on the island in the North Atlantic Ocean.
How to Get to Langjokull Glacier?
There are two main routes to get to the glacier: Kaldidalur (road 550) and Kjölur (road F35).
The former starts near Þingvellir National Park and ends near Húsafell. The latter starts just past Gullfoss Waterfall and is one of the longest roads through the Highlands.
If you want to visit the famous Langjokull man-made tunnel, you'll need to drive to Húsafell or Klaki base camp where ice cave tours depart.
During winter (October 16 – May 31), the meeting point is Húsafell. When driving from Reykjavik to Húsafell, take Route 1 north to Borgarnes. Then take Route 50 and continue driving until Route 50 changes to Route 518, which will take you to Húsafell.
During summer (June 1 – October 15), the meeting point is Klaki base camp. Continue driving on Route 518 until you reach a right turn to Route 550. After about 20 minutes, make a left turn to Klaki base camp. Please note that Route 550 is a mountain road and only suitable for four-wheel-drive vehicles.
For a detailed guide on how to reach Langjokull, check out our information page.
If you're not up to a Langjokull Glacier self-drive, check out our tours that depart from Reykjavik.
Need to Know: When driving to Langjokull Glacier from Reykjavik, you'll need a 4X4 vehicle.
How Far Is Langjokull Glacier from Reykjavik?
You'll find Langjokull about 100 km (184 mi) from Reykjavik. It's the closest major ice cap to the capital city. It takes around 2 hours to drive from Reykjavik to the glacier.
When Is The Best Time of Year to Visit Langjokull Glacier?
Unlike some parts of Iceland's interior, Langjökull is a year-round destination. Whatever time of year you arrive, there's an excursion that allows you to enjoy Langjökull for yourself.
Do you want to visit an ice cave? You don't need to wait for winter. Into the Glacier — the world's largest man-made ice tunnel — invites visitors to plunge into the heart of Langjokull Glacier year-round.
Have you ever dreamed of sprinting across a massive glacier? Live out your dreams on Iceland's second-largest glacier. Snowmobiling — one of Iceland's top activities — can be enjoyed throughout the year.
Are you an off-roading enthusiast? You're welcome to join a heart-rising Super Jeep and Ice Cave tour in both summer and winter. On this adventure, you'll also visit the pounding Hraunfossar and Barnafoss Waterfalls.
Cross-country skiing and hiking are also available year-round but are more weather dependent.
Langjokull Glacier in summer is just as spectacular as in winter. Just don't go by yourself – this is an unforgiving environment and the weather can be very fickle. It's always best to venture out with an experienced local guide.
Langjokull Glacier Weather
Expect slightly lower temperatures on the glacier due to a higher altitude than in other parts of Iceland. Temperatures on Langjokull Glacier range from -1°C (30°F) to 6°C (43°F) in summer and from – 2°C (28°F) to 3°C (37°F) in winter.
The temperature inside the man-made ice tunnel within the glacier stays constant throughout the year at 0°C (32°F).
Clothing and footwear. For your comfort, make sure to dress in layers to stay warm while on the glacier. We recommend wearing thermal underwear, a waterproof jacket and pants, a hat, a scarf, a pair of gloves, and sturdy hiking shoes. For more in-depth information, check out our guide on what to wear in an ice cave.
Hotels Near Langjokull Glacier
Looking for accommodation near the glacier? Here are the best hotels close by.
Hotel Husafell is a chic modern hotel with 48 spacious rooms. There you'll also find a good restaurant that serves traditional Icelandic dishes.
Hótel Á is a countryside hotel located in the town Borgarfjördur, offering comfortable rooms with private bathrooms. Guests can also enjoy a restaurant and bar.
So, What's Next?
Now that you know everything about Langjokull Glacier, it's time to enjoy the great ice cap and enjoy Iceland!
So, the question is…
If the kingdom of ice fascinates you, why not sign up for a Langjokull glacier tour? We offer departures year-round. For details, check out our trending glacier tours.