25 best Iceland Waterfalls
May 19, 2023
Iceland is a veritable world of waterfalls overflowing with more than 10,000 charismatic cascades scattered throughout the island. From warm water flows you can bathe under to icy waterfalls frozen in time, there is no lack of variety or uniqueness when it comes to Iceland's spectacular fossar.
Iceland's biggest names in waterfalls include awe-inspiring forces of nature like the famed Gullfoss along the Golden Circle route, picture-perfect Seljalandsfoss in South Iceland and Godafoss "waterfall of the gods" in the North. Continue to read to find what are some of the best waterfalls in Iceland that include the popular ones and those that hide on an off-beaten path.
Most popular Icelandic waterfalls
GULLFOSS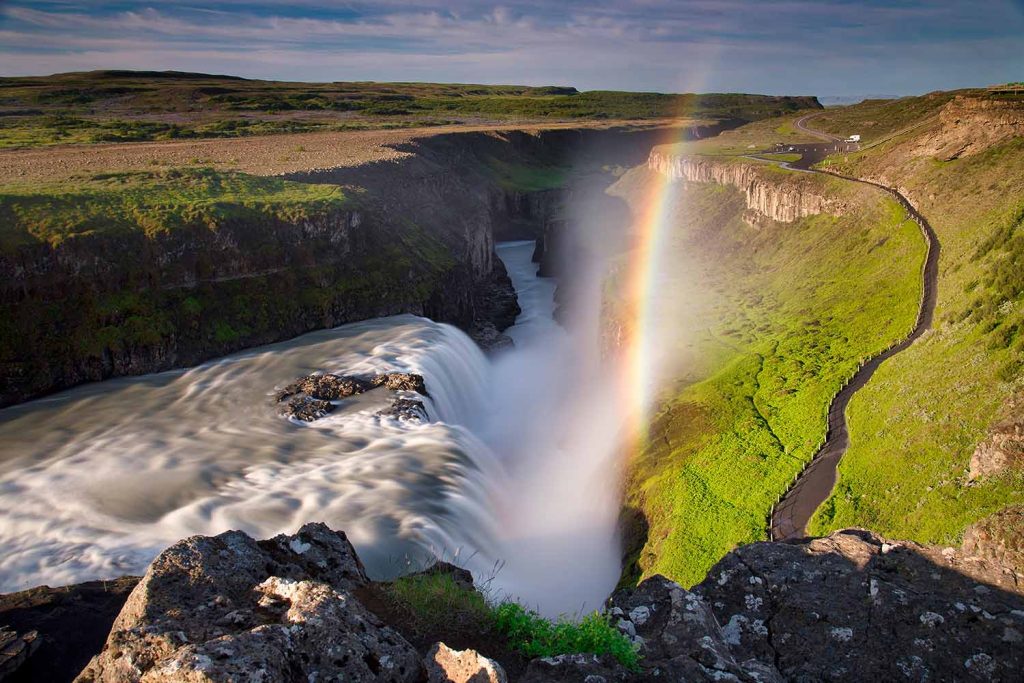 Among the picturesque waterfalls in Iceland is Gullfoss. The name of the waterfall also translates as "Golden Falls." Why Golden? If you're near the waterfall on a sunny day, you'll see that it becomes a golden-brown color once the sunlight hits the water. This happens because the water that runs through Gullfoss comes from the river Hvítá, which travels through Langjökull glacier, bringing residue from the Earth that gives this color. The height of Gullfoss is 32 meters. Among many special things about the waterfall is the fact that it's two-tiered: the upper drop is 11 meters, and the below one is 21 meters long.
GODAFOSS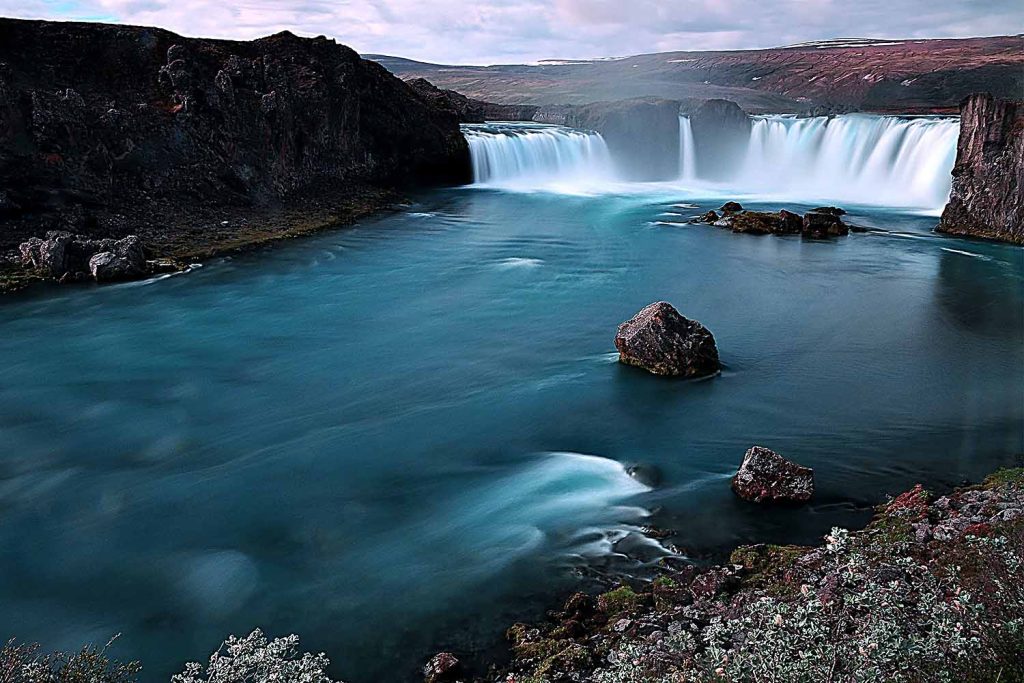 Godafoss waterfall in Iceland comes from the fourth longest river in Iceland – Skjalfandafljot. The waterfall is 12 meters high and 30 meters wide. This attraction is also called "Waterfall of the Gods" because of its history of origin. In the year 1000, Iceland was facing the question of religion and whether they should change their pagan beliefs to Christianity. The final idea was that pagans could still practice their faith, but the official religion was Christianity. This was when the pagan priest Þorgeir Ljósvetningagoði threw all the statues of pagan gods into the waterfall we now know as Godafoss.
SELJALANDSFOSS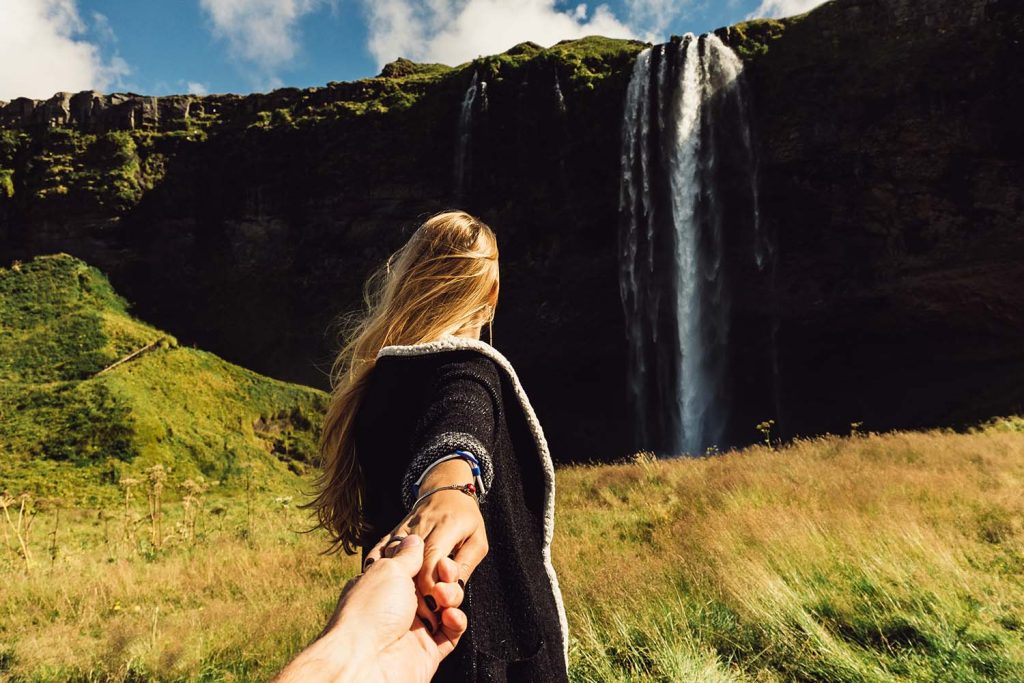 Among the famous waterfalls in Iceland is Seljalandsfoss, located in the river of Seljalandsá. As seen in Justin Bieber's music video, "I'll Show You," Seljalandsfoss is one of the highest waterfalls in Iceland, with a height of 60 meters. What makes the waterfall so extraordinary is that it's the only one that allows you to walk behind it. The water that drops from Seljalandsfoss actually comes from Eyjafjallajökull glacier.
SKOGAFOSS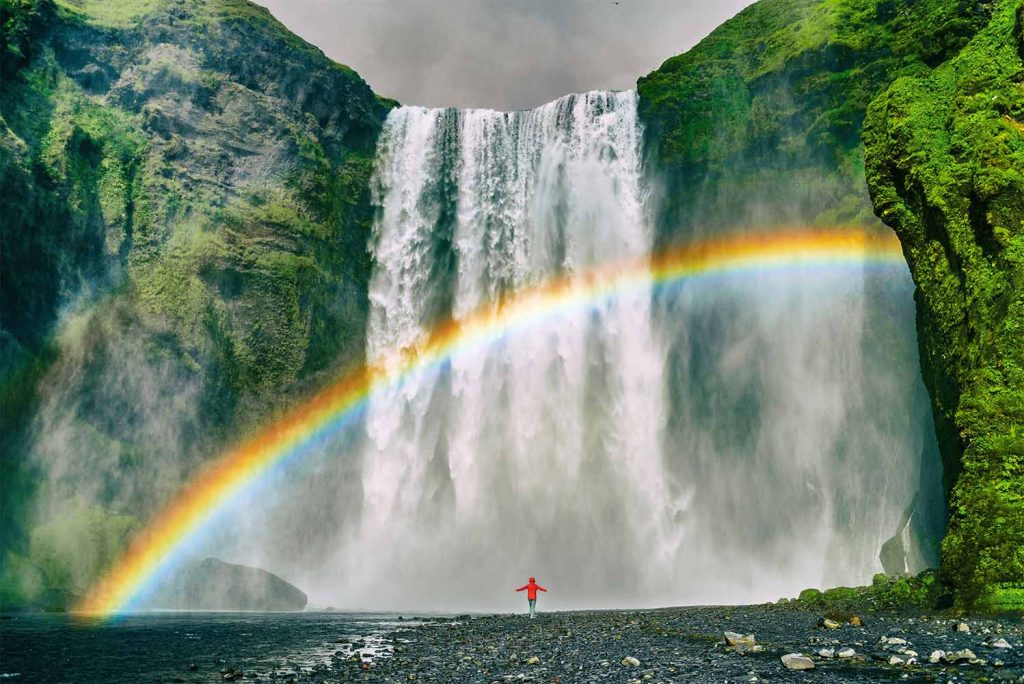 Iceland's waterfalls include Skogafoss – a waterfall that comes from two glaciers, Myrdalsjokull and Eyjafjallajokull. The attraction, with a drop of 60 meters, often greets its visitors with at least one rainbow that's created thanks to the mist from the waterfall and rays of the sun. Once you're done admiring the waterfall from the ground, Skogafoss challenges you to climb around 400 steps and see the wonderful view from above. There's even a legend about it that includes a hidden treasure. The first Viking settler hid his gold behind the waterfall, and after some time, a local managed to find this treasure. However, he couldn't retrieve the gold and was only left with a ring from a chest.
SVARTIFOSS
On the map of Iceland's waterfalls is Svartifoss, or the black falls of Iceland. Despite being just 20 meters in height, Svartifoss is admired for its uniqueness as the water here falls from a black basalt column cliff. These hexagonal columns can also be seen in other places in Iceland, but Svartifoss makes them look even more dramatic. The waterfall is situated in the well-known and must-visit Skaftafell Nature Reserve.
DETTIFOSS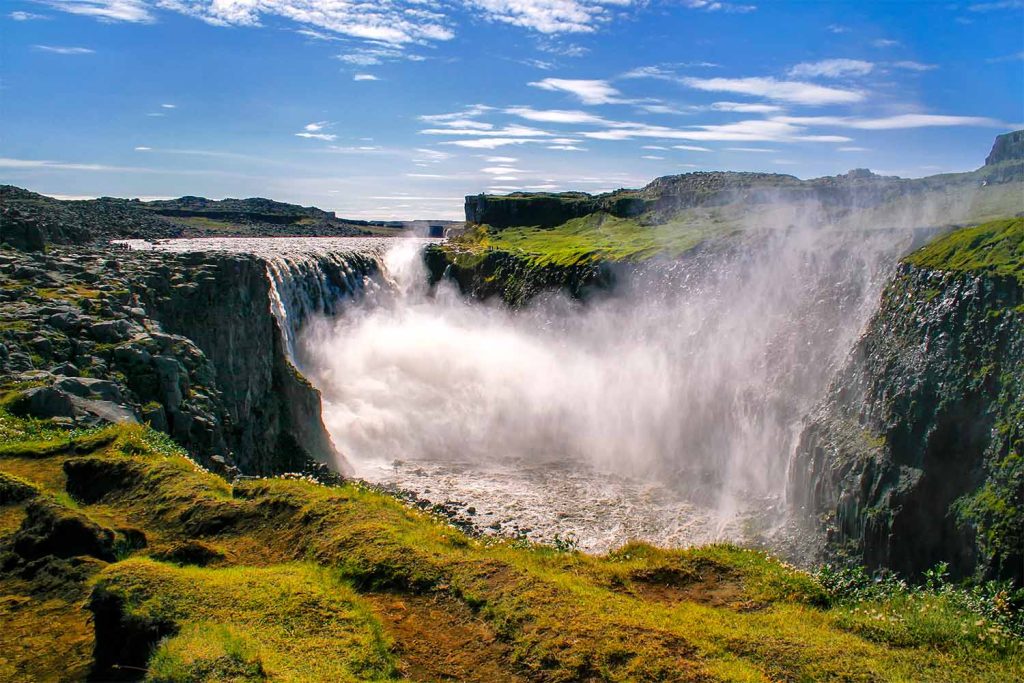 The waterfalls of Iceland also include the most powerful one in Europe – Dettifoss. It's fed by the largest glacier in Europe, Vatnajökull. The waterfall is also nicknamed "The Beast" to "The Beauty," known as Godafoss. Dettifoss got this "title" as its average water flow is 193 m3/s, falling 44 meters in height and creating a spectacular view of the waterfall. This great combination of water and size generates a lot of mist that serves as a sign that you first notice on your way to this attraction.
MORSARFOSS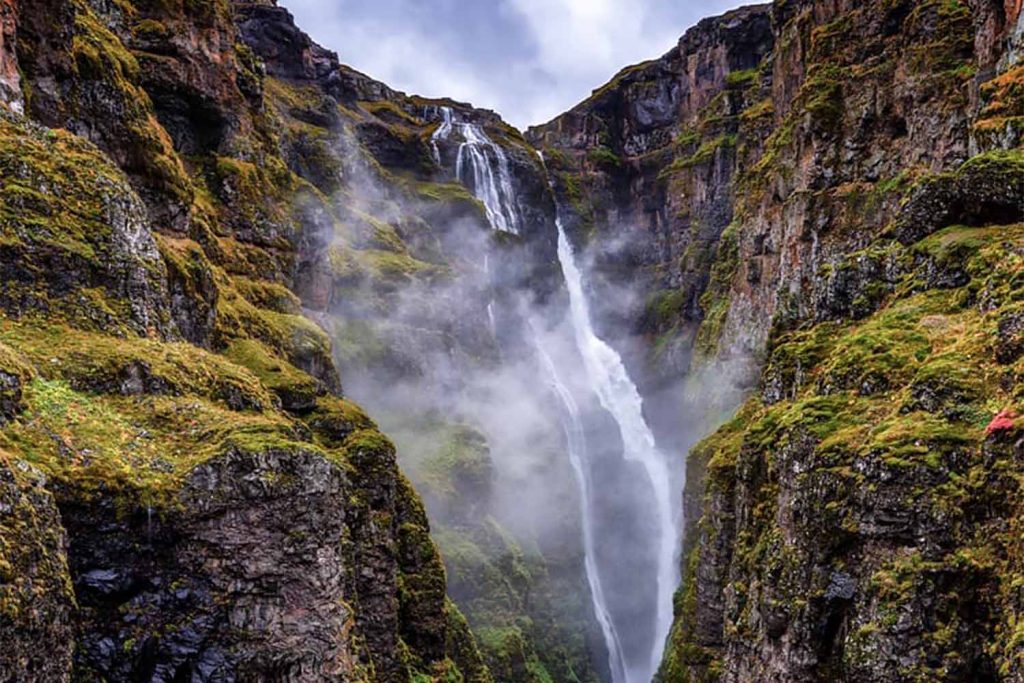 Morsarfoss is named the tallest waterfall in Iceland, with a height of 228 meters, winning over the waterfall Glymur (198 meters). The waterfall is situated in Skaftafell National Reserve. It became Iceland's new highest waterfall because of the Morsárjökull glacier melting. While the waterfall looks breathtaking, it's quite hard to reach, so it's often looked at from afar.
GLYMUR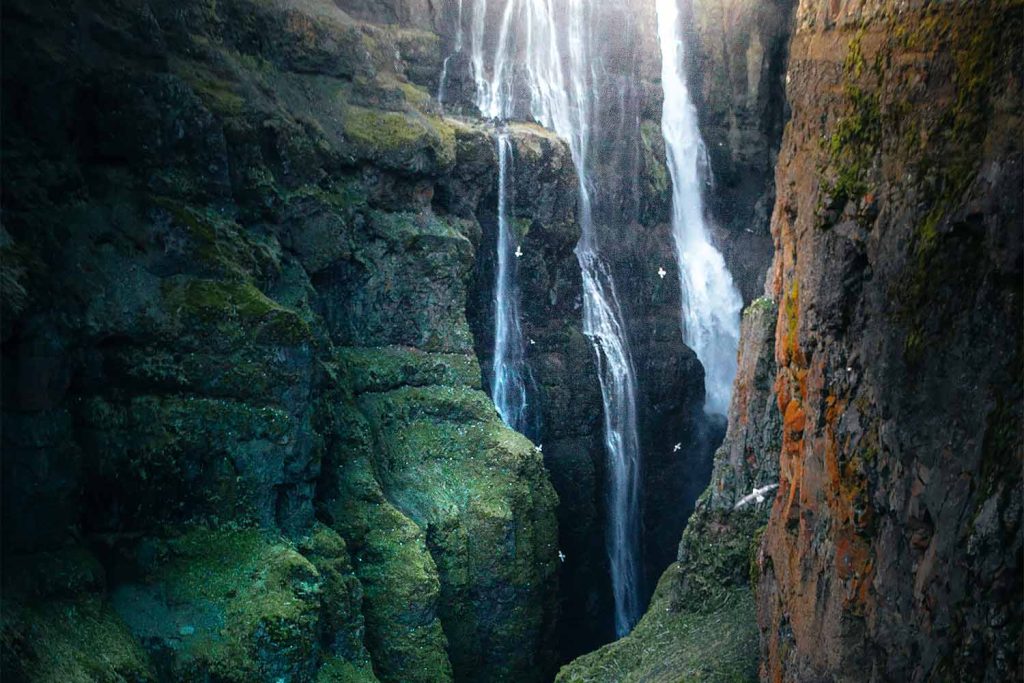 Glymur (pronounced glimmer) makes its home right here in wonderful West Iceland. This impressive cascade is 198m/650ft in height and empties into a giant, beautiful canyon. The short hike is well worth the reward with several caves to walk through and smaller waterfalls to check out along the way. Situated along charming Hvalfjordur Fjord, Glymur waterfall is one of the least visited sites in the country.
Less-visited waterfalls in Iceland
LAUGARVALLADALUR VALLEY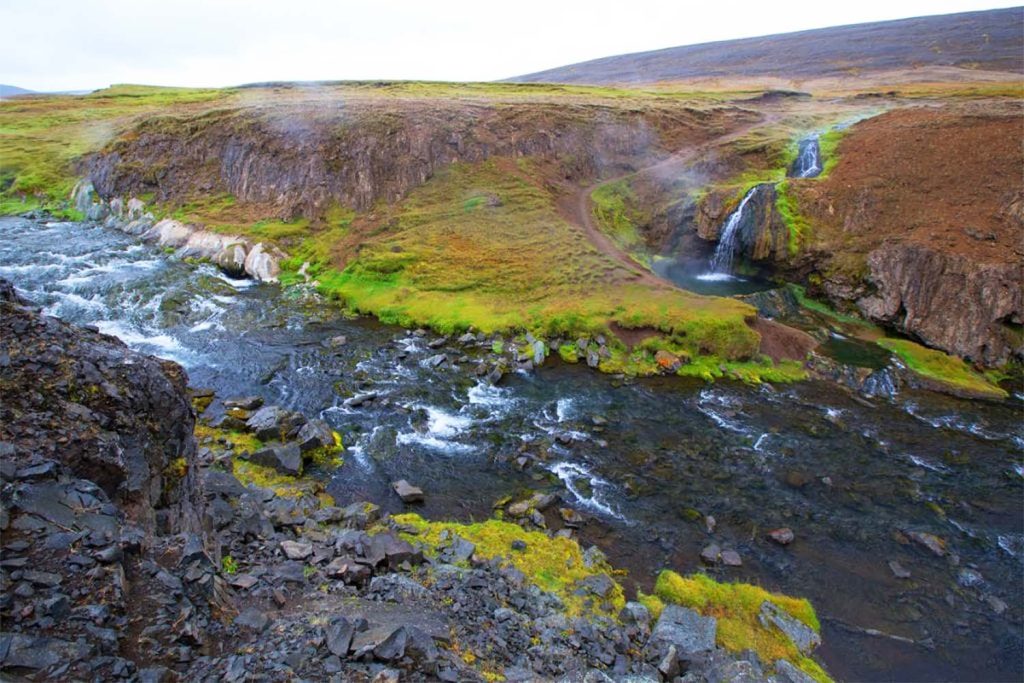 If you've never showered outdoors under a warm waterfall then you haven't lived. When in East Iceland make your way to Laugarvalladalur Valley to encounter a natural warm water shower, located under a waterfall fed by the geothermally heated river of Jokulsa. The waterfall and its pools are located next to an abandoned farmhouse and can be reached by either hiking or on horseback.
DYNJANDI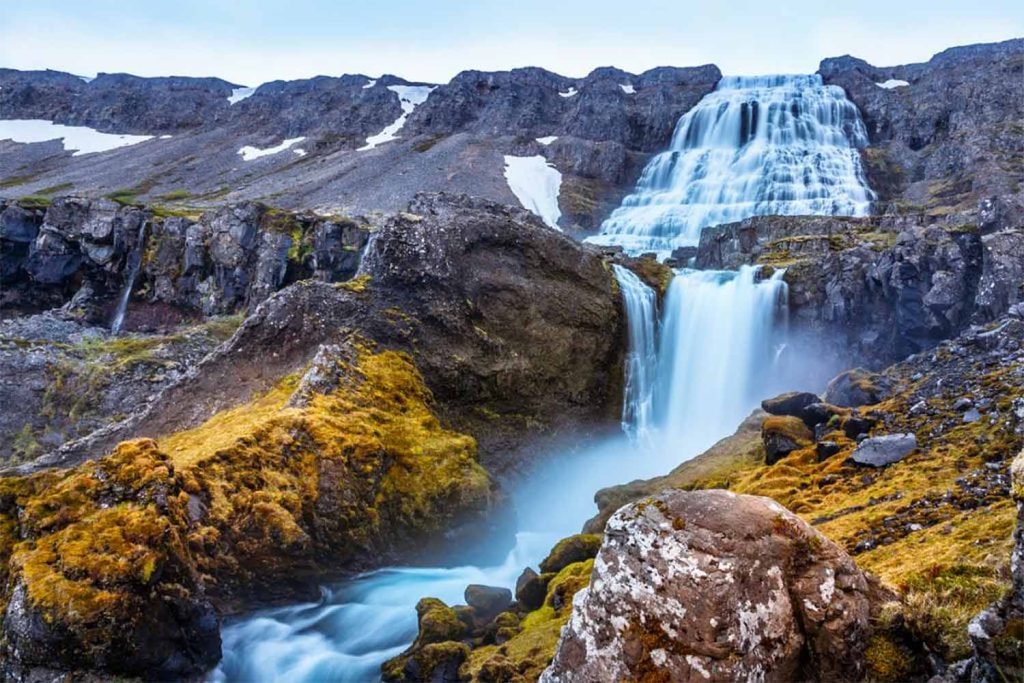 The remote Westfjords are one of the least visited areas in Iceland which means most travelers miss the astonishing view of Dynjandi "The Thunderer" waterfall. This waterfall is made up of seven levels and the thunderous power of the main cascade drops 100 meters (329ft) off the edge of a mountain. Each tier of the waterfall has its own name and it's possible to walk behind the third tier called Gongufoss.
HENGIFOSS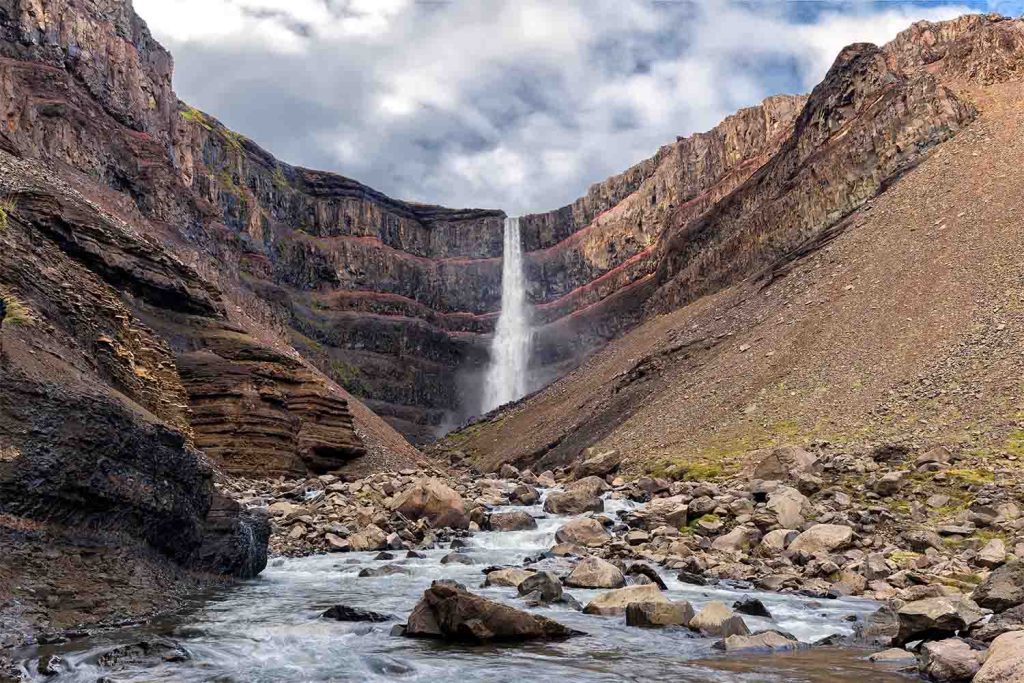 East Iceland's Hengifoss "hanging falls" is the island's third highest waterfall topping off at 128m/420ft. The striking red clay and black basalt towers along the cliff present an absurdly striking backdrop for the narrow ribbon of water that tumbles down. The hike to the base of Hengifoss is challenging but worth it as you also have a view of the smaller Litlanesfoss along the way.
HRAUNFOSSAR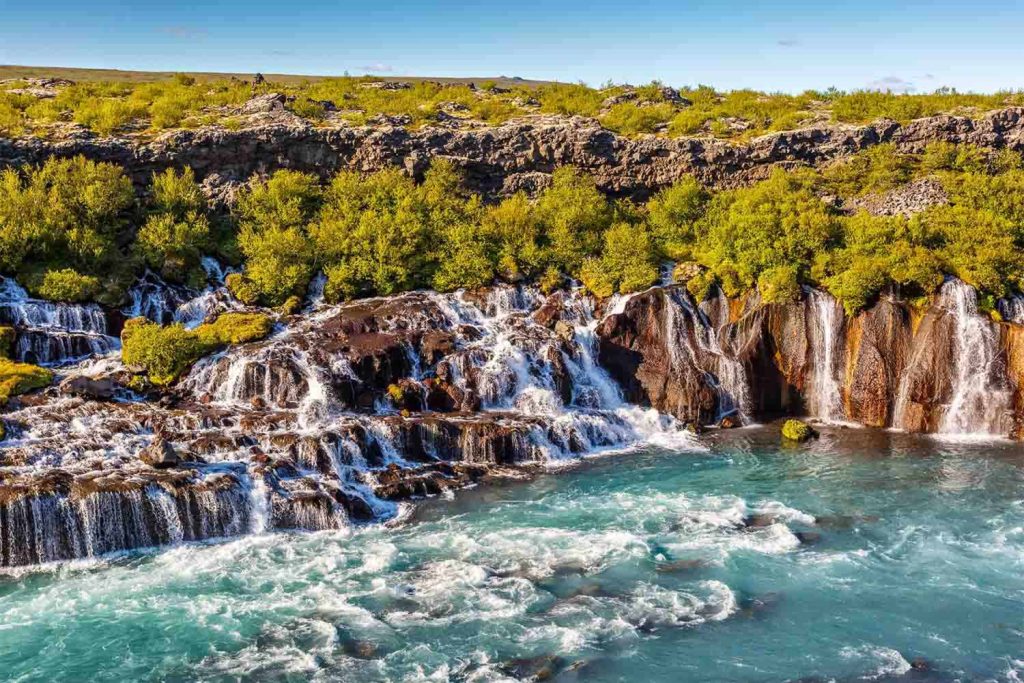 Hraunfossar (Lava Falls) here in Borgarfjordur is not only incredibly photogenic but possesses a remarkable natural phenomenon as well. The water seems to magically shimmer out from the lava but in reality, the falls are actually fed by a clear cold spring that originates from Langjokull, home of Into the Glacier. While visiting Hraunfossar don't miss a stop at nearby Barnafoss, a choppy waterfall that resembles a blueberry milkshake frantically whirring in the blender.
GLJUFRABUI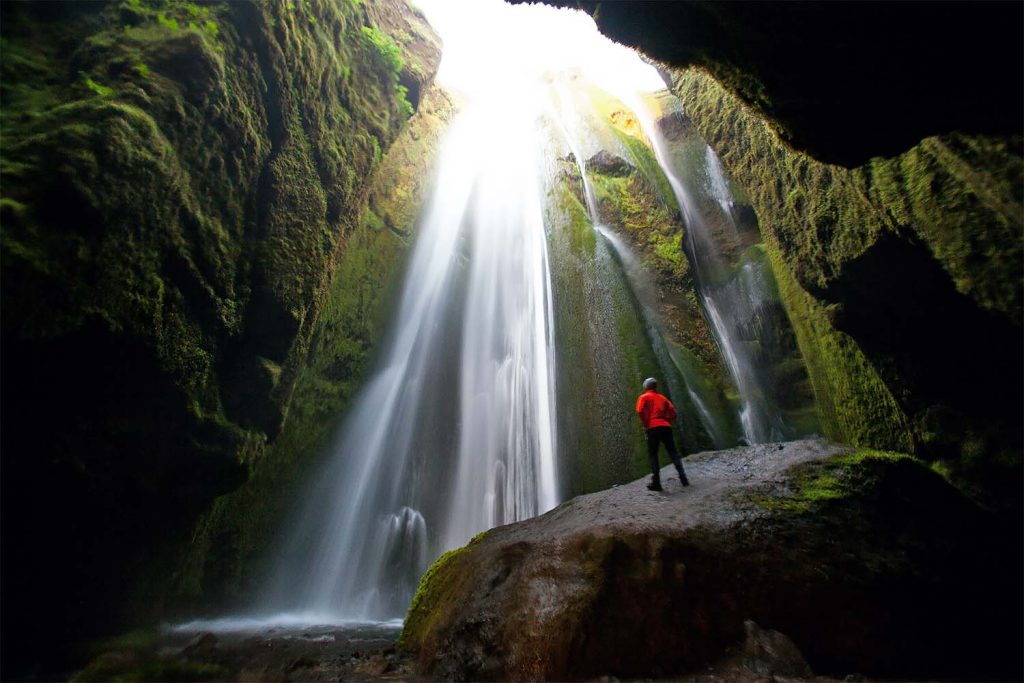 This waterfall in Iceland is located on the South Coast, not far from another, more well-known waterfall Seljalandsfoss. Often it's called a hidden waterfall because you can find it in a gorge. The height of Gljúfrabúi is 40 meters, and its fed by the Gljúfurá River. Don't be surprised to hear this highlight also being called Gljúfrafoss as the waterfall has two names, Gljúfrabúi being more common.
OXARARFOSS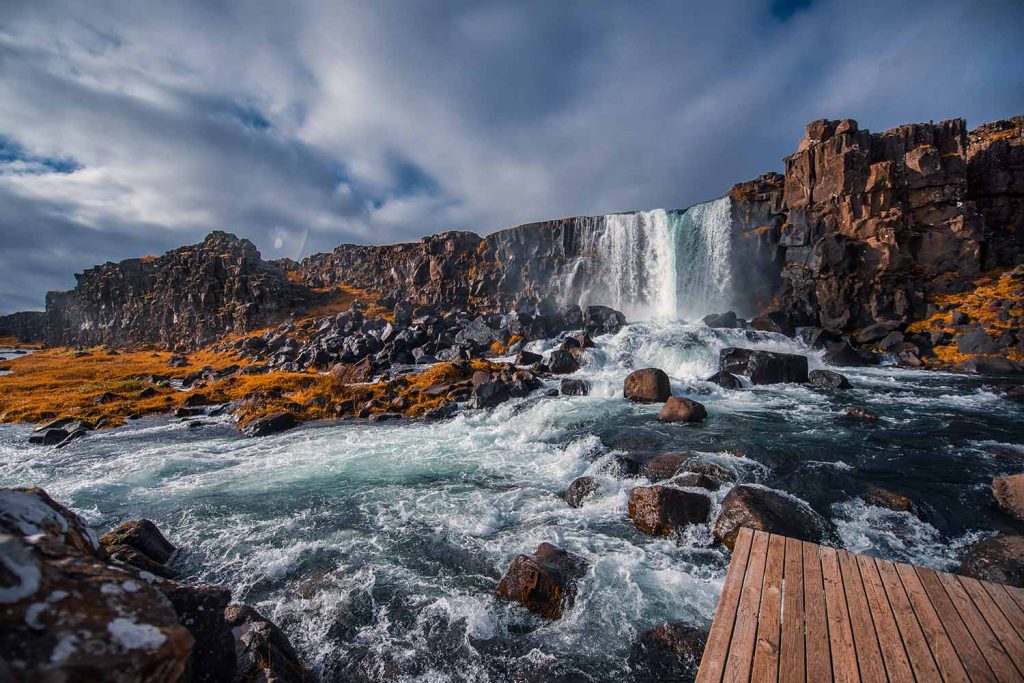 Found in Thingvellir National Park, one of the most significant attractions in Iceland, Oxararfos is a man-made waterfall that was made to divert water into a ravine. This was done back in the tenth century for the convenience of Iceland's first parliament members. And like many places in Iceland, this one also has a legend behind it. It's believed that on New Year's Eve, the water in Oxararfos turns into wine.
SELFOSS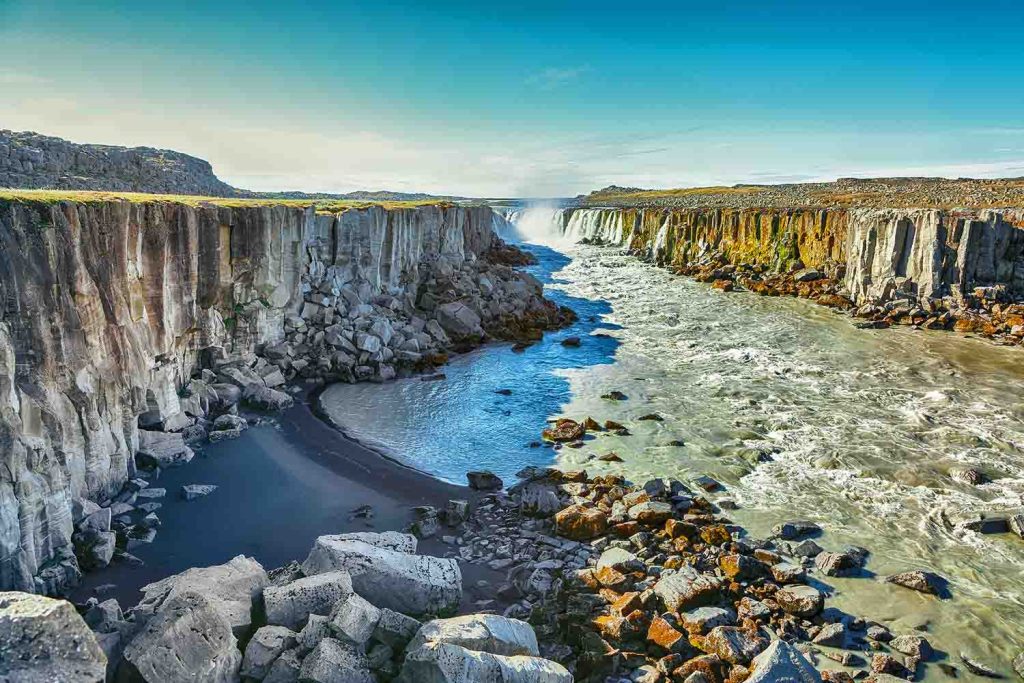 While Selfoss is only 11 meters in height, its width reaches nearly 100 meters. It's a neighbor to one of the famous waterfalls in Iceland, Dettifoss. The water that goes through Selfoss is from Jökulsá á Fjöllum River (the second longest river in Iceland with a length of 206 kilometers). The waterfall attracts people with its grandeur and mystical vibe due to the mist that wreathes Selfoss.
HRAFNABJARGAFOSS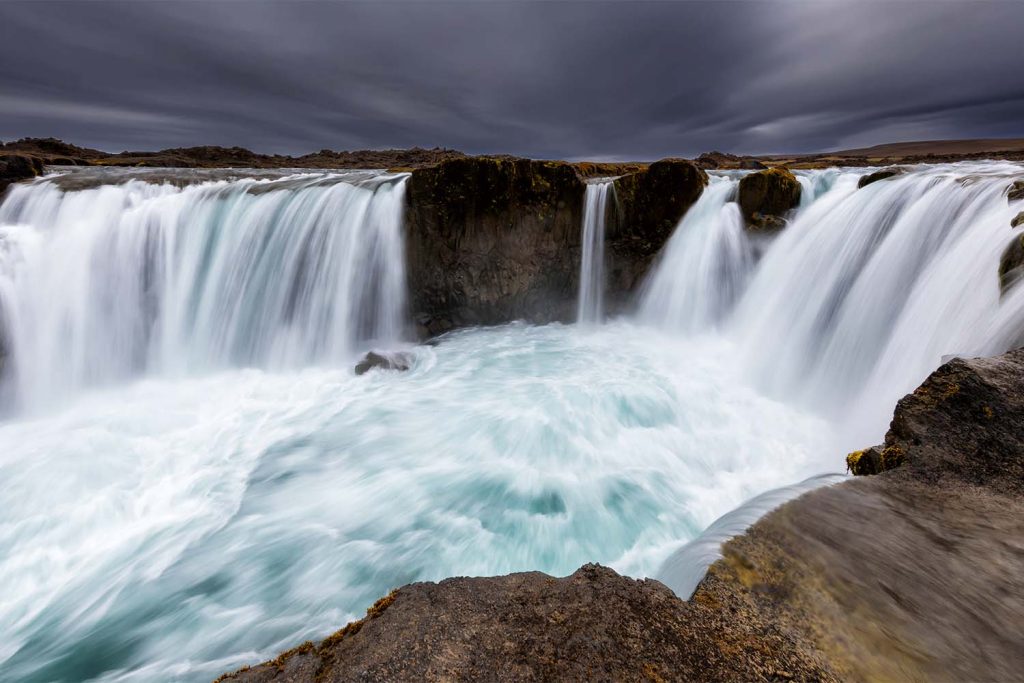 Situated in the river Skjálfandafljót, where other popular waterfalls, such as Godafoss, are located, Hrafnabjargafoss also falls into the list of less-known waterfalls. While it's only five meters high, the landscape surrounding it and the lava rocks covered in moss and black sand create an impressive view. 
ALDEYJARFOSS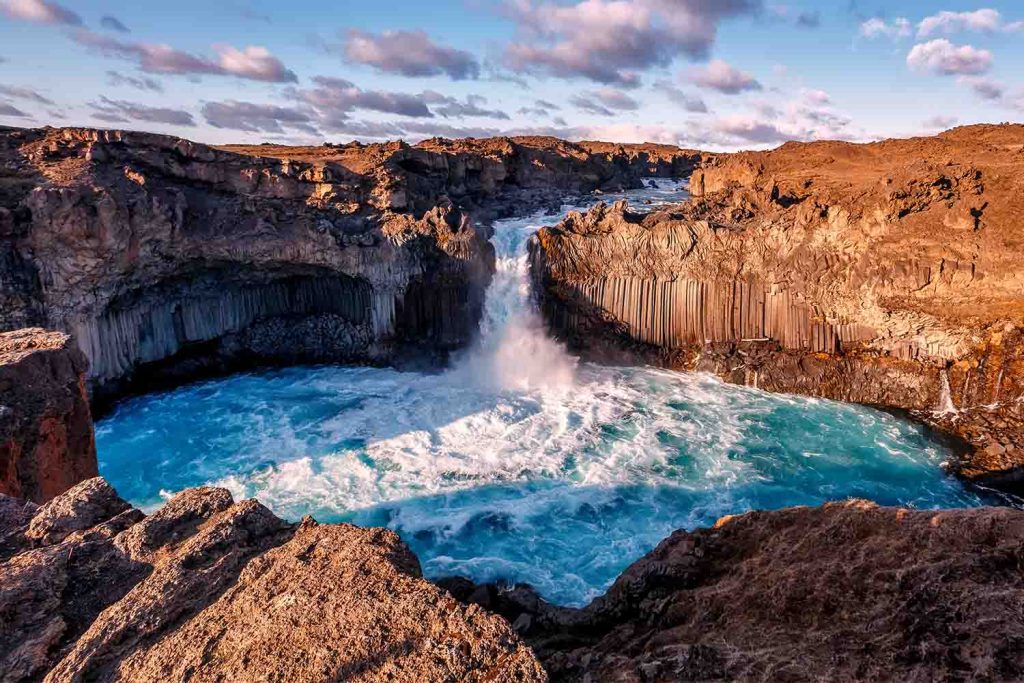 Not that far away from Hrafnabjargafoss waterfall stands another Icelandic jewel – Aldeyjarfoss. Situated in Bárðardalur Valley, in Northern Highlands, the waterfall is recognized for its deserted scenery. A crazy stream of water falls through these rugged cliffs, creating a view that can only be seen in movies. 
KIRKJUFELLSFOSS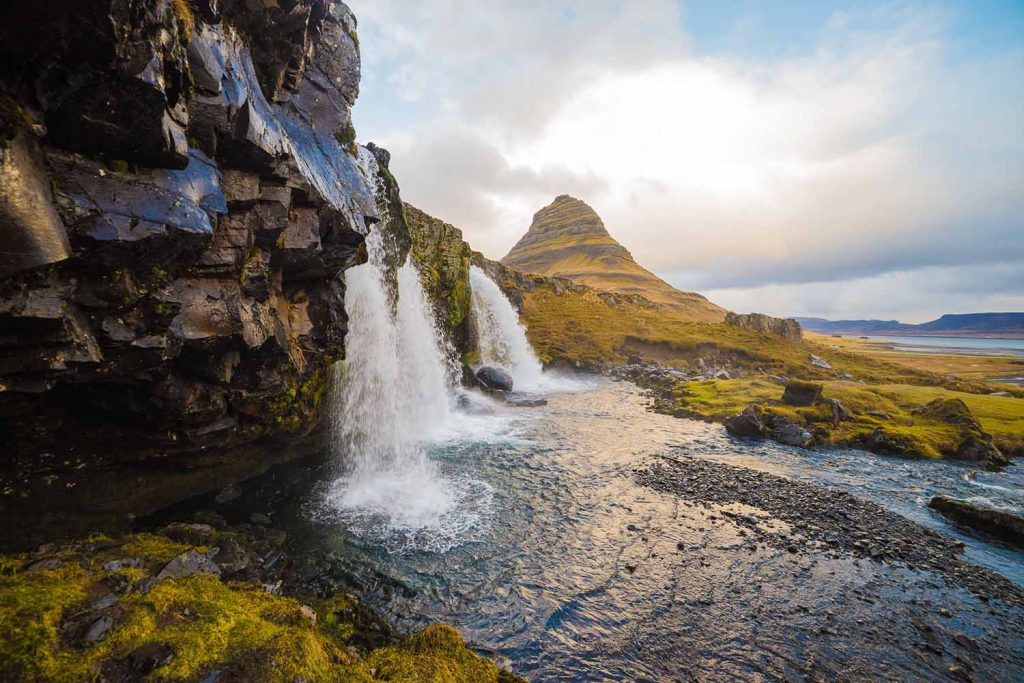 Kirkjufellsfoss combines three waterfalls that fall into the river of Kirkjufellsa. The waterfall is also known as "Church Mountain Falls," and together with the mountain Kirkjufell, it creates a magnificent landscape worth ending up in every traveler's photo archives. Especially when it's time for the Northern Lights to appear in the sky. This magnificent view is located in West Iceland, on Snæfellsnes Peninsula.
BRUARFOSS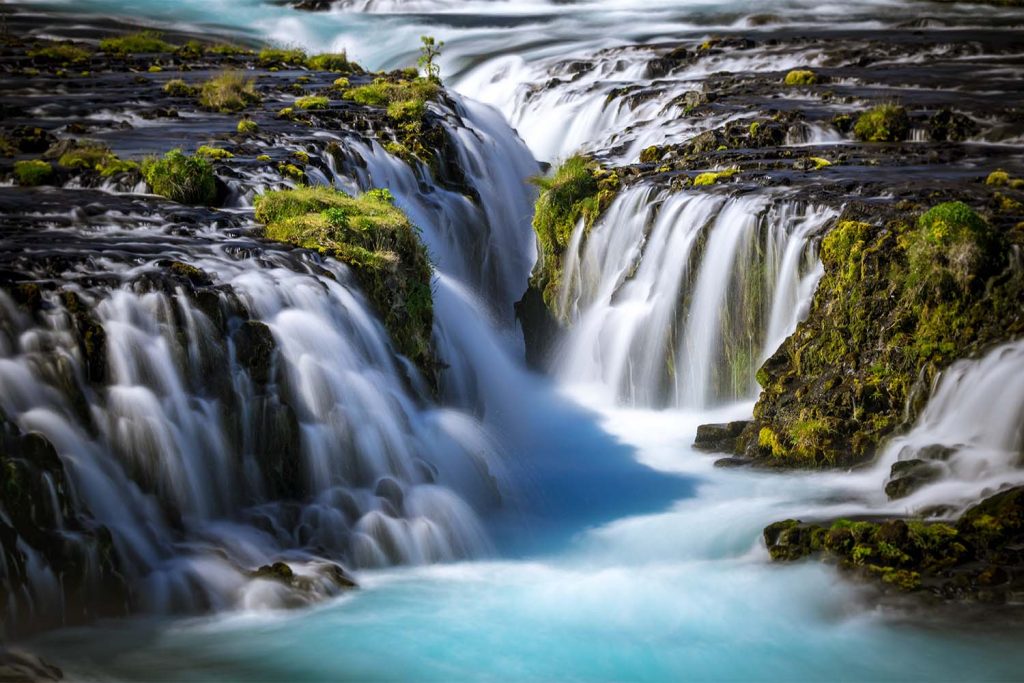 Named "Iceland's bluest waterfall," Bruarfoss (or "Bridge waterfall") can be found in south Iceland. Even though it looks grand, the height of the waterfall is only 3 meters. The Brúará River feeds Bruarfoss, but the distinct blue color we see running down is obtained thanks to the Langjökull glacier. Why is the waterfall called Bridge Waterfall? Back in the 17th century, a bridge crossed the river, but it collapsed, only leaving the name behind.
HAIFOSS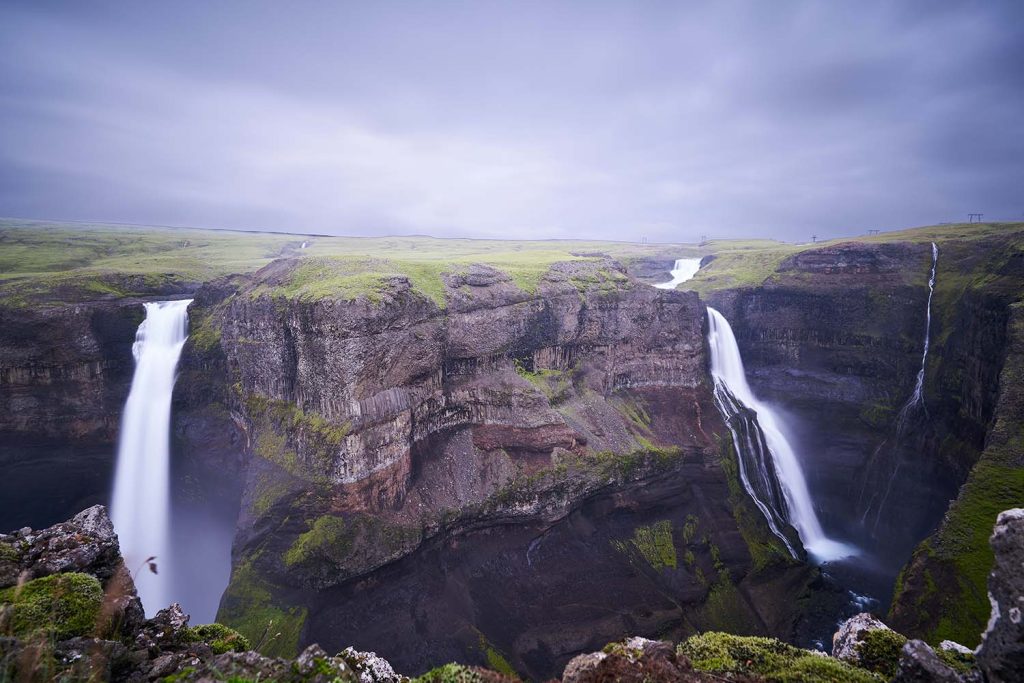 Another waterfall in Iceland is Haifoss, also known as the "High Waterfall." The name stems from the fact that it's Iceland's third tallest waterfall, with a height of 122 meters. It's situated in South Iceland, Fossárdalur Valley, and is nourished by the Fossa River. Haifoss is connected with a rather scary tale, no matter how spectacular the waterfall is. It's about an ogre living near the waterfall and attacking a young boy who threw a stone into a river. Luckily, the boy survived the attack but was left with severe injuries.
KLIFBREKKUFOSSAR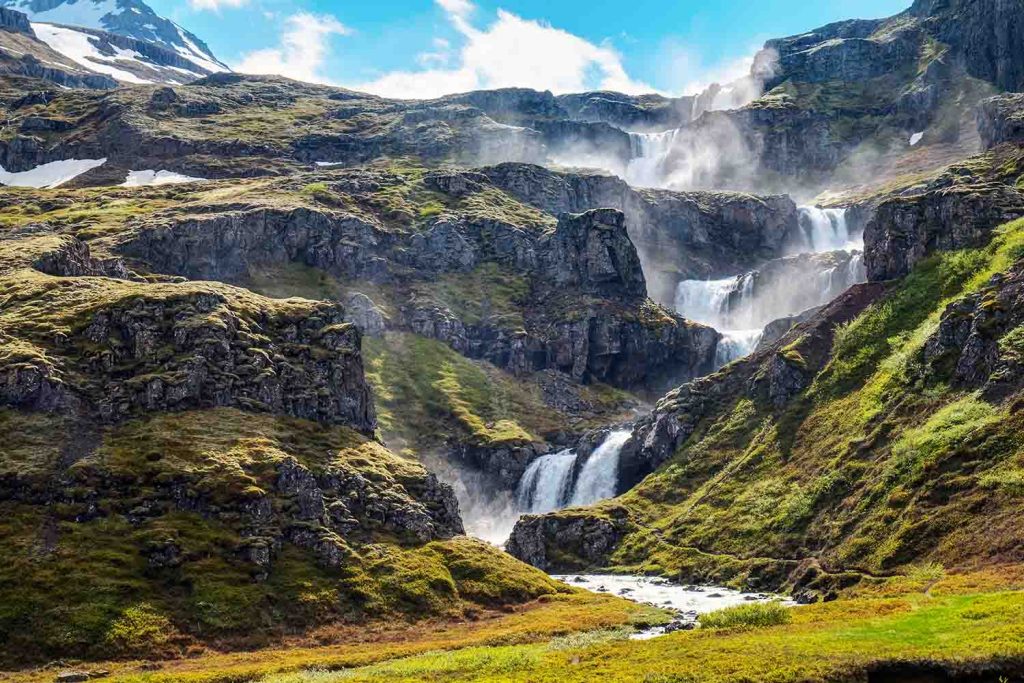 Located in east Iceland, Klifbrekkufossar is a seven-tier waterfall that can only be visited during summer due to challenging Icelandic nature. Its height is around 90 meters, but it might be hard to grasp this waterfall's length because of its many descending "layers." Although, this is what makes it so different from other waterfalls in Iceland. The water that goes through Klifbrekkufossar, coming from river Fjarðará, and the lush greenery create this magical landscape.
KVERNUFOSS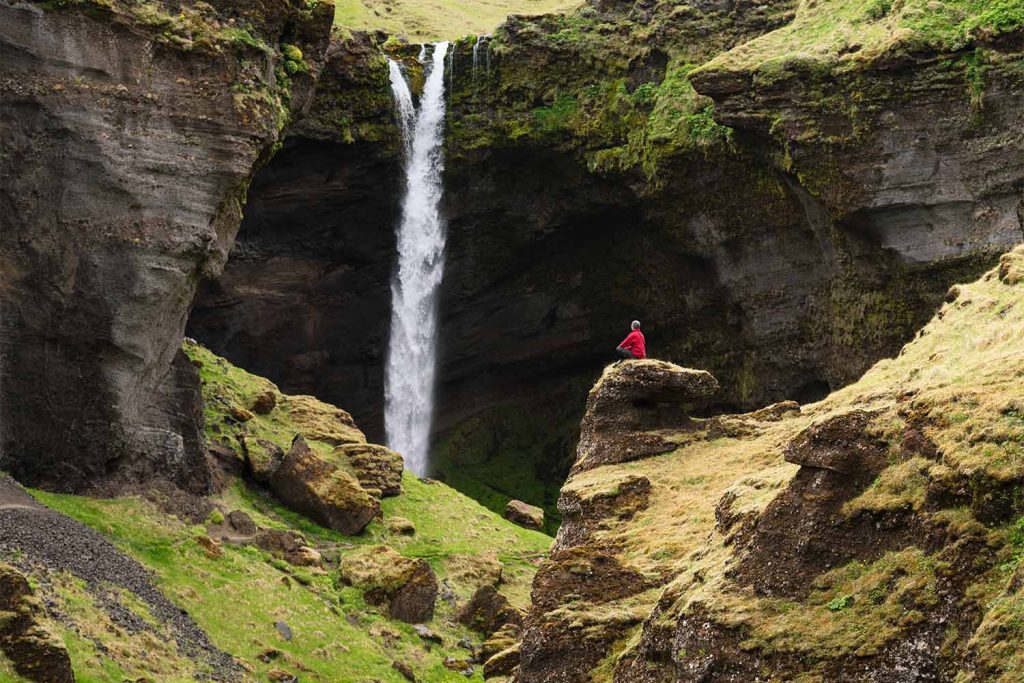 If you're more interested in visiting less-seen places, you should see Kvernufoss. A neighbor to Skógafoss waterfall, Kvernufoss can be found in a gorge in south Iceland, pouring down from 30 meters high. This highlight allows you to go on a short hike and then admire the waterfall all by yourself since not many people know about this place. Another special thing about this waterfall is that you can walk behind it and see the surroundings from a different angle.
HRAUNEYJAFOSSAR
In the Icelandic highlands, Sigoldugljufur Canyon is where 29 meters high Hrauneyjafossar waterfall falls down the river Tungnaá. The waterfall was formed thanks to the Sigalda power plant. The extensive amount of water from the plant started running into the canyon, through lava cliffs, creating what is now called the Hrauneyjafossar waterfall. 
THÓRUFOSS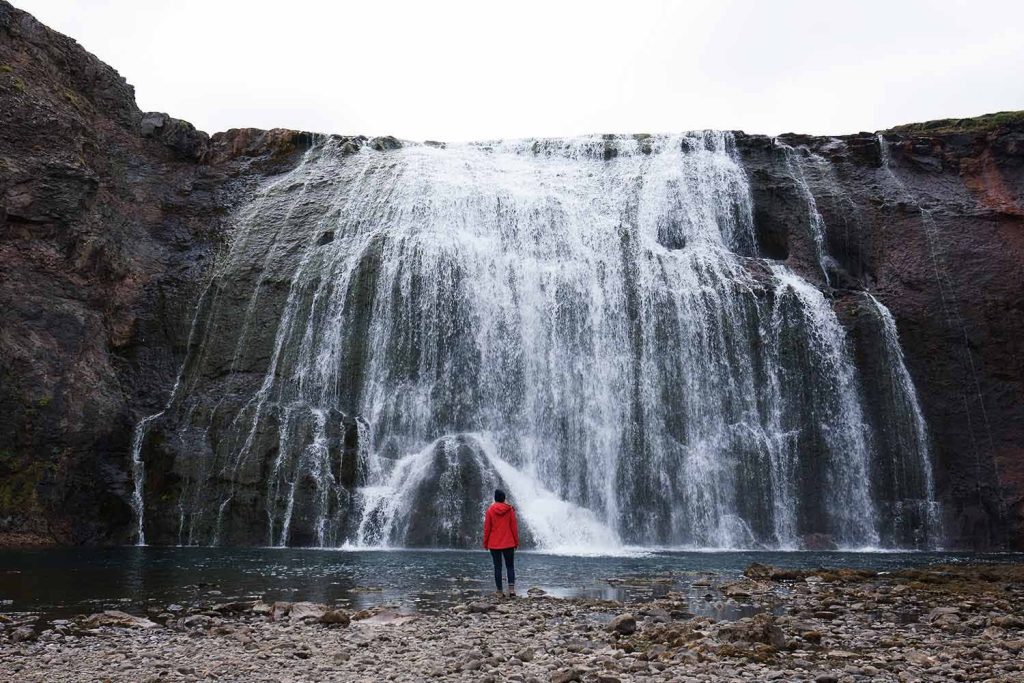 Thorufoss is located in south Iceland at 18 meters high as it falls into the river Laxá í Kjós. Some might recognize this location as this is where the TV show "Game of Thrones" was filmed. Another interesting fact about this waterfall is that it freezes during wintertime. 
FAXAFOSS (FAXI)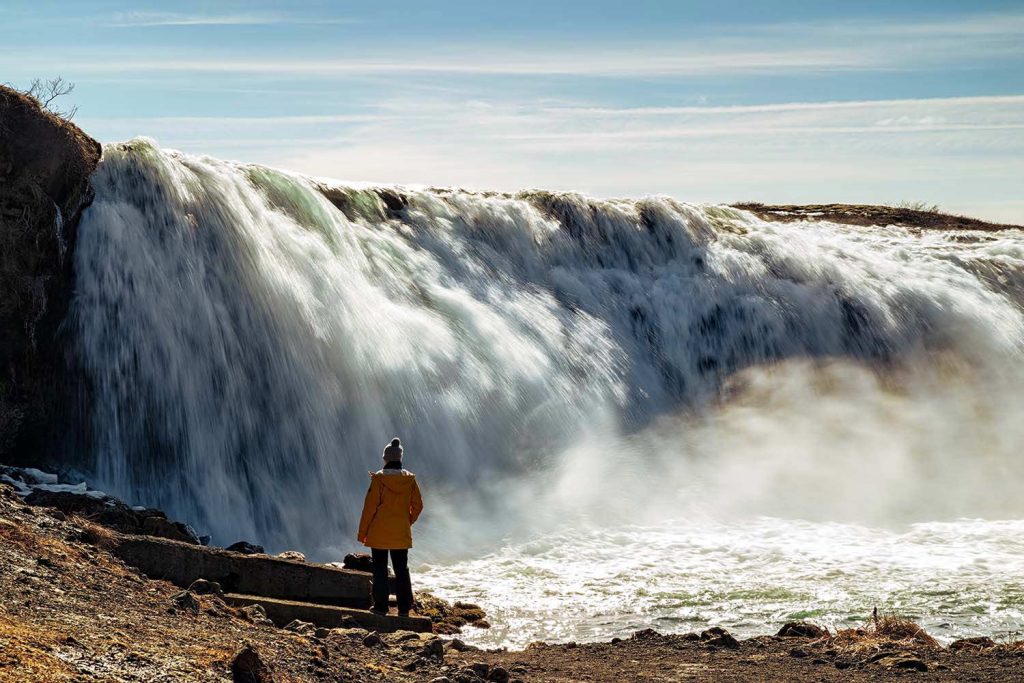 Situated on the memorable Golden Circle route, the Faxafoss waterfall flows through the Tungufljot River. Faxi is seven meters high and 80 meters wide, creating a fantastic view to adore while on your way to see other must-visit places near the waterfall. Those include Geysir hot springs and Gullfoss Waterfall. 
Now that you're familiar with some of the most eye-catching waterfalls in Iceland, which one of these you'd like to see first?