Everything you want to know about Thingvellir
October 7, 2019
One of Iceland's stand-out attractions, Thingvellir – also known as Þingvellir – is a must for visitors. Fortunately, it's easy to arrange a trip, either as part of an organised tour or independently. Here's a brief guide to everything you ever wanted to know about Thingvellir.
What is it?
Thingvellir is one of Iceland's three national parks. It's a place that's important both for its natural setting and for its contribution to the country's cultural heritage. This was the site of the first Icelandic parliament: the Alþingi met here from 930AD. At Lögberg, speeches were made influencing the course of Icelandic history; laws were passed and enforced here for over eight hundred years. Today, a flagpole helpfully identifies the site. It's not hard to see why such a place would be designated a UNESCO World Heritage Site.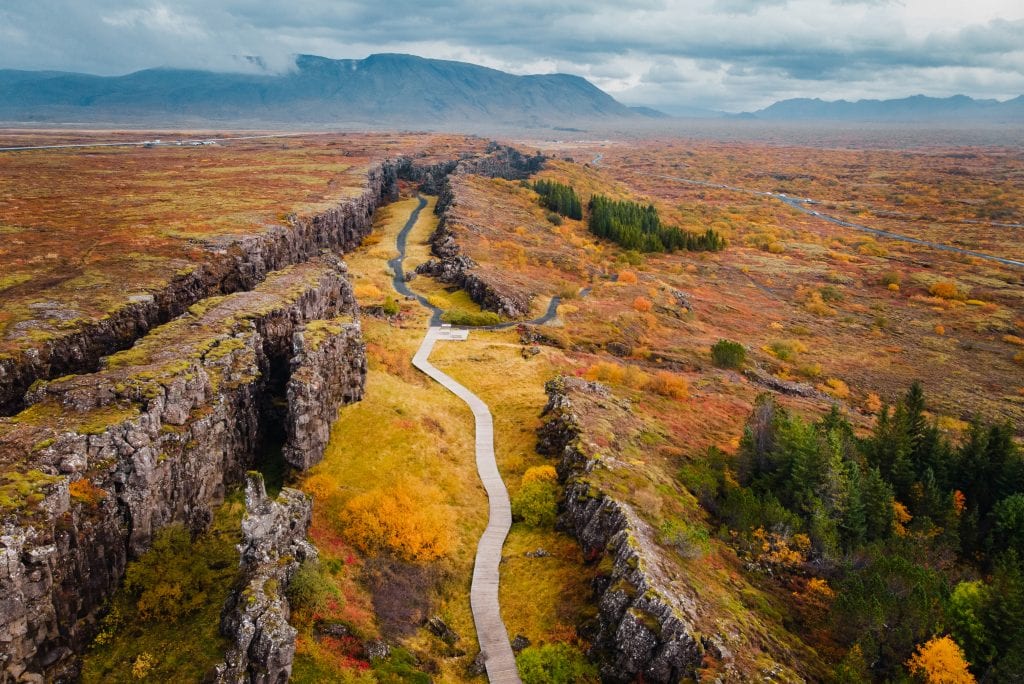 Why else is it special?
The boundary between the North American and Eurasian tectonic plates bisects Iceland diagonally, but it is at Thingvellir where this is manifested with such drama. Walk along the narrow Almannagjá gorge and sheer rock walls tower above you, hemming you in and hiding the incredible landscape that surrounds the site. (Stand at the Hakið viewing point if you want to see the surrounding countryside.) Despite numerous volcanic eruptions, lava has never filled the void left by this ever-widening fault line – the plates are moving apart at a steady rate of about 2cm per year.
The Almannagjá gorge hides a dark past: in the 16th and 17th centuries, those found guilty of a crime were dealt with here. Peer over the bridge and you'll see water below, in what seems like an idyllic spot. But between 1602 to 1750, eighteen women were drowned in what's called the Drekkingarhylur, the Drowning Pool. There were also 30 beheadings, 15 hangings and nine burnings at Thingvellir, a gruesome set of statistics. Another pool to look out for is the Peningagjá pond. Throw a coin in for luck.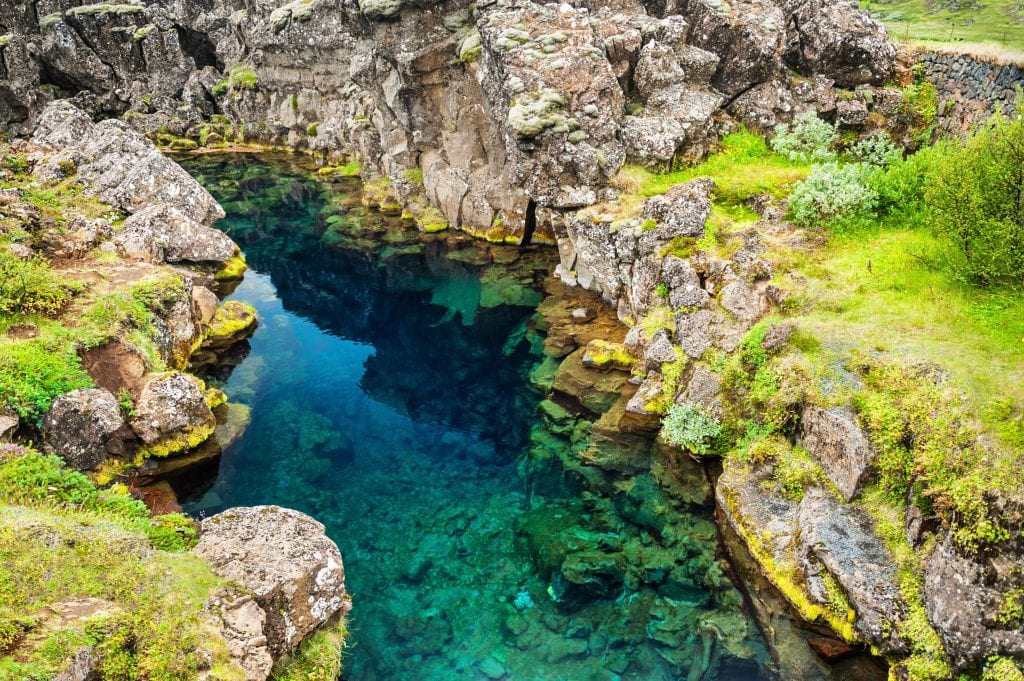 What else shouldn't I miss?
If Almannagjá seems familiar, it might be because it was featured in the popular HBO series Game of Thrones. On screen, it doubled as the narrow passage leading to The Bloody Gate, an ancient fortification guarding the entrance to the formidable Eyrie. But there's more to Thingvellir than this gorge alone.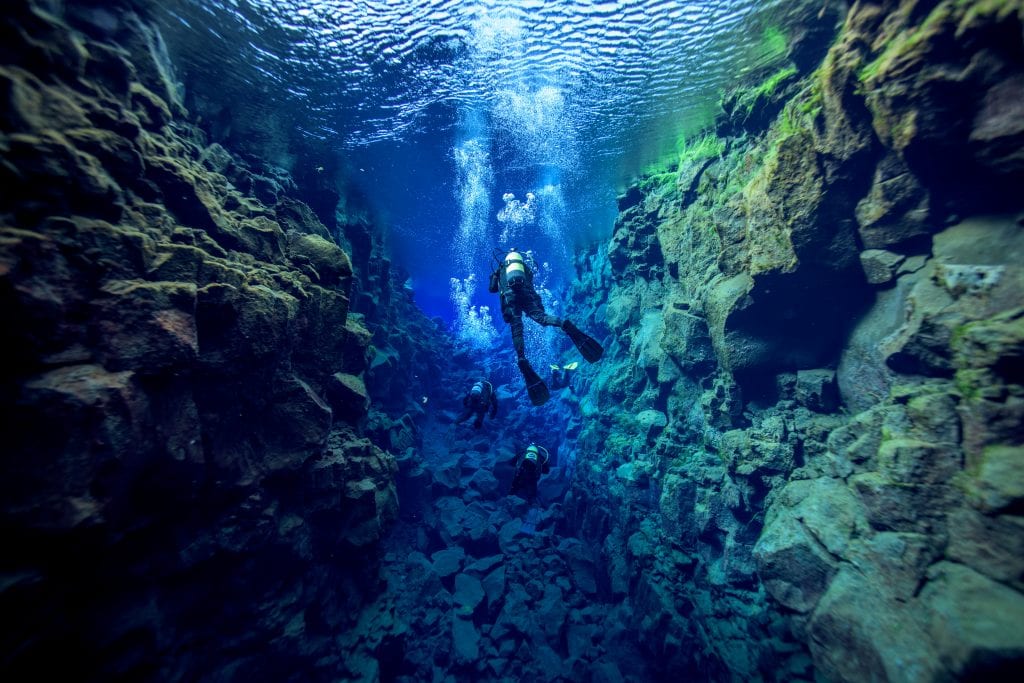 Öxarárfoss waterfall flows along the river Öxará and over a rock outcrop. The origin of the word means "axe". Some thin that early settlers would have encountered a frozen river here in winter and thrust their axe into the ice to claim it as theirs. Today it's a beautiful spot, though you may well get a drenching on a windy day. You'll also get wet if you opt to dive or snorkel at Silfra fissure. The water's crystal clear, filtered through the rocks as it makes its way from Langjökull glacier, but also freezing. Make sure you don a dry suit and book with a tour operator.
There's a church at Thingvellir; the structure you see dates from the middle of the 19th century though there's been a church here for over a thousand years. The tower is a later addition, completed in 1907, and houses three bells of differing ages. Nearby is the prime minister's summer residence.
When's the best time to visit?
Thingvellir is a year-round attraction. However, it gets busy in summer, particularly during the day when the tour groups arrive. Time your visit for early or late in the day to avoid the worst of the crowds.
How do I get there?
Located only a 45 minute drive from Reykjavik, visitors should follow Highway 1 and then turn onto the 36. Alternatively, it's easy to find a tour; simply ask for the Golden Circle, of which a visit to Thingvellir is a part.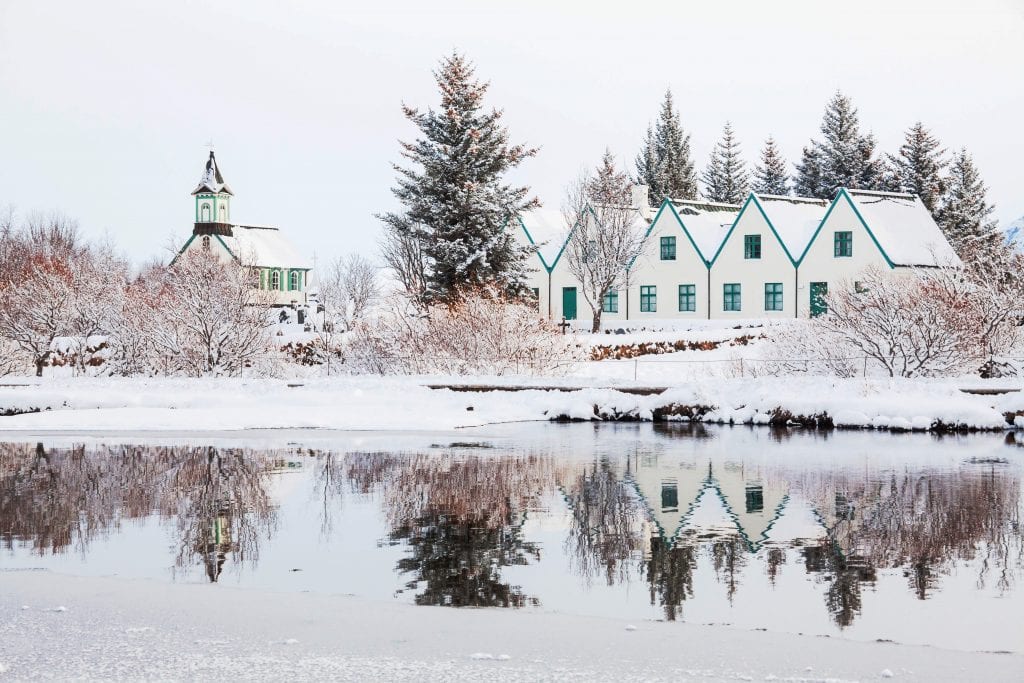 How much will it cost?
It's free to visit Thingvellir, although you will need to pay to park. There's a Visitor Centre near the viewing point and inside, you'll find an interesting exhibit which tells you about the history and nature of Thingvellir National Park. There's a small charge to enter. You'll also find a small shop, café and toilet facilities.