Everything you want to know about Thingvellir
April 10, 2023
One of Iceland's stand-out attractions, Thingvellir – also known as Þingvellir – is a must for visitors. Fortunately, it's easy to arrange a trip, either as part of an organized tour or independently. Here's a brief guide to everything you ever wanted to know about Thingvellir.
What is Thingvellir?
Thingvellir is one of Iceland's three national parks. It's a place that's important both for its natural setting and for its contribution to the country's cultural heritage. This was the site of the first Icelandic parliament: the Alþingi met here from 930AD. At Lögberg, speeches were made influencing the course of Icelandic history; laws were passed and enforced here for over eight hundred years. Today, a flagpole helpfully identifies the site. It's not hard to see why such a place would be designated a UNESCO World Heritage Site.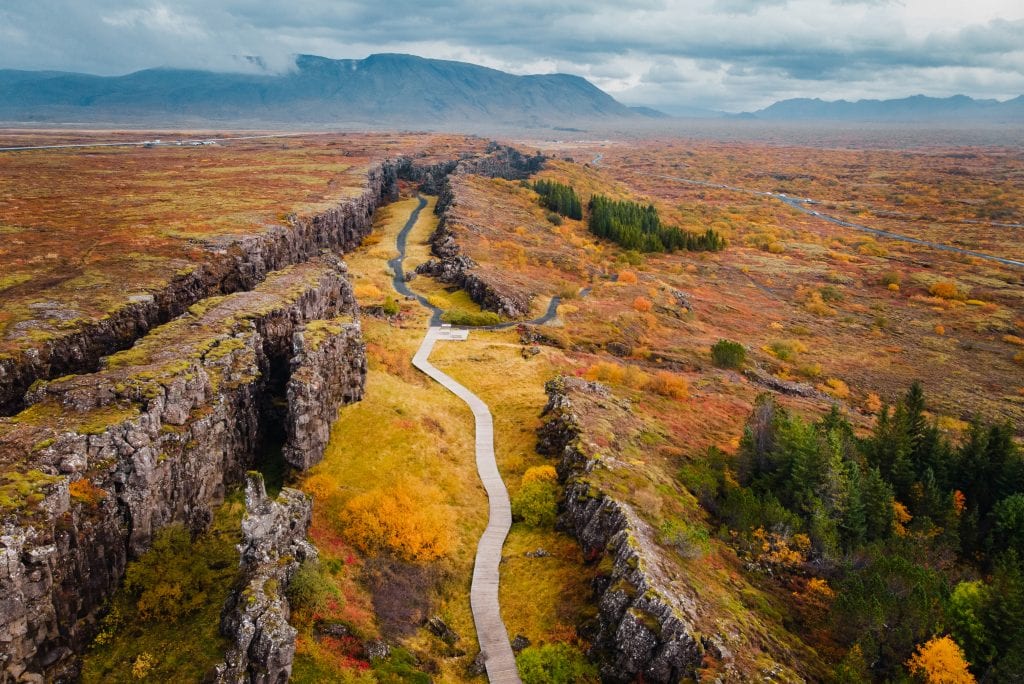 What makes Thingvellir special?
The boundary between the North American and Eurasian tectonic plates bisects Iceland diagonally, but it is at Thingvellir where this is manifested with such drama. Walk along the narrow Almannagjá gorge and sheer rock walls tower above you, hemming you in and hiding the incredible landscape that surrounds the site. (Stand at the Hakið viewing point if you want to see the surrounding countryside.) Despite numerous volcanic eruptions, lava has never filled the void left by this ever-widening fault line – the plates are moving apart at a steady rate of about 2cm per year.
The Almannagjá gorge hides a dark past: in the 16th and 17th centuries, those found guilty of a crime were dealt with here. Peer over the bridge and you'll see water below, in what seems like an idyllic spot. But between 1602 to 1750, eighteen women were drowned in what's called the Drekkingarhylur, the Drowning Pool. There were also 30 beheadings, 15 hangings and nine burnings at Thingvellir, a gruesome set of statistics. Another pool to look out for is the Peningagjá Pond. Throw a coin in for luck.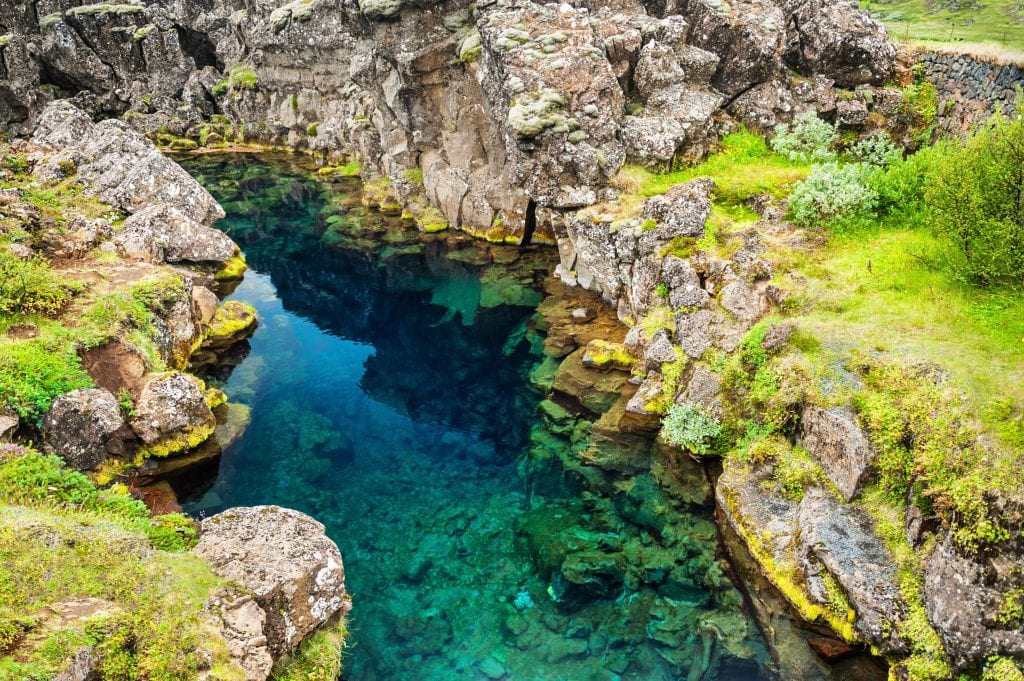 Best time to visit Thingvellir?
Thingvellir is a year-round attraction. However, it gets busy in summer, particularly during the day when the tour groups arrive. Time your visit for early or late in the day to avoid the worst of the crowds.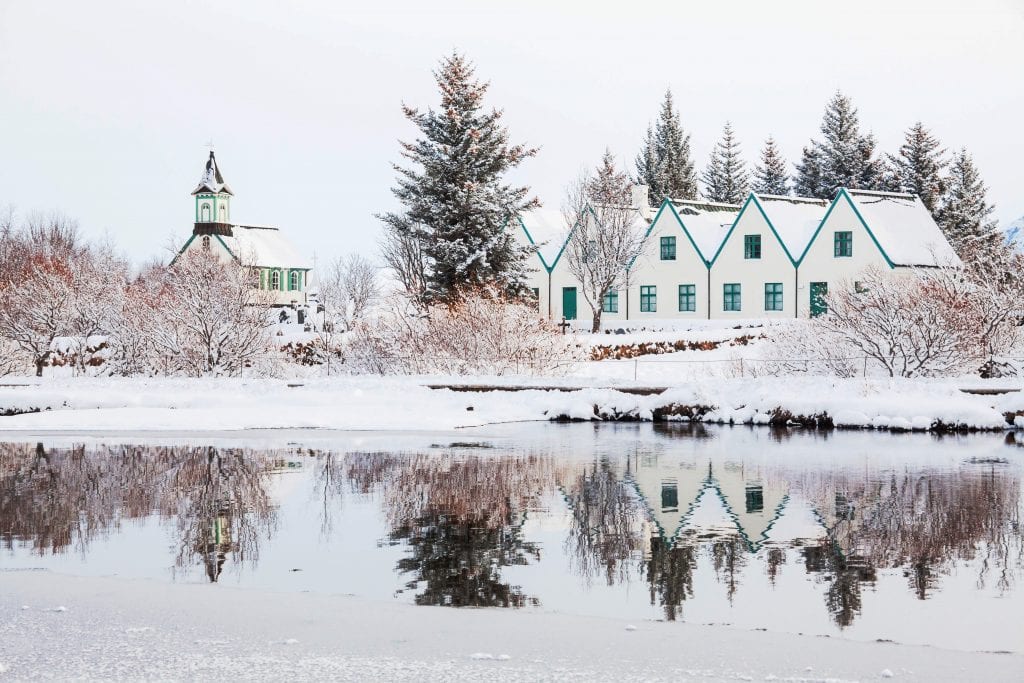 How to get to Thingvellir National Park from Reykjavik?
Located only a 45-minute drive from Reykjavik, visitors should follow Highway 1 and then turn onto the 36. Alternatively, it's easy to find a tour; simply ask for the Golden Circle, of which a visit to Thingvellir is a part.
What to do in Thingvellir National Park?
Snorkel in the clear waters of Silfra
Meltwater from Langjökull glacier floods fissures which opened up as the tectonic plates drifted apart. That same meltwater has been on a decades-long journey through cooled lava. The rock acts as a very efficient filter, making the water crystal clear when it emerges at places like Silfra. Diving and snorkeling are permitted, though dry suits are essential due to the exceptionally low water temperature. But to see such an incredible landscape through such extraordinarily clear water is well worth any discomfort you might experience when your hands get cold. And they will!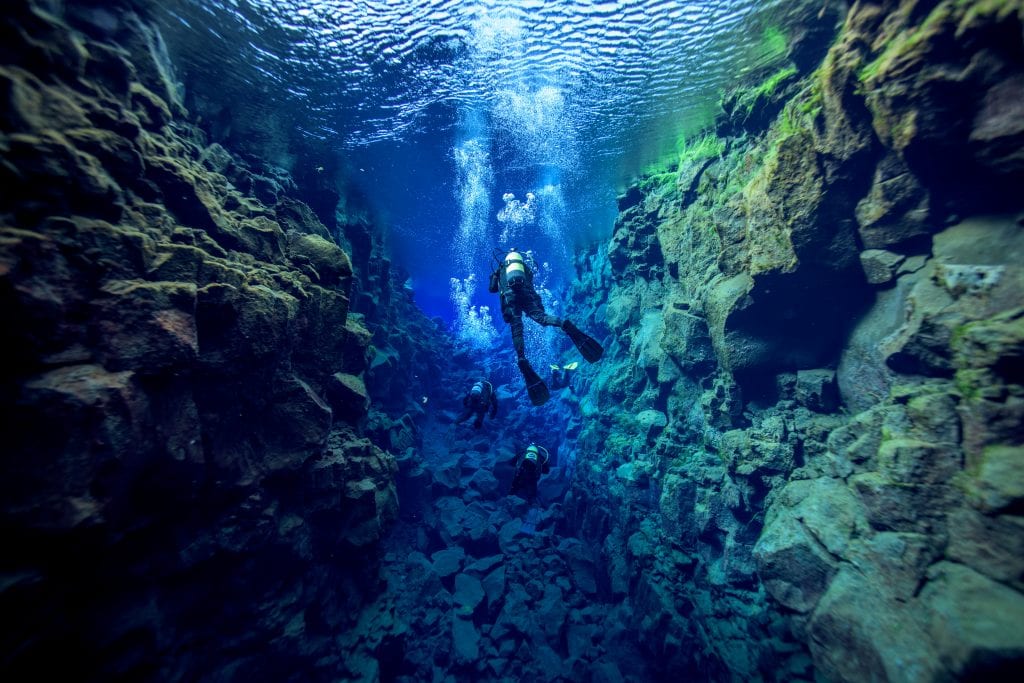 Feel the Spray of Öxarárfoss on your face
It's possible to experience another of Thingvellir's watery attractions without having to take off your coat and shoes. Tucked out of sight of the Alþing, yet just a short stroll away lies the pretty waterfall Öxarárfoss, which tumbles over the rocky face of the Almannagjá gorge. Small by Icelandic standards, it measures just thirteen meters tall and six meters wide and is especially cute in winter when the water freezes completely. Fun fact: the River Öxará, feeding Öxarárfoss, is the only one of Lake Þingvallavatn's sources that don't originate from a natural spring.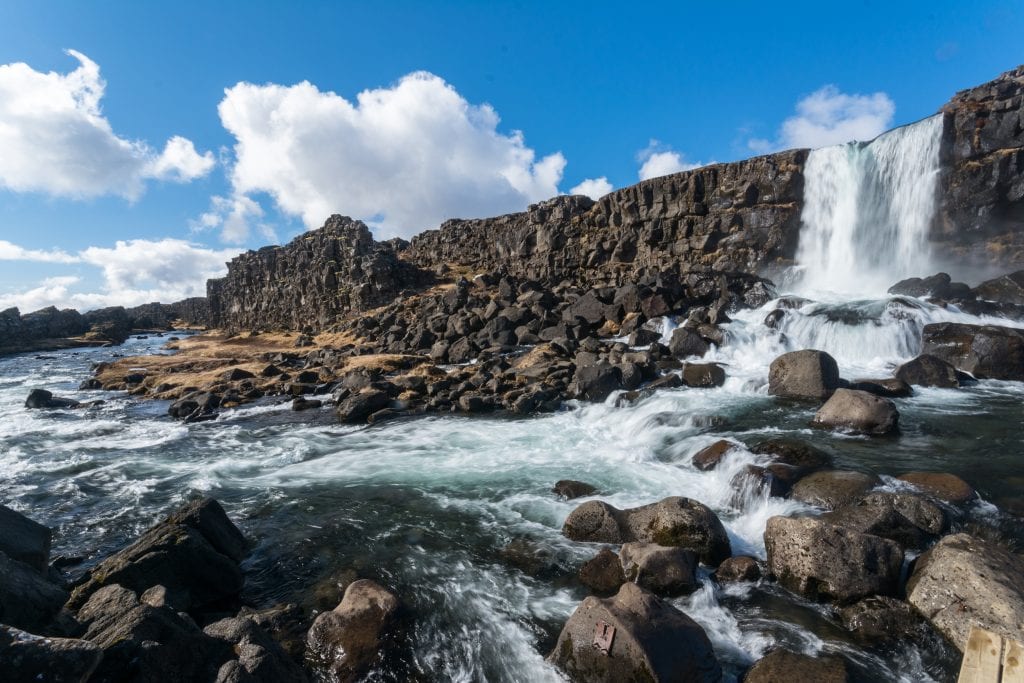 Fish for trout in Lake Þingvallavatn
With an area of over 80 square kilometers, the lake is Iceland's largest (Þórisvatn is bigger, but is technically a reservoir). The lake contains substantial stocks of both brown trout and four varieties of Arctic char. But it's the former that's the crowd-puller – the lake is home to what many claim to be the largest wild brown trout on the planet. It's not uncommon for fishermen to land a specimen that's 10lb or more, and the record is over three times that size. If you'd like to try your luck, book with an approved operator and remember, fishing at Lake Þingvallavatn operates strictly on a catch-and-release basis.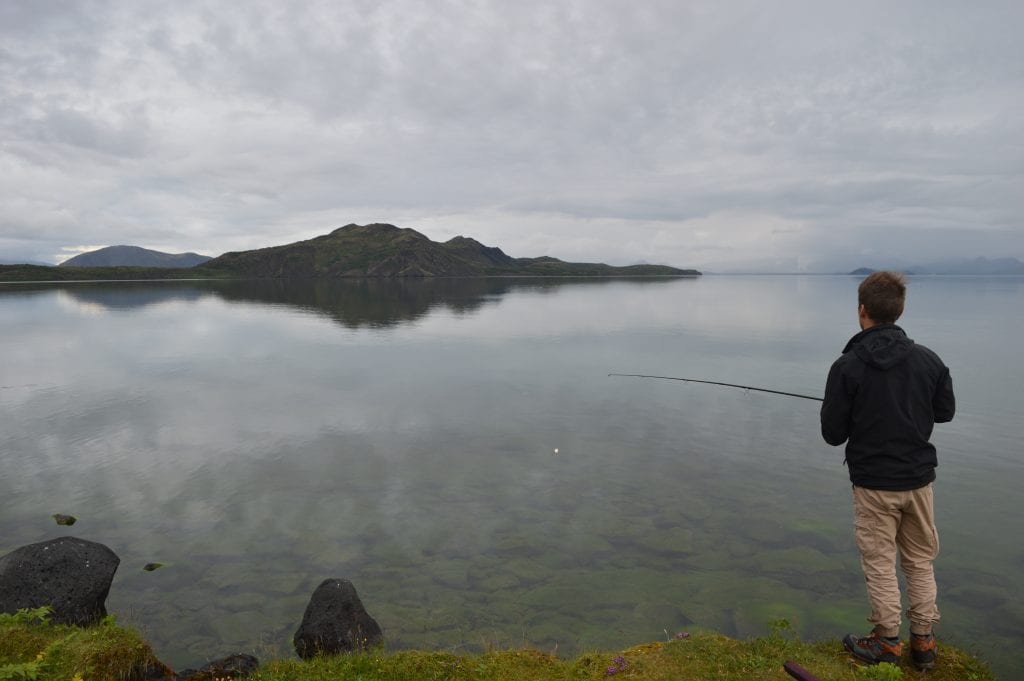 Learn the difference between Tölt and Skeið as you ride Icelandic horses
Back home, you may have walked, trotted, and cantered. But in Iceland, you'll be able to add tölt (a quick but smooth, almost gliding, pace) and skeið (a full-on, lightning speed gallop) to that list. For centuries Thingvellir was a stopping off point for travelers on horseback. These days you won't be able to ride your horse through the assembly site or the Almannagjá fault, but the two dedicated horse riding trails at Thingvellir won't disappoint. Experienced riders will also enjoy traversing the ancient lava field created by Hengill volcano and the aptly named Valley of Horses at Maradalur on the way to Thingvellir on a multi-day ride organized by Eldhestar.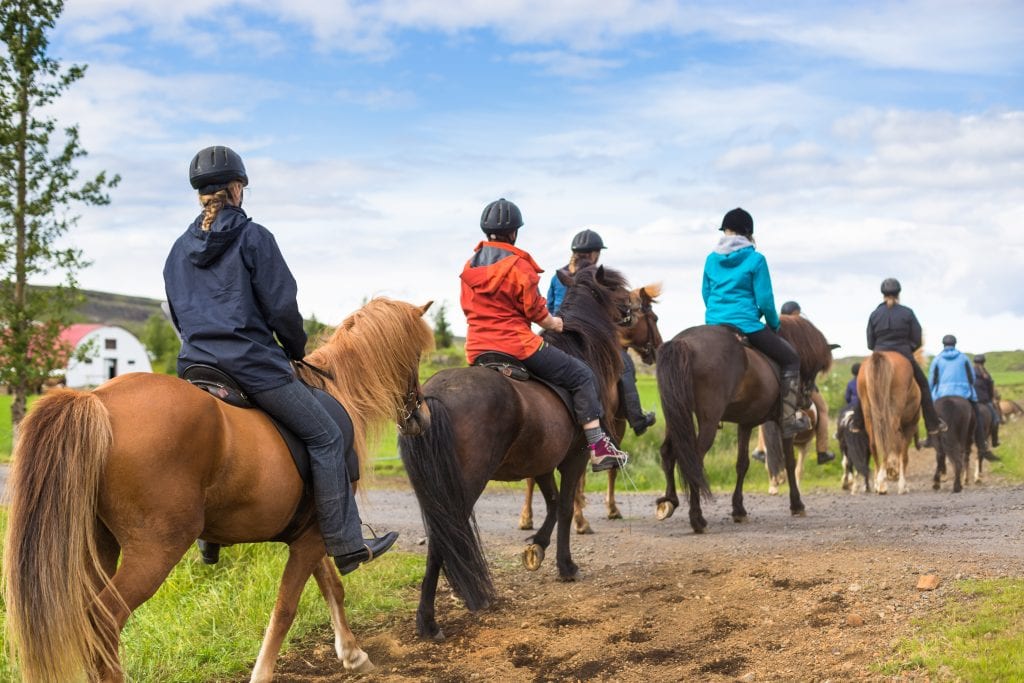 Is Thingvellir National Park free?
It's free to visit Thingvellir, although you will need to pay to park. There's a Visitor Centre near the viewing point and inside, you'll find an interesting exhibit that tells you about the history and nature of Thingvellir National Park. There's a small charge to enter. You'll also find a small shop, café and toilet facilities.